Commentary
Shaq discovers fountain of youth
Updated:
April 18, 2010, 11:42 AM ET
By
Chris Broussard
| ESPN The Magazine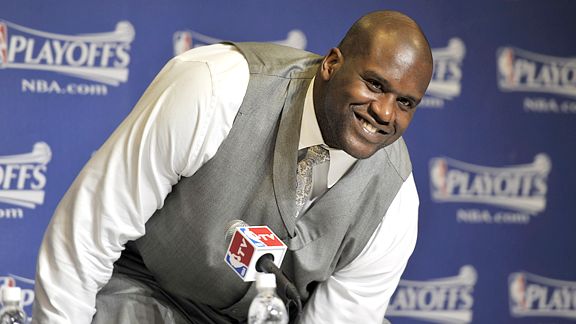 Liam Kyle/Getty ImagesShaquille O'Neal had 12 points, five rebounds, four assists and three blocks in Cleveland's Game 1 win.

CLEVELAND -- He is supposed to overpower you, to dip his shoulder into your chest, take away your wind and your will, and dunk ferociously as you tumble to the floor. After all, 325 pounds is 325 pounds, two months off or not.

But finesse? Spin moves that leave opponents tottering like a tenpin as he rolls to the cup? Shimmy shakes that send a defender young enough to be his son (almost) stumbling like a man who's had too much scotch?

Those days are supposed to be over.

But Saturday, in the opening act of the biggest postseason in Cleveland Cavaliers history, Shaquille O'Neal defied age and reason. In his first game since Feb. 25, The Big Aristotle, The Big Witness Protection, Shaq Diesel -- let's just call him The Man with many nicknames -- shook off rust like Adrian Peterson shaking off would-be Cleveland Browns tacklers in the Cavs' 96-83 victory over Chicago.

His line in the box score wasn't the most impressive, certainly not for an all-time great of his stature. But the way he ran the court, the crispness of his post moves, the seamless way in which he fit into the offense, even the look of his body, all spelled P-R-O-B-L-E-M-S for Cleveland opponents. Shaq is back, and in some ways, it looked like he and his Cavaliers teammates hardly missed a beat since he went out with that sprained right thumb in late February.

"Shaq was terrific,'' said Cavs point guard Mo Williams, who wasn't bad himself in posting 19 points and 10 assists. "He got them in foul trouble. I think that [Joakim] Noah is a valuable piece and he has to go to sleep tonight worried about what he has to do with Shaq on Monday.''

As if the overmatched Bulls don't have enough to worry about, what with that LeBron James guy (24 points, six rebounds, five assists, four blocks). But back to Shaq, who hit 5 of 9 shots in contributing 12 points, five rebounds, four assists and three blocks in an inspired 24 minutes.

Chicago's hope entering the contest was that the 38-year-old O'Neal would be rusty and lumbering and hinder the Cavs' offensive attack, kind of like he did at the start of the season. During that ugly 3-3 season-opening stretch in which fidgety Clevelanders lamented the day the Big Fella joined the club, the Bulls edged the Cavs 86-85 on the Cavs' home floor. Maybe it could happen again, Chicago thought, smartly planning to steal a game while Shaq and the Cavs got reacquainted.

But as soon as Shaq took off his warm-ups, that theory became wishful thinking. Recent talk that he'd lost 20 pounds was no myth. Slim (relatively speaking) and clean-shaven, Shaq looked several years younger. Game face? How about game body?

"Uncle Jerome had me on the three-day workout and special diet,'' Shaq said, referring to his longtime bodyguard and confidante, Jerome Crawford. "I wanted to come back extra, extra ready, so I did some things I don't usually do. This is the time we have to be ready and I just wanted to be ready.''

Apparently, he was a bit too ready. Earlier this week, he turned a supposed sparring session into something closer to the real thing. But in doing so, Shaq, who wants his fifth title as badly as all of Cleveland wants its first, let the Cavs know they'll see a different Shaq now that it's playoff time.
"He made [
Zydrunas Ilgauskas
] mad in his first practice [back from injury],'' Williams said of O'Neal. "He came out at game speed and Z was like, 'Hey, it's practice.' He took it as a game and he played that way, and he set the tone and showed us how he would play in this postseason."
He wasted no time in showing the Bulls as well. Less than five minutes into the game, Shaq ran toward the right wing to contest a Noah jump shot. After Noah launched and missed, Shaq kept running, eventually catching a pass from LeBron James for a two-handed dunk with Kirk Hinrich clinging helplessly to his arm.
That play, and Shaq's ensuing free-throw, broke an 8-8 tie and gave the Cavs a lead they'd never relinquish. But it was only an appetizer.
A few minutes later, his longtime foil Brad Miller got some. With Cleveland consciously looking to feed Shaq down low, he took a pass on the right block. Working with his back toward Miller, Shaq faked toward the middle of the paint, then spun quickly toward the baseline as Miller lunged clumsily in the opposite direction. As Shaq was sinking a short jumper, Miller was wondering how 300 pounds could disappear into thin air.
Shaq would top even that early in the third quarter -- and against much stiffer competition. With the energetic and talkative Noah guarding him, Shaq again went to work on the block. Setting Noah up perfectly, he gave a quick feint toward the middle, then used a spin move that left Noah, who just turned 25 years old, staggering forward and nearly falling face-first onto the court. Easy dunk.
"That was just a 350-pound dude -- I kind of knew he was going to do it at first so I tried to take it away,'' Noah said. "And then he waited and he waited and he just waited until a good time. He just knows how to use that 350 pounds.''
After flushing the ball with two hands, Shaq sprinted downcourt in that exaggerated way that only he can, perhaps symbolically signaling his return.
"That's the patented move I've been doing for years,'' Shaq said of his stride. "That's the 'Diesel Truck with No Brakes.' You see when I get into that move, people get out of the way because they know I'm [going] and don't have any brakes.''
If Saturday was any indication of how Shaq and the Cavs will grow and mesh throughout these playoffs, don't be surprised if no one has the brakes to stop Cleveland.
Chris Broussard is a senior writer at ESPN The Magazine
NBA analyst
Senior Writer for ESPN The Magazine
Formerly at the New York Times, 1998-2004
Covering the NBA since 1995
2010 NBA Finals On ESPN.com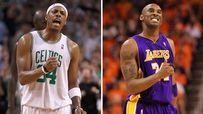 Follow ESPN's NBA coverage on Twitter
2010 NBA PLAYOFFS
PLAYOFF PREVIEW
FINALS PAGE
CONFERENCE FINALS PAGES