No. 3: San Antonio Spurs
Originally Published:
June 18, 2010
By
John Hollinger
| ESPN.com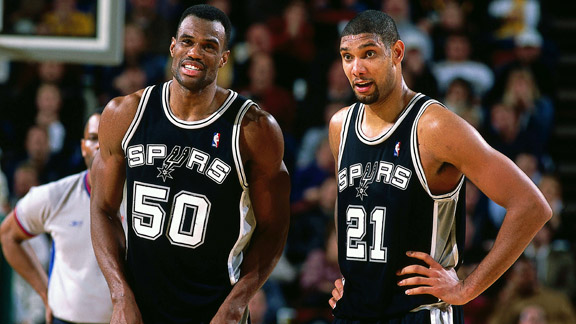 David Jeff Reinking/NBAE/Getty ImagesMost teams are lucky to have one great big man. The San Antonio Spurs had two ... at the same time.
SAN ANTONIO SPURS: 62.1 POINTS PER SEASON (1967-2010)
Wins: 1,985
Playoff wins: 164.5
Series wins: 38
Titles: 4

All-Stars: 61
Best player: Tim Duncan
Best coach: Gregg Popovich
Best team: 1998-99 (37-13, won NBA title)
They may not have the tradition of the Lakers or Celtics, but ever since David Robinson came aboard in 1989 the Spurs have arguably been the most successful organization in sports. Twenty of the past 21 seasons have resulted in playoff appearances, and an amazing 17 of them produced 53 wins or more (prorating for the 1998-99 season). The one season in that span when the Spurs weren't good (a 20-62 season in 1996-97 when Robinson went out with a back injury), they had the good fortune to win the lottery and draft Duncan.
Two years later they won their first title with one of the league's most underrated championship teams. With both Duncan and Robinson in their prime, it was virtually impossible to score in the paint against the Spurs, and over the final 53 games of the lockout-shortened season and playoffs they were a dominant 46-7.
FRANCHISE HISTORY
San Antonio Spurs (NBA) (1976-present)
San Antonio Spurs (ABA) (1973-1976)
Texas Chaparrals (ABA) (1970-1971)
Dallas Chaparrals (ABA) (1967-73)
San Antonio bracketed the Lakers' threepeat on the other side by winning again in 2003, and could have had a threepeat of its own if not for the infamous "0.4" shot by the Lakers' Derek Fisher in Game 5 of the conference semifinals a year later. The Spurs rebounded to beat the Pistons in seven tough games in 2005, and added a fourth title to their résumé with a four-game sweep of Cleveland in 2007. Again, they were one play from a possible threepeat -- a last-second three-point play by Dirk Nowitzki in Game 7 of the conference semifinals against Dallas in 2006 when the Spurs were up by three points.
The businesslike Spurs attract shockingly little attention despite their success, perhaps because it's so monotonous -- in 13 years with Duncan they've won at least 60 percent of their games every season and at least one playoff round 11 times.
Prior to that point they were almost the opposite, a franchise renowned for the scoring exploits of George "Iceman" Gervin but unable to win when it counted. San Antonio lost in the conference finals three times in the Gervin era, with the 1979 Eastern Conference finals loss against Washington the most painful -- the Spurs led 3-1 and had a lead in the fourth quarter of Game 7 but lost by two.
In their ABA days they also fell short, dropping a 1976 semifinal series in seven games to eventual champion New Jersey in the league's final season. That was one of only three ABA seasons they spent in San Antonio -- the others were in Dallas, where they were known as the Chaparrals and made the playoffs five times in six years.
The move down the highway earned them the relocation penalty, but in this case it had no effect on their ranking. With more wins than any other franchise except the Lakers since 1968-69, the Spurs are a comfortable No. 3 on this list.


ESPN Insider John Hollinger
• Twitter @johnhollinger | ESPN.com | TrueHoop | Email | Stats
• Follow ESPN's NBA coverage on Twitter | On Facebook | On Google+
SPONSORED HEADLINES
MORE NBA HEADLINES
MOST SENT STORIES ON ESPN.COM
Hollinger's NBA Franchise Rankings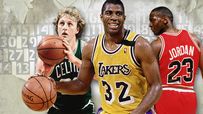 How do all 30 teams stack up for all time? John Hollinger ranks each squad from best to worst.
INTRODUCTION
TOP 10
INSIDER