Commentary
Suns too talented for Trail Blazers
Originally Published:
April 22, 2010
By
John Hollinger
| ESPN.com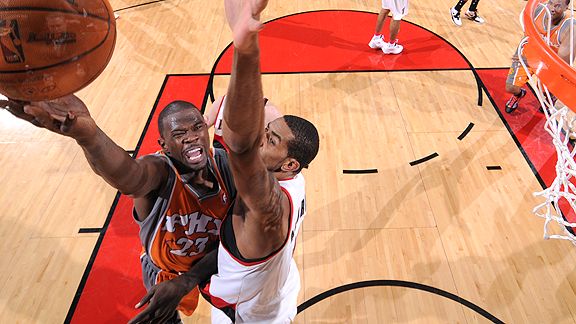 Sam Forencich/NBAE via Getty ImagesJason Richardson scored a playoff career-high 42 points in Game 3 -- including eight 3-pointers.

PORTLAND, Ore. -- Well, at least this time they made Phoenix put its starters back in.

That about sums up the positives for the Trail Blazers in a 108-89 loss to Phoenix in Game 3 Thursday night, a second straight blowout loss that puts the Suns up 2-1 in their best-of-seven series. The Blazers trailed by 31 points late in the first half and were never within 10 points in the game's final 41 minutes.

Game 2's 119-90 defeat could be written off as a bad night, but this performance made the Blazers' Game 1 upset win seem like an aberration. For the second straight game, Phoenix outclassed Portland in the first half. This time the Suns rode a 66-37 advantage into the break and coasted to victory from there. In fact, the Blazers' longest "run" of the first half was four points.

Things went from bad to worse when Blazers forward Nicolas Batum aggravated his strained shoulder on a late second-quarter drive and didn't return. He barely caught rim on a free throw attempt afterward before somehow muscling in the second FT; when the Blazers called a timeout, he went straight to the locker room. Even before the injury he seemed limited; after driving for an early first-quarter dunk he didn't score the rest of the night.

With no Brandon Roy, no Greg Oden, no Joel Przybilla and no Batum, the Blazers were basically bringing a knife to a gun fight. Forget the X's and O's -- the Suns are just better. On Thursday, it was Suns forward Amare Stoudemire who set the tone, flying up and down the court at both ends and showing rare defensive focus, including an impressive defensive rotation to partially block a first-quarter Jerryd Bayless 3-point attempt.

Meanwhile, Suns guard Jason Richardson continued to prove unguardable for Portland, posting a 20-point first half for the second straight game and finishing with a game-high 42 points, including eight 3-pointers. Afterward, he called it the best game of his career. The Blazers invested heavily in stopping the Steve Nash-Stoudemire pick-and-roll play, which is the Suns' bread-and-butter, and continually left Richardson wide open in the far corner.

"If you trap the pick-and-roll with Steve," said Phoenix coach Alvin Gentry, "then you have to have an extra defender -- the weakside defender has to take the roll guy, and if he takes the roll guy, then if we swing it to Channing [Frye, who stood at the top of the key], then they rotate to him or they have to play it halfway. Channing did a good job of swinging it to J-Rich right away and they couldn't close out in time."

The Blazers can take solace in a late rally that cut the Suns' lead to 11 midway through the fourth quarter, especially since Rudy Fernandez broke out of a horrid slump with three straight 3-pointers to ignite the charge. That surge had the Rose Garden crowd rocking, but it was far too little, too late, and Richardson quickly restored order with two more triples.

For Phoenix, perhaps the lone concern is a head-high elbow Stoudemire aimed in the direction of LaMarcus Aldridge late in the third quarter. Aldridge flew off the handle and both players earned technical fouls, but the question is whether league discipline czar Stu Jackson will find Stoudemire's offense worthy of any stronger sanction. A suspension for Stoudemire might be the only thing that could make Game 4 a fair fight. It might also ignite some bad memories for Suns fans.

But that's a concern for Saturday. On Thursday, the Suns were superior for a second straight game, and one doesn't get the sense the rest of the series will play out much differently.


ESPN Insider John Hollinger
• Twitter @johnhollinger | ESPN.com | TrueHoop | Email | Stats
• Follow ESPN's NBA coverage on Twitter | On Facebook | On Google+
2010 NBA Finals On ESPN.com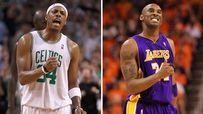 Follow ESPN's NBA coverage on Twitter
2010 NBA PLAYOFFS
PLAYOFF PREVIEW
FINALS PAGE
CONFERENCE FINALS PAGES

MOST SENT STORIES ON ESPN.COM