Commentary
Stern's a cutup now, but trouble looms
Originally Published:
June 3, 2010
By
Chris Sheridan
| ESPN.com
LOS ANGELES -- Well, that was quite the Mr. Mirth act from commissioner David Stern, who by my count cracked no fewer than 10 jokes and quips over the course of his 30-minute news conference Thursday prior to Game 1 of the NBA Finals.

If you missed it, you might have missed the last chance to see Easy Dave in action.

Because a year from now when the commissioner takes the podium prior to the finals, Dark Dave will be the picture of doom and gloom as he tries to sell everyone on the idea that the NBA's economic model is broken, and the only way to fix it is through a lockout.

That's going to be a tough one to sell to the basketball viewing public, but Stern is determined to go down that road. And there will be very little levity when the subject turns to hammering out a deal with players' union director Billy Hunter, who recently said the commissioner's claim that the league is losing $400 million annually is "baloney."

"I grew up at Stern's delicatessen. He has his meat wrong," quipped Stern, who actually did work at his family's deli when he was a youngster.

The union has been hinting that the league's losses are actually only a small fraction of the $400 million figure that Stern was throwing around until mid-April, when he modified it to $375-$380 million.

Furthermore, the union isn't buying the commissioner's argument that the collective bargaining agreement is not working and needs to be completely overhauled. On the contrary, the union claims the current labor agreement is doing exactly what the owners wanted it to do, drastically reducing the amount of money committed to long-term contracts. (Case in point: Only one player, Anderson Varejao, signed last summer for six seasons -- the longest contract allowable under the current system.)

Players have already been told in meetings with union officials to save their money in anticipation of a lockout in July 2011, and it is fair to say that 95 percent of the people associated with the league -- from agents to general managers to scouts to marketing reps -- believe a long work stoppage is a fait accompli.

But if that is indeed the case, why would so many heavy hitters with fat wallets be lining up to purchase NBA teams? Already this year the Charlotte Bobcats have been sold to Michael Jordan and the New Jersey Nets to Mikhail Prokhorov, while Ted Leonsis is in the process of taking over majority control of the Washington Wizards, the New Orleans Hornets are in the process of being bought by Gary Chouest, and Oracle tycoon Larry Ellison is trying to acquire the Golden State Warriors.

Why, Stern was asked, would so many deep-pocketed people be so eager to own a piece of what the commissioner claims to be such a money-losing venture?

"Actually, in some measure, because they think we're going to get a new collective bargaining agreement, number one," Stern said.

"Number two, there were some bargains in there, with respect to Charlotte. Fair pricing. And I think the Warriors probably make some money. And if somebody asked me whether a team is a good buy, my response is 'You'd better hurry up, they're going like hotcakes. And they're going to be even more valuable when we get a system that is even more sustainable.'"

Problem is, the system the commissioner is asking for is one the players will simply not accept. They have been earning at least 57 percent of basketball-related income for a decade and a half, but now they're being asked to accept less than 50 percent -- and to have their contracts retroactively reduced when the new CBA comes into effect.

A question: If someone tells Kobe Bryant that his $22 million salary is now going to be a $17 million salary, what do you think Bryant's response will be?

Now, does that make Bryant a greedy person?

It's a pertinent question, because at some point during a lockout the owners and the commissioner are going to have to vilify and demonize those very same players who keep popping up on all those NBA Cares commercials.

Stern has spent nearly five years since the infamous brawl at the Palace of Auburn Hills trying to change the public's perception of his athletes, and NBA Cares has been a major part of that.

Is he ready to toss all the goodwill that program has produced out the window for the sake of profitability?

Again, that is going to be a very, very tough thing to sell. (Even more so if there is enough high-profile player movement this summer to bring hope to franchises and fans outside of Boston and L.A.)

Still, the commissioner has a team of highly paid lawyers preparing right at this moment for the doomsday scenario of a lockout.

"Those lawyers, we left them back in New York. They're always scrambling for something to spoil our fun," Stern said.

So instead, he had all the fun by himself.

Like this zinger about the reported plans for a meeting of the top free agents prior to July 1 (which Stern insists will NOT happen):

"I was wondering whether they would get together, eight players, and they'd all look at D-Wade's ring. They'd be better off watching these finals to see how you construct a team and how you play and the like."

It was a light-hearted comment, but caustic nonetheless -- one of the few times Stern bared his fangs in his 30 minutes of jocularity.

If he goes after those players a year from now, you should expect those zingers to be a lot more pointed and mean-spirited.

But the question is: Will the public be buying what he's selling?

Or will it, too, call baloney on him.

One thing is certain: Easy Dave won't be manning the podium, and there won't be any levity about Lady Gaga or the demographics of Larry King's audience or the sleekness of King's sunglasses.

"Thinking about it this afternoon, I've been doing this for well into my fifth decade, and this is about as good a time as any to be an NBA fan," Stern said. "We've had a terrific playoffs so far, we've seen what you wish for: The passion, the intensity, the teamwork, the discipline, the sacrifice. We've even seen a little zone. We've seen our coaches adjusting and readjusting, we've seen our players and coaches go deep into their benches, demonstrating how really rich in talent the NBA is, and out of that cauldron comes another Lakers-Celtics final, so this is pretty exciting. It's really exciting."

Sound like a man in charge of a business that needs to be shut down?

Again, that's going to be a tough sell. Tougher than moving olive loaf or liverwurst at the deli counter.





ESPN Insider Chris Sheridan
• On Twitter @CSheridanESPN | On ESPN.com | On TrueHoop | On e-mail
• Follow ESPN's NBA coverage on Twitter | On Facebook
The NBA Finals On ESPN.com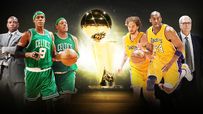 Follow ESPN's NBA coverage on Twitter
LATEST FINALS CONTENT
SERIES PREVIEWS
PLAYOFF FEATURES
FINALS PAGES
VIDEO
AUDIO

MOST SENT STORIES ON ESPN.COM