Cavs owner unhappy with team's effort
Updated:
May 13, 2010, 12:10 PM ET
ESPN.com news services
CLEVELAND -- The worst-ever home playoff loss in Cleveland Cavaliers history didn't sit well with team owner Dan Gilbert, who spared no expense to assemble a team capable of winning an NBA championship.
"The last two home playoff losses and the manner in which we lost these games does not come close to being anywhere near the high expectations all of us have of our organization," Gilbert said after the Boston Celtics handed the Cavs a 120-88 drubbing in Game 5 of their Eastern Conference semifinal series, according to The Plain Dealer. "Our fans and supporters deserve more."
Gilbert took in the 32-point loss from his courtside seat along the baseline, not far from where LeBron James sat on the bench during the final minutes. Gilbert spent more than $100 million to assemble a team around James in the hopes of winning a title -- and retaining James, who becomes a free agent in July.
James, the NBA's two-time MVP, scored 15 points on 3-of-14 shooting, not making a field goal until the third quarter as the Celtics drew within one game of knocking the NBA's best regular-season team out of the playoffs.
Gilbert wasn't the only disappointed fan, as the Cavs and James heard boos from their home supporters.
Sheridan: LeBron's Cleveland Farewell?

When LeBron James is off his game the way he was on this particular Tuesday, the Cavs simply can't compete with Boston. So either James brings it in a big way Thursday, or we can bring on the educated guesses as to where he'll play next, writes Chris Sheridan. Daily Dime
"It's not a big thing," James said. "We played awful, and they've got every right to boo us if they want to. No disrespect to the fans. They've seen us at our highest level and our lowest level. If they felt it was right to boo, so be it."
Only about 4,000 of those fans stuck around for the bitter end. And James spent the final 3:58 on the bench chewing his fingernails.
"I spoil a lot of people with my play," James said. "When you have a bad game here or there, you've had three bad games in a seven-year career, then it's easy to point that out. So you got to be better.
"I put a lot of pressure on myself to be out there and be the best player on the court, and when I'm not I feel bad for myself because I'm not going out there and doing the things I can do. But I don't hang my head low or make any excuses about anything that may be going on, because that's not the type of player or person I am."
Gilbert remains optimistic that the Cavaliers can win Game 6 in Boston on Thursday and force a Game 7 in Cleveland on Sunday, according to The Plain Dealer.
"We have to ask ourselves two questions," Gilbert said, according to the report. "Will we remember who we are and choose to impose our will on our opponent for the remainder of this series and beyond? And how much do we want it? I believe in our players, our coaching staff and our entire franchise. This series is not over."
ESPN.com's Chris Sheridan and The Associated Press contributed to this report.
2010 NBA Finals On ESPN.com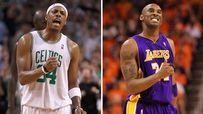 Follow ESPN's NBA coverage on Twitter
2010 NBA PLAYOFFS
PLAYOFF PREVIEW
FINALS PAGE
CONFERENCE FINALS PAGES
MORE FROM ESPN BOSTON

Want to submit a question for Mike Reiss' weekly Patriots mailbag? Click here and come back every Tuesday around noon for the 'bag.
Latest headlines on ESPNBoston.com:
MORE FROM ESPN NEW YORK

Check out ESPN New York, your destination for sports coverage in the Big Apple.
MOST SENT STORIES ON ESPN.COM