Commentary
The joys of watching Chris Paul
Hornets point guard has bounced back after having surgery on his left knee last year
Originally Published:
April 24, 2011
By
J.A. Adande
| ESPN.com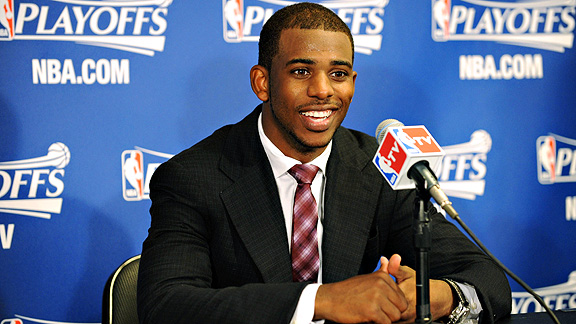 Andrew D. Bernstein/NBAE/Getty ImagesWhether it's his preparation, passing or display of empathy, it's hard to take your eyes off Chris Paul.
NEW ORLEANS -- Two great things about covering this Lakers-Hornets series: eating that New Orleans cuisine and watching Chris Paul up close.
Paul is my favorite player in the league today. Maybe it's because he is one of the few NBA stars that I don't have to tilt my head skyward and extend my digital recorder like the Statue of Liberty's torch to interview. More likely it's because of the way he plays the game, always looking to get his teammates involved whether he's passing to an All-Star like David West or a reserve like DJ Mbenga.
I've savored the meals and the basketball over the past week. Whether it was the 33 points and 14 assists in Game 1 that ranked among the finest performances in these playoffs, or even an "off night" of 20 and 9, there's always something to take from watching Paul on the court. (And by the way, the soft-shell crab at NOLA is outstanding.)
Experienced Paul observers know to get to the arena early, to catch his workout and watch the preparation that goes into every game.
He's on the court with assistant coach Michael Malone, who alternately sets screens for Paul to practice coming around and extends his hands as a mock defender. They'll pause to talk, sometimes getting into extended conversations. Paul wants insight into the opponent: where the help is coming from, what the Hornets need to do to counter.
"One thing about Chris, he's always thinking the game," Malone said. "He's always watching. He's a basketball junkie, obviously. He's a perfectionist."
After he gets his shots in, Paul goes through a stretching routine with strength and conditioning coach Carlos Daniel. Daniel pushes and pulls Paul's legs and runs him through a series of exercises with resistance bands as they implement a program that was devised after Paul came back from surgery on his left knee last year.
This is Daniel's first season with the Hornets, so he can't compare Paul to previous years, only to what he observed when he first arrived. Paul regained enough strength and confidence in the knee to shed the bulky brace he had worn after the All-Star Game, and he's back to his old ways of beating people to spots.
"His progression has been great," Daniel said. "If you saw him at the beginning of the year, he had the knee brace. He did everything he could possibly do to get out of that brace. He's in a place where he feels a lot better. He's moving better, that explosion and that step, that quickness is coming back."
When Paul struggles, Hornets coach Monty Williams takes the blame for not doing more to put Paul in a better position to succeed. That's one of the things that Paul likes about Williams. He holds the players accountable within the locker room, but protects them in the media. Williams also gives Paul an out by not proclaiming him fully recovered from the knee injury.
"I think he's still a ways away from that," Williams said. "I go back to the film that I've watched on him in the past. He dunked on Dwight Howard a few years back. That is "pre" Chris. When he's back to attacking the rim like that, then I'll sit down even more. Until he gets back to that, I'll be walking the sidelines."
No matter how much time Williams spends on his feet, it always seems as if Paul is the one running things. You wonder why Paul even bothers to wear a mouthpiece because he's always taking it out to talk. He's going over defensive rotations and offensive positions with teammates. He's talking with opponents and holding discussions with officials, usually centered on what does or doesn't constitute a foul. It's like a never-ending debate. Even after a call went his way on a drive during Game 3, he took out his mouthpiece to say, "That's a foul! That's a foul!"
He locked into a long conversation with Kobe Bryant near the end of the second quarter of Game 2 -- the only word I could make out was Paul saying "foul" -- then Paul broke away from Bryant to hit a 3-pointer at the halftime buzzer. He got the final word.
Bryant spent much of Game 2 defending Paul, one of the most notable adjustments after the Hornets took the opener. But it tells you something that the Lakers' strategy doesn't revolve around the individual guarding Paul.
"We want our whole team to defend Chris," Phil Jackson said.
It takes big men jumping off screens, guards staying involved in the play, defenses collapsing in the middle. The Lakers seemed to find the best solution in the second half of Game 3, when Paul attempted only three shots, making one. His natural inclination is to pass (his 11.6 field goal attempts per game this season were a career low), but he acknowledges he'll have to shoot more in this series.
"I don't care if they deny; I can't let them do that," Paul said. "I've got to get my shots. I've got to be a little more aggressive. I can't let them take me out. I've got to find ways to get more attempts."
When you watch him closely, you realize one of the ways he gets space to shoot is by getting physical. It doesn't matter if Bryant or Derek Fisher guards him, Paul will push, jab, elbow or use any means necessary to protect the ball or create space.
"He's as tough as they come," Bryant said. "He's small, but he's tough and extremely competitive. He's as physical a point guard as you're going to get in the league. He uses his body extremely well. He knows how to get small defenders off him by bumping them and positioning himself the right way."
He's a tough player with a soft heart, though. Witness the tweet that led to Paul's flying two strangers from New Hampshire to New Orleans to attend Game 3 of the Lakers-Hornets series.
Someone sent Paul a message about the story of Brad Rhoades, a high school freshman who scored 46 points in a basketball game two days after his 46-year-old mother died in a snowmobile accident.
"When I saw [it], it touched me, obviously, really quick, because what I did for my granddad," Paul said.
When Paul was a high school senior, his grandfather was killed during a robbery, the day after Paul signed his letter of intent to play at Wake Forest. In Paul's next game, he scored 61 points -- one for each year his grandfather lived.
Paul wanted to connect with Rhoades somehow. He tried to join him via satellite during one of Rhoades' television interviews, but Paul's schedule didn't allow it. So Paul came up with a better idea.
"I thought, 'What better game to bring him to than this home game?'" Paul said.
So when the Hornets played the Lakers on Friday, Rhoades and his father were there, with the kid wearing a Paul jersey and a pair of his signature shoes.
"He's a great kid, just to talk to him," Paul said. "Me, I lost my grandfather, which was tough. He lost his mother. I couldn't imagine that. I was a senior when I scored 61 points. He scored 46 as a freshman. Pretty good feat."
Pretty good move by Paul as well. It's one of the reasons he's so beloved in New Orleans. There's no promise he'll stay beyond his contractual obligations in 2012, however. Watching the Knicks' need for a point guard with Chauncey Billups breaking down in the playoffs should prompt the speculation even more.
Since telling Chris Broussard over the summer that he'd be open to a trade if presented to him, Paul hasn't said anything to fuel the speculation. Most of it is outside. He maintains his goal is to win, and he wants to win in New Orleans. It was telling that when he was brought to the interview room after Game 1, he sounded like a true small-town resident.
"First time going to the podium this season, huh D-Rog?" he said, looking over at Hornets director of basketball communications Dennis Rogers. "We ain't this fancy in New Orleans."
If Hornets fans want to take signs of encouragement wherever they can get them, I thought it was an "us versus them" moment, and he's on New Orleans' side. There's also this: The Hornets have won a game in these playoffs, something the Knicks haven't done. And over the next few years, would you rather have to go through the Heat and Bulls in the Eastern Conference or only deal with the Thunder in the West?
Paul and I were supposed to spend some time together after practice Saturday, but he had to get the left thumb he injured in Game 3 examined. Paul said the thumb would be OK and he would play in Game 4; the Hornets didn't consider it serious enough to list in their injury report.
I checked in with Paul via text message to see if we could still meet up, and didn't hear back from him until the evening.
"Just got back from taking my son to the park," his message read.
Couldn't be mad at a guy for that. It's OK. There's another chance to watch Chris Paul on Sunday night. I'll be there.


ESPN senior writer J.A. Adande
• On Twitter @jadande | On ESPN.com | On TrueHoop | On e-mail
• Follow ESPN's NBA coverage on Twitter | On Facebook | On Google+
ESPN.com senior writer since 2007
Around The Horn panelist
Formerly at Los Angeles Times
2011 NBA FINALS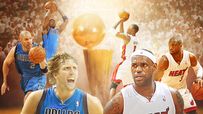 Follow the NBA on ESPN: Twitter / Facebook
LATEST CONTENT
MUST-READ
FEATURES
SERIES PAGES

MOST SENT STORIES ON ESPN.COM