Commentary
Heat defense leaving imprint on NBA
Big three arrived with a fireworks show, but getting stops their calling card in playoffs
Originally Published:
June 1, 2011
By
J.A. Adande
| ESPN.com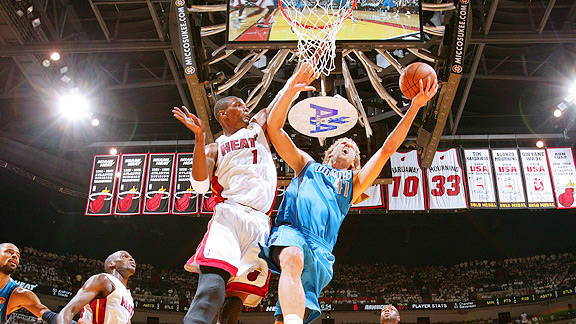 Nathaniel S. Butler/NBAE/Getty ImagesChris Bosh and the Heat clamped down on Dirk Nowitzki, who shot 39 percent from the field in Game 1.
MIAMI -- If this low-scoring Game 1 of the NBA Finals is any indication of how this series will play out, it won't be the way the Heat Voltronned together to form a superteam that's a threat to the league -- it'll be the method they're using to grip the championship trophy that strikes fear into those of us who enjoy basketball in its most free-flowing form.
It turns out the group Joakim Noah instantly labeled a "Hollywood team" is looking less like a J.J. Abrams production and more like a PBS documentary. The Heat are grinding opponents into submission with their defense, not overwhelming them with their offense. They're more about the shutout than the shootout -- as in the 3 1/2 minutes they held the Mavericks without a point in the fourth quarter Tuesday.
When it's time to take over, they're not even thinking about the offensive end.
"We just used the fourth quarter to say, 'All right, defensively we have to win this game,'" Dwyane Wade said.
And defensively they did. Not creatively, not spectacularly, just effectively.
That .373 you'll find next to Dallas' field goal percentage in the box score is the Mavericks' lowest of the postseason. And if not for a Jason Kidd 3-pointer in the final seconds that helped their pride more than the outcome (92-84), the Mavericks would have posted their lowest total points of the playoffs.
Only once in the past eight games have the Heat allowed an opponent to score more than 89 points without going into overtime. Even in that lone exception, a 103-82 loss to the Bulls in the opener of the Eastern Conference finals, the Heat were pleased with their defense; they just lamented the fact that they couldn't keep the Bulls off the offensive boards.
That was Dallas' complaint Tuesday night. The Mavs played good defense themselves, something that's become commonplace rather than exceptional this season, but Miami got 16 offensive rebounds.
The poor shooting from both sides (it was the first Finals game to feature two sub-.400 shooting performances since the Spurs and Nets in Game 4 in 2003) kept it close for most of the night. And no, we don't even need to be reminded of those 2003 NBA Finals again. The Heat are taking us in the wrong direction.
Dirk Nowitzki couldn't get loose for one of the impressive nights that's created all this hyperbole, the breakouts that had the French sports journal L'Equipe proclaiming, "Nowitzki is better than Larry Bird." (You need to chill with that talk, mes amis.) He scored 27 points but missed 11 of his 18 shots, making him far from unstoppable.
LeBron James didn't inspire any Michael Jordan or Magic Johnson comparisons himself. Very little the Heat did offensively was inspirational. For much of the game, it was easier to think of memorable moments for the Heat's big three on defense than on offense.
Chris Bosh made the type of play that makes you think, "Why don't more people do that?" when he blocked a shot by the diminutive J.J. Barea. Barea didn't tear up the Heat defense the way he did the Thunder and Lakers, and shot 1-for-8.
Wade snuck around a Nowitzki screen to block a Shawn Marion shot.
LeBron recovered fast enough on a Jason Terry drive to contest his dunk attempt at the hoop.
Their offensive reel, meanwhile, featured James failing to get an alley-oop layup over the rim, Bosh stumbling and losing the ball on a baseline drive, Wade trying one of his misdirection moves only to be stopped cold by Brendan Haywood, who didn't buy it.
Yes, in the final minutes, with the Heat safely on their way to victory, Wade found Bosh for a fast-break dunk and tossed an alley-oop to LeBron, but those were just a few rainbow sprinkles thrown onto a plateful of cauliflower. Those plays had no impact on the game.
The real game changer came in the third quarter, after the Mavericks took advantage of a few Miami mental mistakes and opened an eight-point lead.
"We just weren't paying attention to detail about how we were going to defend this team coming into the game," James said.
The Heat called a timeout, and then it was almost time for Dallas to call the bus driver. The Mavericks scored two points in the next 3 1/2 minutes, the Heat made it a one-possession game again, then LeBron threw in a 26-foot 3-pointer from the sideline by the Mavericks' bench.
The Heat fixed it. "Once we slowed down and got back into what we know, what our strong point is -- and that's getting stops," James said.
Notice he didn't say making shots or getting out on the break. Sure, the Heat can do enough of that to get by. They just aren't winning games because of that.
The Heat are showing harder off the screen than any other team the Mavericks have faced, and even when the other defender comes around the screen, he's able to catch up to keep the screener from flashing down the middle, wide open. The Heat rotate like freshly oiled gears. They're closing out the shooters.
"Shots are going to be hard to come by," Rick Carlisle said. Chicago wanted to do the same thing, and Miami outperformed it. The Mavericks still want to score, lots and lots of those pretty points.
"We can play this style, but we'd rather get in an up-tempo game," Terry said.
I'd rather they did, too. I'd rather the Heat bought into what everyone claimed during their struggles in the regular season, when their half-court offense was a series of unanswered questions and their best path to success was to get James and Wade out on the break.
We all know that's not the way to win in the playoffs, and the Heat are reaffirming that.
This is why the Heat suddenly seem so dangerous. It has nothing to do with their summertime get-together, no longer how long that might have been in the works. David Stern doesn't have a problem with it, and neither should you. First of all, in addressing the media before the game, Stern gave strong indications the league won't seek to legislatively block free agency -- which would be illegal anyway -- and that there would not be an NFL-style franchise tag in the next collective bargaining agreement. He said there's nothing to keep players from talking among themselves and saying how great it would be to join forces.
Stern has seen how great the Heat have been for ratings and websites. He understands that in this era, when fans care more about what numbers a player can post for their fantasy teams, wearing the same NBA jersey for an entire career isn't as important.
Besides, how many Miamis can there be? Only a third of the league's teams play in Florida, Texas, Arizona and California. There won't be too many summers like the NBA free agency fest of 2010.
But there will be plenty of coaches who will try to duplicate Miami's style, just as the Pistons ushered in a defensive era of basketball after they brought the curtain down on the Lakers' Showtime act and won back-to-back championships of their own.
Every video coordinator who dreams of becoming the next Erik Spoelstra will stay awake at night devising defensive schemes. You'll see another team of five guys taking set shots and wearing canvas high-tops before you see another team trying to go Seven Seconds Or Less style.
This creation run amok called the Miami Heat must be stopped. Good luck with that, though. Who's going to stop them from getting so many stops?


ESPN senior writer J.A. Adande
• On Twitter @jadande | On ESPN.com | On TrueHoop | On e-mail
• Follow ESPN's NBA coverage on Twitter | On Facebook | On Google+
ESPN.com senior writer since 2007
Around The Horn panelist
Formerly at Los Angeles Times
2011 NBA FINALS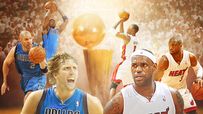 Follow the NBA on ESPN: Twitter / Facebook
LATEST CONTENT
MUST-READ
FEATURES
SERIES PAGES

MOST SENT STORIES ON ESPN.COM