Commentary
Greatest Finals performances: 41-50
Updated:
June 16, 2011, 5:06 PM ET
By
John Hollinger
| ESPN.com
Editor's note: We're ranking the best Finals performances since the NBA-ABA merger.

Rankings: 1 | 2 | 3 | 4 | 5 | 6 | 7 | 8 | 9 | 10 | 11-20 | 21-30 | 31-40 | 41-50


41. TIM DUNCAN, SAN ANTONIO, 2007

San Antonio 4

Cleveland 0

FINALS STATS
Points per game: 18.3
Boards per game: 11.5
Blocks per game: 2.25
PER: 25.2
Some felt Duncan should have been the series MVP instead of Parker, and those folks had a case. While Duncan struggled offensively in the Game 4 clincher, it was his rock-solid defense that provided the backbone of a scheme to suffocate Cavs star LeBron James. Additionally, he posted his usual solid numbers -- 18.3 points, 11.5 boards, 2.3 blocks -- and nearly matched Parker in terms of PER.
42. MOSES MALONE, HOUSTON, 1981

Boston 4

Houston 2

FINALS STATS
Points per game: 22.2
Boards per game: 16.3
Blocks per game: 2.17
PER: 22.5
Malone famously boasted that he could get four guys from his hometown of Parkersburg, Va., and beat the Celtics after the upstart Rockets, who were only 40-42 in the regular season, evened the series at 2-2.
Houston ultimately fell short, but not before Malone averaged 22.2 points, 16.3 boards and 2.2 blocks. Although Malone only shot 40.3 percent, he was clearly the best player on the floor in this series and was another Finals loser who nonetheless had a strong case for MVP.
43. CHARLES BARKELY, PHOENIX, 1993

Chicago 4

Phoenix 2

FINALS STATS
Points per game: 27.3
Boards per game: 13.0
Assists per game: 5.5
PER: 22.5
Sir Charles wasn't quite the equal of the Bulls, but his 27.3 points, 13.0 boards and 5.5 assists kept Phoenix in the series right up until John Paxson's jumper at the end of Game 6.
Barkley had a crucial steal and basket that clinched an epic triple-OT victory in Game 3, a turning point in the series after the Suns had dropped the first two games at home. Then he led Phoenix to another win in his "save the city" Game 5, after some in Chicago had warned that championship celebrations might get out of hand.
44. SCOTTIE PIPPEN, CHICAGO, 1992

Chicago 4

Portland 2

FINALS STATS
Points per game: 20.8
Boards per game: 8.3
Assists per game: 7.7
PER: 21.5
Pippen was always the second banana to Michael Jordan, but he had his best Finals performance in the '92 series against Portland.
Scottie was effectively the Bulls' point guard, finishing with 20.8 points and 7.7 assists on the series, and he saved his best for the end. In the crucial Game 5 win at Portland, Pippen was an assist shy of a triple-double, and a major component of a defense that forced 28 Blazer turnovers. And in the clincher, he came up big again, with 26 points.
45. TIM DUNCAN, SAN ANTONIO, 2005

San Antonio 4

Detroit 3

FINALS STATS
Points per game: 20.6
Boards per game: 14.1
Blocks per game: 2.14
PER: 21.8
Duncan averaged 20.6 points and 14.1 boards for the series, though he didn't dominate against the Pistons' imposing front line of Ben and Rasheed Wallace. But he took over when needed.
That was especially true in Game 7, when he put the Spurs on his back in the second half to lead them to the title. Duncan finished with 25 points, 11 rebounds and three assists, including a cross-court find of Manu Ginobili for a game-icing 3-pointer.
46. LATRELL SPREWELL, NEW YORK, 1999

San Antonio 4

New York 1

FINALS STATS
Points per game: 26.0
Boards per game: 6.6
Assists per game: 2.6
PER: 23.3
The Knicks lost in five games and set records for offensive ineptitude, but Sprewell was one of the few bright spots.
He averaged 26.0 points and 6.6 rebounds a game for the series, including 24 in the Knicks' lone win, and scored 14 straight Knicks points in the second half of Game 5 before New York ultimately fell short.
47. JULIUS ERVING, PHILADELPHIA, 1980

Los Angeles 4

Philadelphia 2

FINALS STATS
Points per game: 25.5
Boards per game: 7.0
Assists per game: 5.0
PER: 21.4
This one was all about The Swoop -- Erving's unbelievable reverse layup where he seemed to stay in midair for about 15 seconds while navigating around Kareem Abdul-Jabbar and Mark Landsberger to the far side of the backboard.
That play was a key one in Philadelphia's Game 4 victory that tied the series at two games apiece, though the Sixers ultimately faltered in six. But don't blame Doc -- he was solid throughout with 25.5 points per game on 52.2 percent shooting, and had a good argument for series MVP.
48. BEN WALLACE, DETROIT, 2004

Detroit 4

Los Angeles 1

FINALS STATS
Points per game: 10.8
Boards per game: 13.6
Blocks per game: 1.0
PER: 16.5
The Pistons were arguably the single best defensive team of the past 30 years, and Wallace was the linchpin.
The four-time NBA Defensive Player of the Year was at his apex with the "play the right way" Pistons of 2004, helping Detroit slam the door on the Lakers' offense in a shocking five-game rout. Wallace dominated the glass with 13.6 boards per game, and was feeling chipper enough to contribute 10.8 a game on the offensive end. Had he not shot 10-of-34 from the line for the series, his ranking would be even higher.
49. CEDRIC MAXWELL, BOSTON, 1981

Boston 4

Houston 2

FINALS STATS
Points per game: 17.7
Boards per game: 9.5
Assists per game: 2.8
PER: 20.4
The Celtics had Bird, Parish and McHale, but in the big three's first Finals it was Maxwell who stole the show.
With Bird struggling to score against Houston's Robert Reid, Maxwell blew up for 17.7 points per game on 56.8 percent shooting. Cornbread led the team in points and free throws and yanked down 34 offensive boards in the six games to take MVP honors.
50. HAKEEM OLAJUWON, HOUSTON, 1986

Boston 4

Houston 2

FINALS STATS
Points per game: 24.7
Boards per game: 11.8
Blocks per game: 3.17
PER: 21.2
Although Houston fell short, Olajuwon was fabulous, becoming the only player since the merger to average better than two blocks and two steals in the Finals.
He had 33 and 12 in a losing effort in the opener, and went off for 32 points, 14 rebounds and 8 assists to help Houston stave off elimination in Game 5 after frontcourt cohort Ralph Sampson was ejected. Even in the blowout loss in Game 6, his three straight steals for breakaway dunks in the first half left the Boston crowd in awe.

Rankings: 1 | 2 | 3 | 4 | 5 | 6 | 7 | 8 | 9 | 10 | 11-20 | 21-30 | 31-40 | 41-50


John Hollinger writes for ESPN Insider. To e-mail him, click here.
Justin Kubatko of Basketball-Reference.com contributed research to this list.
BEST FINALS PERFORMANCES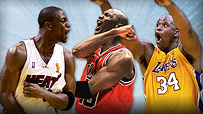 D-Wade. MJ. Shaq. John Hollinger ranks the best Finals performances since the merger.
•
Best Finals performances: No. 1
•
Best Finals performances: No. 2
•
Best Finals performances: No. 3
•
Best Finals performances: No. 4
•
Best Finals performances: No. 5
•
Best Finals performances: No. 6
•
Best Finals performances: No. 7
•
Best Finals performances: No. 8
•
Best Finals performances: No. 9
•
Best Finals performances: No. 10
•
Best Finals performances: Nos. 11-20
•
Best Finals performances: Nos. 21-30
•
Best Finals performances: Nos. 31-40
•
Best Finals performances: Nos. 41-50