Commentary
Greatest playoff series: 1-5
Updated:
June 10, 2013, 1:45 AM ET
By
John Hollinger
| ESPN.com
Editor's note: Read the intro and 1-5 for free. Join Insider to view the rest of the rankings. This list was originally published on June 7, 2011 and has been updated to take into account the 2012 playoffs.


1. 1981 EASTERN CONFERENCE FINALS: 76ERS VS. CELTICS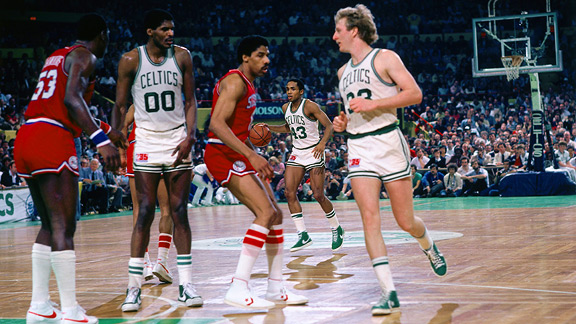 Boston Celtics

Philadelphia 76ers
4

3
GAME 1
GAME 2
GAME 3
GAME 4
GAME 5
GAME 6
GAME 7
PHI 105
BOS 104
PHI 99
BOS 118
BOS 100
PHI 110
BOS 105
PHI 107
PHI 109
BOS 111
BOS 100
PHI 98
PHI 90
BOS 91
Hollinger's series rating: 31.5
The 1981 Eastern Conference finals between the Boston Celtics and Philadelphia 76ers has to be the best of the post-merger era. This one had everything. For starters, both teams won 62 games, tying for the league's best regular-season record. It had the old rivalry between Boston and Philly, going back to the Russell-Chamberlain days. It had the Bird-era Celtics and the Erving-era Sixers, each yearning for their first championship.
And the games … oh, my. Not only was there the improbable rally from a 3-1 series deficit by the Celtics, one of only eight times in league history that's happened, but these were all white-knuckle games. Amazingly, five of the seven games were decided by two points or fewer, including each of the last four.
Boston trailed by double digits in each of the final three games, and was down by six with 1:51 left in Game 5, before rallying to win each. The key play of the series was Kevin McHale's block of an Andrew Toney drive at the end of Game 6, preserving the key road win for the Celtics.
The finale was an especially grueling battle that featured just one basket in the last three minutes. A crucial missed free throw by Mo Cheeks allowed Boston to escape, 91-90, bookending a series that began with the Sixers' one-point win thanks to Andrew Toney's free throws with two seconds left.
Photo credit: Dick Raphael/NBAE/Getty Images
2. 1998 NBA FINALS: BULLS VS. JAZZ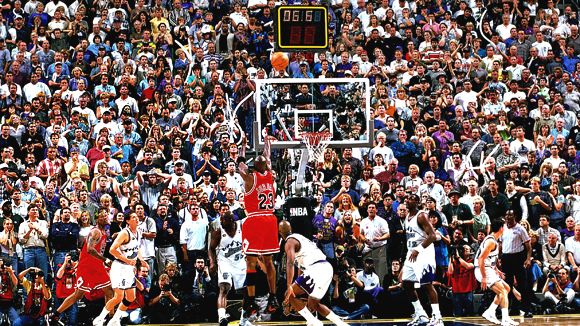 Chicago Bulls

Utah Jazz
4

2
GAME 1
GAME 2
GAME 3
GAME 4
GAME 5
GAME 6
CHI 85
UTA 88 (OT)
CHI 93
UTA 88
UTA 54
CHI 96
UTA 82
CHI 86
UTA 83
CHI 81
CHI 87
UTA 86
Hollinger's series rating: 34.1
This series featured perhaps the most memorable shot in NBA Finals history -- Michael Jordan taking a hard dribble right, pushing Bryon Russell aside with his off arm, and then hitting a series-clinching jumper while basically waving goodbye. This shot sent him off into his second retirement, but not before Utah gave his Bulls all they could handle in a six-game grinder in which five of the games were decided by five points or fewer. Jordan, in fact, had a chance to win Game 5 at the buzzer as well, but his desperation 3-pointer was off the mark and the series was sent back to Utah.
The Jazz won the opener in another thriller, this one in overtime, but the Bulls won the next three to assume command. Oddly, given that the other five games were so tight, the Bulls' 96-54 win in Game 3 was the biggest rout in Finals history, and the Jazz set a record (since broken) for the fewest points in the shot-clock era. While Utah scored more easily in other games, it didn't exceed 88 points in any contest in the series.
And finally, here's a trivia question: Who took the last shot of this series? Everyone thinks it was Jordan, but his shot came with 5.2 seconds left. The Bulls weren't champions until John Stockton's last-second 3-point try bounced off the rim.
Photo credit: Fernando Medina/Getty Images
3. 2006 WESTERN CONFERENCE SEMIFINALS: MAVS VS. SPURS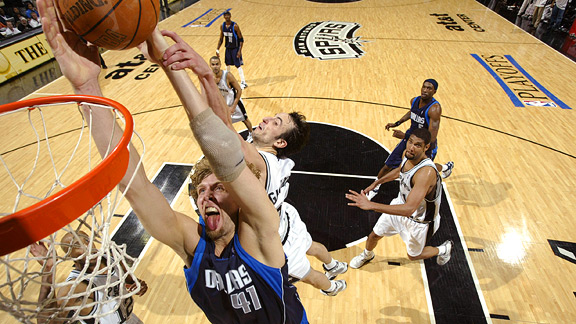 Dallas Mavericks

San Antonio Spurs
4

3
GAME 1
GAME 2
GAME 3
GAME 4
GAME 5
GAME 6
GAME 7
DAL 85
SAS 87
DAL 113
SAS 91
SAS 103
DAL 104
SAS 118
DAL 123 (OT)
DAL 97
SAS 98
SAS 91
DAL 86
DAL 119
SAS 111 (OT)
Hollinger's series rating: 34.4
Due to a quirk in seeding, Dallas and San Anotnio met each other in the second round in 2006 despite each winning 60 regular-season games. But even though it happened a little early, these Texas rivals gave us an absolute classic -- in fact, this series had the highest raw score of any series, at 34.4.
Five of the seven games were within two points at the end of regulation, including two that went to overtime. One of those OT games was the last one, with a Dirk Nowitzki and-1 basket, tying the game with 21 seconds left in regulation. That proved the difference, as the Mavs won in overtime on the road en route to their first Finals appearance.
But up until then it looked like the Mavs would be lamenting the one that got away. Dallas was up 3-1 in the series and led by 20 in the finale before falling behind. The Mavs also lost Game 6 in part because guard Jason Terry was suspended after punching Michael Finley in a scrum near the end of Game 5. That contest was another classic, with neither team scoring in the final 1:59, and Bruce Bowen's last-second block of Nowitzki's shot saving the 98-97 San Antonio win.
The opener wasn't too shabby either, with Dallas' Jerry Stackhouse memorably passing up an open 2-pointer to dribble out to the 3-point line on the last play -- even though his team was down only two points. His contested look missed badly.
Photo credit: Garrett W. Ellwood/NBAE/Getty Images
4. 1984 NBA FINALS: LAKERS VS. CELTICS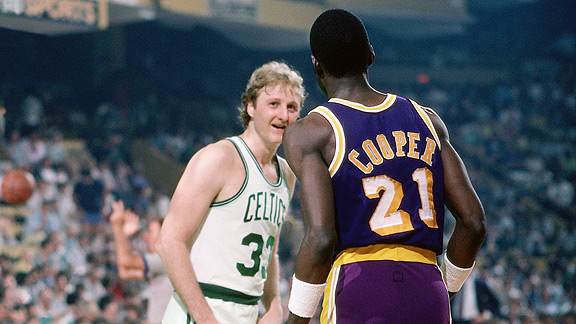 Boston Celtics

Los Angeles Lakers
4

3
GAME 1
GAME 2
GAME 3
GAME 4
GAME 5
GAME 6
GAME 7
LAL 115
BOS 109
LAL 121
BOS 124 (OT)
BOS 104
LAL 137
BOS 129
LAL 125 (OT)
LAL 103
BOS 121
BOS 108
LAL 119
LAL 102
BOS 111
Hollinger's series rating: 20.0
In terms of score, this one should be farther down the list. But the importance of this series to the league can't possibly be overstated. This is the series that made the NBA what it is today, drawing in young NBA fans and fueling the Bird-Magic and Boston-L.A. rivalries.
It wasn't bad on the court either, with overtime losses in Games 2 and 4 proving especially painful for the Lakers. Up 1-0 after a 115-109 win in Game 1, L.A. lost the second game at home with horrid execution at the end of regulation, as James Worthy threw a bad pass that Gerald Henderson stole and converted for a lay-up and then Magic Johnson inexplicably dribbled out the clock. Game 4 was a series-turning contest, one that also featured Kevin McHale's now-infamous clothesline of Kurt Rambis. Johnson again struggled in the clutch, missing two big free throws and making a key turnover as L.A. blew a five-point lead in the last minute of regulation.
Boston went on to win the "heat game" in Game 5 -- there was no air conditioning in Boston Garden, so the teams were forced to play in 97-degree heat -- and unlikely hero Cornbread Maxwell finally led the Celtics to the series victory in the seventh game.
Photo credit: Dick Raphael/NBAE/Getty Images
5. 1997 NBA FINALS: JAZZ VS. BULLS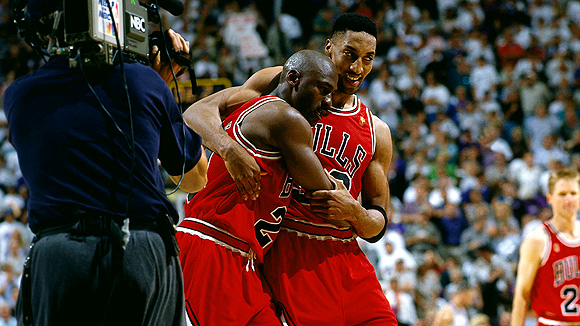 Chicago Bulls

Utah Jazz
4

2
GAME 1
GAME 2
GAME 3
GAME 4
GAME 5
GAME 6
UTA 82
CHI 84
UTA 85
CHI 97
CHI 93
UTA 104
CHI 73
UTA 78
CHI 90
UTA 88
UTA 86
CHI 90
Hollinger's series rating: 25.1
In terms of wins and losses, this was the second-best matchup in playoff history and the best of any on this list. The Bulls (69) and Jazz (64) combined for 133 wins in the 1996-97 regular season, and showed everyone why in a thrilling six-game series that included four games decided by five points or fewer and three that came down to the final shots.
Of course, Michael Jordan took center stage. He made a mid-range jumper at the buzzer to win Game 1 -- after Utah's Karl Malone bricked two free throws -- and the series would ultimately come full circle in the clinching Game 6. When Utah went to double-team Jordan to prevent the same shot, he dished to an open Steve Kerr for the game-winning points. Once Scottie Pippen deflected Utah's inbound pass, the celebration was on.
In between, an ill Jordan gave one of the greatest performances in playoff history in what's now referred to as "Flu Game." Barely able to stand up at timeouts, he nonetheless scored 38 points, including the game-winning 3, to rally Chicago from a 16-point deficit and win a pivotal Game 5 in Utah.
Utah had its moments too -- most notably the Stockton-to-Malone touchdown pass that gave Utah the lead in Game 4 and tied the series. But the series belonged to Jordan and the Bulls.
Photo credit: Andy Hayt/NBAE/Getty Images
Intro | 1-5 | 6-10 | 11-15 | 16-20 | 21-25 | 26-30 | 31-35 | 36-40 | 41-45 | 46-50


Hollinger's Playoff Projects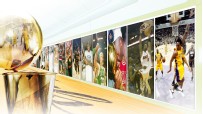 Follow the NBA on ESPN:
Twitter / Facebook / Google+
GREATEST PLAYOFF RUNS
GREATEST PLAYOFF SERIES
GREATEST FINALISTS
GREATEST FINALS PERFORMANCES
GREATEST SINGLE-GAME PERFORMANCES
WallaceNBA_ESPN

Michael Wallace


Tony Allen, sitting out w/sore hamstring, comes to media table during timeout, asks if Raptors beat Rockets. Grizzlies can get back to No.2
5 minutes ago

ESPNNBA

NBA on ESPN


Raptors beat Rockets, 99-96. @DeMar_DeRozan drops career-high 42 Pts. Harden posts NBA-leading 32nd game w/ 30+ Pts. http://t.co/KEsDpbaBK3
5 minutes ago

kpelton

Kevin Pelton


Great defensive sequence there by Terrence Ross. Stayed down on the first Ariza attempt, had the presence of mind to get out on second.
9 minutes ago

MazzESPN

Mike Mazzeo


New career-high 42 points for DeMar DeRozan. Dealin' tonight.
11 minutes ago

BaxterHolmes

Baxter Holmes


If the Lakers somehow end up losing their top-five protected first-round pick to Philly, then…woof.
14 minutes ago

ESPNNBA

NBA on ESPN


Lakers beat 76ers in OT, 113-111. Clarkson (26 pts, 11 ast) earns 1st double-double & hits game-winner. http://t.co/fZj814Gh1l
15 minutes ago

kpelton

Kevin Pelton


DeMar DeRozan missing both free throws was either less or more poetic. I'm not sure which one.
15 minutes ago

kpelton

Kevin Pelton


DeMar DeRozan drawing a crucial foul on James Harden with a pump fake feels almost poetic.
16 minutes ago

MazzESPN

Mike Mazzeo


Has been a blast watching DeRozan go to work tonight.
16 minutes ago

WallaceNBA_ESPN

Michael Wallace


Rudy Gay ruled out for remainder of game after undergoing concussion test.
16 minutes ago

BaxterHolmes

Baxter Holmes


Again, the Lakers faced a must-lose game against the 76ers — and, again, the Lakers still won.
22 minutes ago

WallaceNBA_ESPN

Michael Wallace


Rudy Gay taken to locker room for tests after absorbing Marc Gasol elbow to the side of his head. Walked off woozy to respectful cheers.
27 minutes ago

WallaceNBA_ESPN

Michael Wallace


And there's your nightly Jeff Green monster jam.
29 minutes ago

BaxterHolmes

Baxter Holmes


In past 5 years, teams that had a pre-lottery position of 4th dropped to 6th on two occasions ('10 & '11). So LAL wins = verrrry bad.
30 minutes ago

ESPNNBA

NBA on ESPN


Celtics take back the 8th spot behind Avery Bradley's game-high 30 points. Boston beats Charlotte, 116-104. http://t.co/TVikzDWqHW
36 minutes ago

kpelton

Kevin Pelton


Overtime for Lakers-Sixers feels oddly appropriate.
39 minutes ago

kpelton

Kevin Pelton


Am I hallucinating or did Rudy Gobert just lead the break with a behind-the-back pass?
42 minutes ago

Chris_Broussard

Chris Broussard


Join me, @CassidyHubbarth @CoachAvery6 @LegsESPN @ryenarussillo on nba coast to coast at 9:30 tonight
42 minutes ago

royceyoung

Royce Young


So the last two months, Westbrook has averaged 31.0 points, 8.8 rebounds and 10.2 assists. And the Thunder have gone 18-8 in that time.
49 minutes ago

royceyoung

Royce Young


Russell Westbrook followed up his absurd February by averaging 30.9 points, 8.5 rebounds and 10.2 assists per game in March.
50 minutes ago

MOST SENT STORIES ON ESPN.COM