Commentary
Greatest Finals performances: 21-30
Updated:
June 16, 2011, 4:55 PM ET
By
John Hollinger
| ESPN.com
Editor's note: We're ranking the best Finals performances since the NBA-ABA merger.

Rankings: 1 | 2 | 3 | 4 | 5 | 6 | 7 | 8 | 9 | 10 | 11-20 | 21-30 | 31-40 | 41-50


21. SHAWN KEMP, SEATTLE, 1996

Chicago 4

Seattle 2

FINALS STATS
Points per game: 23.3
Boards per game: 10.0
Blocks per game: 2.0
PER: 25.8
This might have been the only series in Michael Jordan's career in which he wasn't the best player on the floor. Although the Bulls still won in a relatively easy six games, Kemp was a force of nature throughout.
Reign Man averaged 23.3 points, 10.0 boards and two blocks, and shot 55.1 percent for the series. He did this, mind you, against the greatest team of all time, showcasing his freakish athleticism along with a surprisingly smooth midrange J and seemingly stamping himself as a superstar for the next decade.
As we all know, it didn't quite turn out that way for Kemp, but his was one of the best performances ever by a player on a losing team.
22. BILL WALTON, PORTLAND, 1977

Portland 4

Philadelphia 2

FINALS STATS
Points per game: 18.5
Boards per game: 19.0
Blocks per game: 3.7
PER: 23.3
While the rest of Walton's career was wrecked by injuries, it all came together for him in 1976-77 -- good health, a perfect system and perfect teammates.
The result was one of the classic whole-greater-than-the-parts teams in league history, with Big Red leading the way. In the Finals, he stuffed the stat sheet with 19.0 boards, 5.2 assists and 3.7 blocks per game, and he wasn't too shabby as a scorer, either, with 18.5 points a game on 54.5 percent shooting.
He did his best after Portland fell behind 2-0, going for 20-18-9 in Game 3 and an unbelievable 20-23-8-7 in the clinching Game 6.
Walton's 114 total rebounds and 19.0 per game are the most by any player since the merger, and his final PER of 23.3 probably underestimates things a bit. We don't have individual turnover data for the 1977 Finals; since bad players make more turnovers than good ones, that tends to skew everyone's numbers toward the middle.
23. KAREEM ABDUL-JABBAR, L.A. LAKERS, 1980

Los Angeles 4

Philadelphia 2

FINALS STATS
Points per game: 33.4
Boards per game: 13.6
Blocks per game: 4.6
PER: 27.3
What about Magic? We'll get to him later down the list.
But through five games, Kareem was the dominating force in the 1980 Finals -- that's why everyone thought the Lakers were screwed in Game 6 with him out of the lineup.
Abdul-Jabbar averaged 33.4 points in the first five games and would have had more if he hadn't gone down with an ankle injury early in the second half of Game 5.
24. KOBE BRYANT, L.A. LAKERS, 2010

Los Angeles 4

Boston 3

FINALS STATS
Points per game: 28.6
Boards per game: 8.0
Assists per game: 3.9
PER: 26.3
Everyone remembers the 6-for-24 in Game 7, but what they all forget is how well Bryant played in the first six games of the series. That's why he won Finals MVP despite the stinker in the finale, and that's why he's so far up this list. Bryant averaged 28.6 points per game and took an impressive 60 free throws over the seven games. He also chipped in on the glass, yanking down eight boards a game -- more than any Celtic.
And while he shot poorly in the finale, he made a couple at the end to fuel the Lakers' comeback from a 13-point deficit in the second half. Meanwhile, he did plenty of damage early -- his 30-7-6 in the opener gave L.A. the early series lead.
25. KAREEM ABDUL-JABBAR, L.A. LAKERS, 1985

Los Angeles 4

Boston 2

FINALS STATS
Points per game: 25.7
Boards per game: 9.0
Assists per game: 5.2
PER: 23.8
It was Celtics versus Lakers in Boston Garden, which meant the leprechauns were supposed to lead Boston to victory. Kareem had other ideas. He dominated the clinching Game 6 with 29 points, and at one point the 38-year-old big man took a rebound and led a 2-on-1 break before dishing to Kurt Rambis for a layup.
It was quite a turnaround after he'd been held to 12 points and three boards in the 148-114 Memorial Day Massacre in Game 1. But he averaged 28.8 points over the final five games and shot 60.6 percent for the series, earning MVP honors for ending L.A.'s Gah-den curse.
26. PAU GASOL, LOS ANGELES, 2010

Los Angeles 4

Boston 3

FINALS STATS
Points per game: 18.6
Boards per game: 11.6
Blocks per game: 2.6
PER: 25.5
The Lakers couldn't make a shot for most of Game 7 against Boston, but it didn't matter because Gasol was always there to clean it up. His 18 rebounds against Boston -- nine of them offensive -- allowed L.A. to overcome ice-cold 32.5 percent shooting and win the title anyway.
Maligned for his effort against Boston in 2008, Gasol was consistently excellent all series. He filled the stat sheet with 18.6 points, 11.6 rebounds, 3.7 assists and 2.6 blocks, an especially impressive performance given the low-scoring series. While Kobe Bryant won the Finals MVP, Gasol had a legitimate argument on the strength of his Game 7.
27. LARRY BIRD, BOSTON, 1984

Boston 4

Los Angeles 3

FINALS STATS
Points per game: 27.4
Boards per game: 14.0
Assists per game: 3.4
PER: 23.0
Bird was the best player in what was quite possibly the best series ever. That alone deserves respect. He also came up big in the two most crucial wins, shooting 15-for-20 in a 34-point effort in Game 5, and then coming back with 20 points and 12 boards in the clinching Game 7.
For the series he averaged 27.4 points and 14.0 rebounds. Though his PER was lower than that of several other players in this portion of the list, once you adjust for the high level of competition, it merits a top-30 position.
28. CLYDE DREXLER, PORTLAND, 1990&

Detroit 4

Portland 1

FINALS STATS
Points per game: 26.4
Boards per game: 7.8
Assists per game: 6.2
PER: 26.0
The Blazers lost in five, but don't blame the Glide. He filled the stat sheet with 26.4 points, 7.8 boards and 6.2 assists, and shot 54.3 percent on the series. Unfortunately, the Blazers lost three games at the wire and ended up succumbing in five, but that shouldn't tarnish what was an outstanding Finals debut by Drexler.
He also was huge in the Blazers' only win, scoring 33 points and making the game-winning foul shots at the end of overtime in Game 2. He nearly pulled a similar feat in Game 4 before Detroit responded with a last-second bucket.
29. SHAQUILLE O'NEAL, L.A. LAKERS, 2004

Detroit 4

Los Angeles 1

FINALS STATS
Points per game: 26.6
Boards per game: 10.8
Blocks per game: 2.8
PER: 25.7
The Lakers' implosion in 2004 was, in part, a byproduct of the Shaq-Kobe feud that simmered just below the surface, and occasionally above it, all season.
But in the Finals it appeared to affect Kobe much more than Shaq. Though he was going against one of the great defenses of all time, O'Neal shot 63.1 percent from the floor and averaged 26.6 points per game.
Alas, Kobe was off his game and the supporting cast was brutal, so the Pistons dismissed L.A. in five surprisingly easy games. Also, Shaq's record string of 21 straight Finals games with 25 or more points finally ended in the Lakers' Game 3 defeat at the Palace.
30. MICHAEL JORDAN, CHICAGO, 1996

Chicago 4

Seattle 2

FINALS STATS
Points per game: 27.3
Boards per game: 5.3
Assists per game: 4.2
PER: 23.1
The '96 Bulls were the greatest team in history, but Jordan's Finals effort was the least impressive of his six.
Of course, this is a bit like being the least shiny of the crown jewels -- Jordan averaged 27.3 points per contest and took 11 free throws a game.
And though the series didn't give us any of the last-second Jordan heroics we saw in his other Finals games, that's partly because they weren't needed -- all but one of the games were well in hand by the final minute. Instead, our main memory of this one is Jordan running to the locker room and weeping after the clinching game in his first Finals since the death of his father.

Rankings: 1 | 2 | 3 | 4 | 5 | 6 | 7 | 8 | 9 | 10 | 11-20 | 21-30 | 31-40 | 41-50


John Hollinger writes for ESPN Insider. To e-mail him, click here.
Justin Kubatko of Basketball-Reference.com contributed research to this list.
BEST FINALS PERFORMANCES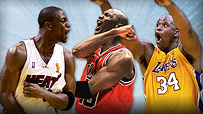 D-Wade. MJ. Shaq. John Hollinger ranks the best Finals performances since the merger.
•
Best Finals performances: No. 1
•
Best Finals performances: No. 2
•
Best Finals performances: No. 3
•
Best Finals performances: No. 4
•
Best Finals performances: No. 5
•
Best Finals performances: No. 6
•
Best Finals performances: No. 7
•
Best Finals performances: No. 8
•
Best Finals performances: No. 9
•
Best Finals performances: No. 10
•
Best Finals performances: Nos. 11-20
•
Best Finals performances: Nos. 21-30
•
Best Finals performances: Nos. 31-40
•
Best Finals performances: Nos. 41-50