Who should be favored in the East now?
Five writers tackle five questions on the first round of the Eastern Conference playoffs
Originally Published:
April 25, 2011
ESPN.com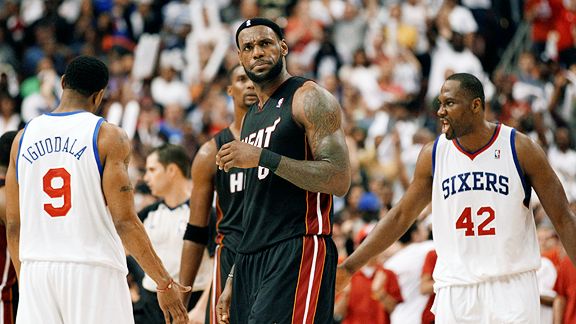 Rob Carr/Getty ImagesLeBron and the Heat were rolling right along, and then the last minute and a half of Game 4 happened.
The Bulls couldn't close out the Pacers, and the Heat couldn't stop the Sixers, so the East top seeds are going to their respective Game 5s. Meanwhile, the Celtics knocked out the Knicks and the Hawks have put the Magic on the brink of elimination.
Here's what our writers make of the East, 5-on-5 style:
1. What do you take from the Heat's loss to Philly in Game 4?

Devin Kharpertian, Nets Are Scorching: Considering that I thought the Heat would win in five, one loss makes sense. When Miami senses a significant talent disparity, it tends to over-isolate, and in Game 4 the Sixers did a good job contesting and getting points off good ball movement. Still, I think the Heat are just too talented for Philly, and they should take Game 5.
John Krolik, Cavs: The Blog: One late-game snafu like the one the Heat had in Game 4 could cost them the series against Boston or Chicago. The Heat will likely have to execute in some late-game situations in order to win a title -- they can't start listening to what everyone is saying about them instead of believing in themselves late in games.
Bret LaGree, Hoopinion: Philadelphia is well-coached, plays hard and plays well together. The Sixers are certainly capable, when making a couple of late 3-pointers at home, of beating Miami once. But Miami doesn't appear in danger of losing the series nor does much of the action in this matchup appear to foretell what might happen against the Celtics.
Beckley Mason, HoopSpeak: To me, the Heat lost this game by starting a duo, in Mike Bibby and Zydrunas Ilgauskas, that, after Game 4, is now a combined minus-44 in plus/minus. Meanwhile, Mario Chalmers and Joel Anthony are plus-92. The Heat were down 20-6 when Anthony checked in for Ilgauskas. Z and Bibby need to contribute, but Erik Spoelstra should keep them from playing together, possibly by giving more time to James Jones.
Sebastian Pruiti, NBA Playbook: I don't think this loss tells us anything about Miami, but something I took away from Game 4 in Philadelphia was how much effort Sixers coach Doug Collins can get out of his team and how much his team respects him. Instead of coming out as if the series was over, the Sixers took the game to Miami.
---
2. Celtics: Back on track or fortunate to face a hobbled Knicks team?

Devin Kharpertian, Nets Are Scorching: Back on track. The Knicks were completely overmatched, even considering their injury issues, and the Celtics absolutely dismantled them in the last two games. When Rajon Rondo is in prime playoff form, the entire team feeds off him, and they're nearly impossible to beat.
John Krolik, Cavs: The Blog: A little of both. The Knicks' health situation certainly helped matters, but Rajon Rondo seemed to get back on track. It's hard to overstate the importance of Rondo for the Celtics. When he's on his game, their offense can be just as deadly as their defense. The Heat did not want to see this kind of play from Rondo.
Bret LaGree, Hoopinion: The Celtics are the one team in the East I completely trust to turn the switch on and off. Before Game 3 (and most of Game 4), I was wavering in that belief. To some degree, they were fortunate to face the Knicks -- now I think they've eased themselves into the playoffs and will show up more consistently in the second round.
Beckley Mason, HoopSpeak: Probably a bit of both: There's no better way to regain your confidence than playing a team that plays perfectly to your strengths. The Knicks don't move the ball or play good defense on quick point guards, allowing the Celtics' formidable defense and most important player to get back on track.
Sebastian Pruiti, NBA Playbook: Back on track. If the Knicks are healthy, they probably win one or two games, but nothing more. This series was all about Boston getting back into its offense and getting everything down on defense. The C's struggled in Games 1 and 2, but everything seems to be on track after Games 3 and 4.
---
3. Are the top-seeded Bulls proving to be vulnerable this postseason?

Devin Kharpertian, Nets Are Scorching: They've certainly had some shaky performances, and Derrick Rose's injury can't help. However, Rose has been shooting surprisingly poorly in this first round, and if he returns to normal, they'll be a force again. While they've still got a very good team without him, if he's out for any extended time, they can't compete with Boston or Miami.
John Krolik, Cavs: The Blog: Yes. The playoff shift every team makes to a tighter rotation makes the Bulls' depth less of an asset than it was in the regular season. Furthermore, the Bulls' offense hasn't worked well when Derrick Rose is contained, and Rose hasn't been making his jumpers.
Bret LaGree, Hoopinion: Take the best player away from any playoff team and they'll eventually prove vulnerable. Hopefully, Rose doesn't miss any games and doesn't have to play at less than full strength for any length of time. If the Bulls prove vulnerable, even at full strength, it'll be because they were and are heavily dependent on their defense to win.
Beckley Mason, HoopSpeak: The Bulls had two decided advantages over almost every team they played during the regular season: They played harder and had a stronger bench. Well, everyone plays hard in the postseason, and the benches get shorter. Rose and their defense are still elite, but do they have a viable second option? Can Kyle Korver continue to kill it on 3s (80 percent thus far)?
Sebastian Pruiti, NBA Playbook: Right now, no. The Bulls have run into a team that can put a long and athletic player on Derrick Rose (Paul George), and that is the part of the reason he is struggling. No other team they face is going to be able to put a player like George on Rose, and things will be easier for him.
---
4. Is it fair to say the Dwight Howard era in Orlando is all but over?

Devin Kharpertian, Nets Are Scorching: I think he's all but gone. It's clear what they have now isn't cutting it. I think the only way Orlando can convince him to stay is if Otis Smith somehow makes some drastic improvements to the roster under the new CBA. A daunting task, to say the least.
John Krolik, Cavs: The Blog: A lot can happen between now and July 1, 2012, and the new CBA has the potential to change everything. That being said, the Magic's current inability to provide Howard with any support is a good case against any "franchise tag" restricting Howard's movement in that new CBA. Things look bleak for Orlando.
Bret LaGree, Hoopinion: The Magic have put themselves in a position where the present doesn't seem all that appealing to Dwight Howard. Given the current talent level of the roster and their lack of future cap flexibility, it's fair to say that it appears very difficult to convince Howard of the team's potential to win a championship within his prime.
Beckley Mason, HoopSpeak: Can't speculate on Howard, though what I've heard isn't good. Otis Smith, on the other hand, could be a dead GM walking.
Sebastian Pruiti, NBA Playbook: No. We have seen this in the past with other players (Chris Paul comes to mind) where everybody thinks they are gone and a few moves turn the team competitive again. Otis Smith has shown in the past he is willing to make moves to keep Howard, and I think he will do it again.
---
5. It's Postseason Day 10: Who should be favored to win the East?

Devin Kharpertian, Nets Are Scorching: Before the postseason began, I said Chicago. If Rose comes back at full strength in the next round, I'll stick with the Bulls. If he's out for an extended period of time, I think Boston is the new favorite. The Celtics have the depth to counter Miami and won't back down from anyone.
John Krolik, Cavs: The Blog: I would go with the Heat. The Celtics look wafer-thin without Shaq healthy, the Bulls haven't been getting much out of their supporting cast and the Heat's three best players are better than anybody else's three best players. I think the East is still pretty much wide open, but I give the Heat a slight edge at the moment.
Bret LaGree, Hoopinion: The Bulls look likely to win their first-round series and, if so, will play the winner of the Hawks-Magic series. I think the latter fact marks them as the favorite to come out of the East.
Beckley Mason, HoopSpeak: Miami is still my favorite. The Heat have the most reliable scoring options, and Spoelstra will sort out the rotations to eliminate their weakest lineups. If Udonis Haslem comes back and gives them anything at all, I think the flaws of the Celtics (depth and age) and Bulls (overreliance on Rose) are more damning.
Sebastian Pruiti, NBA Playbook: I am going with Chicago. The Bulls have a shutdown defense, a go-to guy in Derrick Rose and a guy who can knock down open shots in Kyle Korver. If the Bulls can continue to play like they have been in Round 1, I don't think anyone in the East will beat them.
---
Check out our NBA Finals pages
NBA Finals: Mavs vs. Heat | NBA Finals: History and more


ESPN.com and the TrueHoop Network
Devin Kharpertian, John Krolik, Bret LaGree, Beckley Mason and Sebastian Pruiti write for the TrueHoop Network.
• Follow ESPN's NBA coverage on Twitter | On Facebook

SPONSORED HEADLINES
MORE NBA HEADLINES
MOST SENT STORIES ON ESPN.COM
5-on-5: Five Questions on Five Hot NBA Topics
EDITORS' PICKS
The season of pretending can finally end, and Kobe and the Lakers will be better for it.
Shelburne »

They have the continuity, experience and, of course, the Grit 'n' Grind. Memphis is primed for something special.
Kevin Arnovitz »

How high have the streaking Cavs vaulted up our list?
Power Rankings »