Home remedies for 0-2 deficits
Updated:
April 22, 2004, 8:21 PM ET
By
Dr. Jack Ramsay
| Special to ESPN.com
Of the eight first-round matchups, only Milwaukee was able to win a game on the road to tie its series with Detroit at 1-1. The rest -- Boston, Dallas, Denver, Houston, Memphis, New Orleans and New York -- lost their first two games. The good news is that those teams are going home, where everybody plays better.
There isn't any one factor that causes that to happen, but a lot of little things contribute to better play. Start with the comforts of home rather than the hotel -- as posh as they may be. Mix in the love and support of family and friends, sleeping in your own bed, eating home-cooked meals, a regular routine of practice, familiarity with playing-court conditions, and a constant, roaring din of fan support -- cheering rather than jeering.
They all add up to home-court advantage -- which doesn't guarantee wins but it should bring forth A-games for the trailing teams. Given that probability, here's what each team can do to get back into their respective series:
The Cures
Boston Celtics. The Celtics beat the Pacers early in the regular season, 78-76, on a Mike James leaner at the buzzer. In that low-scoring game, Boston outrebounded Indy 44-42, held the Pacers to 41 percent shooting from the field and kept its turnovers to 15. Paul Pierce scored 19 points on 7-for-18 shooting, grabbed six rebounds and had nine assists against four turnovers.

The C's had a different roster then, but the factors that were decisive in that game are still applicable. On defense, the Celts can't allow the Pacers to score over 100 points (Indy is averaging 103.5 points in this series). A game in the 70s or 80s increases their chances considerably. They must at least hold their own on the boards (Boston is being outrebounded 47.5 to 38).

Pierce must work to get good shots against the concentrated defense of Ron Artest and others. He gives the Pacers a chance to fastbreak with every forced shot that he takes. Paul is scoring 23.5 points a game so far, but he's shooting only 33 percent from the field and 28 percent on 3-pointers. He's also averaging 2.5 assists against 7.5 turnovers. Pierce needs numbers across the board like he had in that regular-season victory for the Celts to win.

Chucky Atkins is getting to the hoop off screen-and-roll plays, and the rest of the C's are chipping in. But team defense and Pierce's offense will decide whether or not Boston keeps from getting swept -- that and a little help from that leprechaun in the FleetCenter rafters.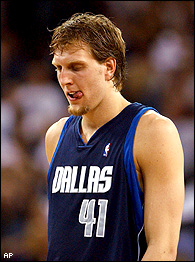 Dirk Nowitzki and the Mavericks are scoring 13 points below their regular-season average of 105.2.
Dallas Mavericks. The Mavericks led the league in scoring (105.2) and were third in field-goal percentage (.459). In this series, they're averaging 92 points and shooting 38.6 percent and only 25 percent from 3-point range. Steve Nash, Michael Finley, Antoine Walker, Marquis Daniels and Josh Howard are shooting under 40 pecent from the field. Only Dirk Nowitzki (.537) and Antawn Jamison (.583) are shooting well.

Coach Don Nelson formed the Mavs to be a high-scoring, up-tempo team. If they don't play that style and shoot with higher efficiency, they won't beat Sacramento. Dallas must also close the gaps in its zone defense to prevent the Kings from getting as many scores in the basket area. The Kings are an excellent, sharp-passing team that exploits defensive lapses -- and the Mavs have too many of those.

But Dallas had the best record in the league on its home court in the regular season at 36-5. The Mavericks need to shore up the defense and fire up their offense to continue that trend.
Denver Nuggets. The Nuggets were the fifth-best scoring team in the league during the regular season (97.2 points per game). They played an aggressive style of defense and an up-tempo, run-at-you offense. Rookie Carmelo Anthony was their catalyst, Marcus Camby was strong around the hoop at both ends of the court, and newcomer veterans Andre Miller, Voshon Lenard, Earl Boykins and Jon Barry contributed. It was a fun team to watch as it came on strong down the stretch to nail down a playoff spot.

They haven't played with the same verve against the tough Timberwolves, who have focused their defense on Anthony and have dominated the backboards. The Nuggets are averaging 86.6 points a game and are getting hammered on the boards (43.0-36.5). Anthony, in his first playoff experience, seems dazed by the intensity of the games. He's shooting 39 percent from the field, is 0-for-6 from 3-point land and averages five turnovers a game.

Denver, like Dallas, needs to rev it up. The Nuggets need to play aggressively and with abandon. That's what got them to the playoffs. The mile-high atmosphere will help them play that kind of game.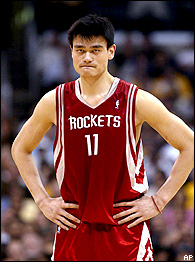 Once again, the Rockets aren't working their offense through Yao Ming.
Houston Rockets. The Rockets were within a Kobe Bryant airball of pulling off a huge upset in Game 1 against the Lakers. Leading 71-70 with seconds remaining, the Rockets forced Kobe into an off-balance 3-pointer from deep on the left side of the court. The shot fell short, but the ball dropped into the hands of Shaquille O'Neal, who hammered home the game-winner. Had Kobe's shot caught any iron at all, the Rockets would have won.

But NBA playoffs are not about should haves or could haves. They're about results. And now, after flaming out in the second half of Game 2, Houston must come up with solid performances on its home court. That starts with Steve Francis and Cuttino Mobley in the backcourt. They combined for 14 turnovers in Game 1, and although they cut those down considerably in Game 2 to a total of three, they failed to get a good flow in the Rockets' offense. The guards repeatedly failed to get the ball to Yao Ming even though Shaq was on the bench with foul problems.

The Rockets need to put it all together -- inside and out -- to beat the Lakers. Francis needs to play productively but under control. Yao needs to challenge Shaq with his array of offensive moves and his soft touch, and everyone else who Jeff Van Gundy calls on must make a contribution.

Then they need to contain Kobe even after he dons his Superman cape.
Memphis Grizzlies. The Grizzlies have enjoyed a wonderful season. However, now they're playing San Antonio, the league's best defensive team, which is playing its best basketball of the season.

The Spurs muzzled the Memphis offense in the first two games. They've kept Jason Williams's playmaking and scoring in check and overpowered the Grizzlies' bigs inside.

There is only one answer to this for Memphis: Get back to the aggressiveness with which they played in the regular season. Push the ball for every possible transition opportunity. Execute the half-court offense against the Spurs' physical D and get the necessary ball movement to find open shooters. Then get back quickly on defense, stop Tony Parker's penetration and make Tim Duncan give up the ball.

The Grizz have been tough to beat at The Pyramid. They'll have their fans out in full force. They must take advantage of both.
New York Knicks. The Knicks got roughed up and outexecuted in the Meadowlands. But they are talking about retribution for the physicality of the games -- rather than outplaying the Nets -- to get back into the series. Payback only gets the Knicks a quick elimination. Play-back might get them a win or two.

Coach Lenny Wilkens says that his team has an "infinitesimal" margin for error. I don't think it's that slight, but unquestionably, the Knicks need to play their best game -- which they've done for only segments. They must do it at both ends of the floor.

First, reduce the Nets' transition scores. The Nets are outscoring the Knicks 48-17 in that department. That requires two things: good execution of offense to assure floor balance and five men sprinting back with vision of the ball. San Antonio did that in last year's NBA Finals and stopped the Nets' running game cold.

Second, keep the ball moving when the Nets force Stephon Marbury to give it up. Steph is going to get his scoring chances and must make the most of them, but second, third and maybe fourth passes will guarantee an open, high-percentage shot. The Knicks must get them and knock them down.

And as for retribution? Fuggetaboutit. Beat the Nets to loose balls, bang the glass and play tough D. Those things win games ... and that's the right kind of payback.
New Orleans Hornets. The Hornets have lost their collective stinger. They look like a team of dispirited, disgruntled players meeting for the first time in a pickup game. I don't know if that can change by merely changing the game site.

New Orleans had to be embarrassed by the 30-point shellacking handed out in Game 2 by the feisty Miami Heat. If the Hornets weren't, then there's no hope for them even though the next two games are being played at the New Orleans Arena.

Granted the Hornets are dinged up. Jamal Mashburn is done for the season, and guards Baron Davis, David Wesley and Darrell Armstrong are nursing injuries. But point guard Davis is their key player. He's responsible for getting his team into the offense and as well as getting scoring chances for himself. It seems that too often Baron looks to score first. That won't get it done unless he's having a tremendous game, and that hasn't happened in this series. Davis is a combined 7-for-29 from the field, including 4-for-14 on 3-pointers. The Hornets shot only 40 percent in Game 1 and a mere 24.4 percent in Game 2.

New Orleans needs a total game -- high intensity and execution at both ends of the floor. I can't imagine the Hornets won't come to play before their home fans ... but I have to see it to believe it.

Dr. Jack Ramsay, an NBA analyst for ESPN, coached the Trail Blazers to the 1977 NBA championship. A member of the Basketball Hall of Fame, he is a regular contributor to ESPN.com. Click here to send a question for Dr. Jack for possible use on ESPNEWS.

Legendary coach and Basketball Hall of Famer Dr. Jack Ramsay served as lead game analyst for The NBA on ESPN Radio. He also contributed to ESPN.com and ESPN The Mag.
EDITORS' PICKS
Russell Westbrook's third straight triple-double was not enough.
NBA Now

Luol Deng has overcome much ugliness in his life.
Michael Wallace »

Larry Sanders wants to start a conversation about mental health.
Kevin Arnovitz »

MOST SENT STORIES ON ESPN.COM