Let the Wilkens Watch begin
Updated:
April 22, 2004, 9:22 PM ET
By
Marc Stein
| ESPN.com
Forget the big fight that probably isn't going to happen anyway. You can also scrap the notion that the Knicks still have time to turn their Lincoln Tunnel Series with the Nets into an actual series. Even at full strength, this Knicks team was merely good enough to make the playoffs in the East. Nothing more.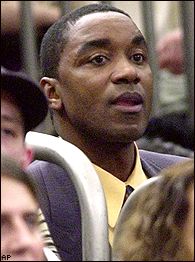 The often-maligned Isiah Thomas deserves high marks for the work he's done this summer.
Since the Knicks aren't close to full strength, and with even
Jason Kidd
vs.
Stephon Marbury
flaming out, turns out that the only substantive story line coming out of the tunnel is a coaching story.
As in: Are we watching the last couple games of Lenny Wilkens' coaching career?
If the Knicks indeed lose the next two games at home, you can start digging into your gambling fund for a nice wager somewhere. A sweep, or even a five-game ouster, would snuff out a good bit of the momentum Isiah Thomas' drastic makeover initially generated in Gotham. Your subsequent look at the Knicks' runaway payroll should make it clear that the prospect of another Zeke blockbuster this summer is unlikely, because New York has little left to offer in trades and isn't even an unopposed No. 1 on Rasheed Wallace's list of free-agent destinations anymore.
What it all means is that Isiah's only real resource for another shakeup is himself. Thomas has made no secret of his desire to return to coaching someday, and one team insider tells us "it's 1,000 percent" that Thomas will eventually coach the Knicks. Thomas' promise to Madison Square Garden chairman James Dolan on the way in is that he wouldn't move to the bench until the timing made more sense, but that time is basically here.
Marbury has certainly been swamped by the Nets without the injured Allan Houston and fighting-mad Tim Thomas around to keep help defenders occupied, but Wilkens wasn't going to inspire the Knicks to an upset in this series even if both of those guys were available. The prospect of Isiah and Steph working together every day would have to give Knicks fans more cause for optimism than the idea of Lenny returning for even half-a-season.
Barring a summertime miracle that sees Thomas find a taker for the huge contracts possessed by Houston or, say, Penny Hardaway, this is the Knicks' team for the foreseeable future.
Isiah, then, might as well coach it.
STEIN SIDELINES
MALE OF THE NIGHT
Michael Redd. Before Latrell Sprewell (31 points, 7-for-8 on 3-pointers) and Kevin Garnett (a mere 20 points, 22 rebounds, 10 assists and three blocks) absolutely shredded Denver, Milwaukee stunned Detroit and forced us to anoint a Buck as the night's hero. Big surprise to regular readers: It's Redd, who responded to his Game 1 struggles (11 points) with 26 points and one memorable straight-on triple from well behind the line in Milwaukee's 92-88 escape, resulting in the first victory for a road team in these playoffs. The home team won the first 13 games this postseason.
E-MAIL OF THE NIGHT

In response to the note Tuesday about NBA TV, I subscribe to the Dish Network and we are indeed getting the channel for free right now. Tell Jermaine O'Neal that I watched his Pacers win last night.
Tommy O'Brien
Berkeley, Calif.

STEIN: Consider it done, Tommy. And, yes, it seems as though we have to suspend all criticisms of NBA TV until May 5 ... when the free preview ends.
SPEAK OF THE NIGHT
"Just knowing his character, he's a fugazy guy. ... He's fugazy as far as the whole tough guy role."
— New York's Tim Thomas acquaints the uninitiated with a street synonym for "fake" in a swipe at New Jersey's Kenyon Martin ... even though K-Mart's not the guy who injured him with a flagrant foul in Game 1.
STAT OF THE NIGHT

26


That's how many seasons elapsed between Coach of the Year awards for Hubie Brown, from 1978 to 2004. The previous record was 12, held by Gene Shue from 1969 to 1982.
STAT OF THE FRIGHT

1


That's the difference between points scored (63) and missed shots (62) for New Orleans in a Game 2 nightmare at Miami. The Hornets' 93-63 defeat, lowlighted by 24.4-percent shooting from the field, intensifies the pressure on the very-in-trouble Tim Floyd.
Slams and Dunks
The call to have
Michael Finley
take Dallas' last shot with just under 10 seconds to go in Tuesday night's Game 2 loss at Sacramento was indeed Don Nelson's. Sources indicate that Nelson, feeling Finley was due to hit a biggie, elected to go to his veteran go-to guy -- a decision he also reached because
Steve Nash
had just missed a wide-open triple and because
Dirk Nowitzki
had lost his footing on more than one late possession.
As stated here Wednesday, that possession is not why the Mavericks lost Game 2. Dallas lost largely because it failed to take advantage of a stunning second-half stretch for the home team in which Sacramento missed 17 of 19 shots.
Yet we also repeat that Nelson should have never asked an ailing Finley to take his man off the dribble, because that's not Finley's strength even when he's at his best.
The Mavericks, furthermore, remain guilty of shielding Nowitzki from such situations. They rarely go to him late in games, when they should be calling Nowitzki's number -- on some sort of pick-and-roll with Nash, with Finley spotting up to take advantage of the resulting chaos -- every time in crunch time at this stage in his career.
Nowitzki also has to shoulder some responsibility and become more demanding. He should be tapping Nelson on the shoulder before the timeout starts, as if to say, "Come to me with the ball."
Yet it's also incumbent on Nelson to go to Nowitzki whether the big German volunteers or not, because he'll grow as a player as a result.
Just like Nelson did with Finley years ago.
The real winner Wednesday night, when Milwaukee upset Detroit?

New Jersey.

One bad loss doesn't mean Detroit and its denizens should start to panic, but it's a reminder that the Pistons are far from invincible.

The Nets, furthermore, never thought so anyway and will show up for Game 1 at the Palace in the second round even more ready to give us a good series.
Or ...

Wednesday night's surprise result simply means Terry Porter (Coach of the Year) and Desmond Mason (Sixth Man Award) were more amped by their award snubs than Ben Wallace (Defensive Player of the Year).
Fast fact: The city of Memphis will be the site of a playoff game Thursday night for the first time since the ABA's Memphis Sounds hosted Hubie Brown's Kentucky Colonels on April 11, 1975. The Sounds won by 14 but lost the series, 4-1.
Good thing I canceled that preview story last week about how this was going to be one of the most exciting first rounds in Western Conference history.

Marc Stein is the senior NBA writer for ESPN.com. To e-mail him, click here. Also, click here to send a question for possible use on ESPNEWS.



Senior Writer, ESPN.com
• Senior NBA writer for ESPN.com
• Began covering the NBA in 1993-94
• Also covered soccer, tennis and the Olympics
EDITORS' PICKS
There's no denying Kobe's greatness. But his presence is crippling the Lakers.
Abbott »

Where does Derrick Rose rank now?
#NBArank »

Can Steve Kerr take the Warriors to new heights?
Forecast