Reasons to be upset
Updated:
April 23, 2004, 9:50 AM ET
By
Tim Legler
| Special to ESPN.com
Let the drama begin.
The NBA playoffs will pack as many twists and turns as any reality TV series known to man. The next two months will feature lots of "dream jobs" and "bachelors," showcase a few "extreme makeovers," and perhaps discover a hidden "swan" or two. Ultimately, however, only one "survivor" will be left standing in the end.
As the smoke clears from a grueling six-month endurance test, 16 teams remain to battle for the NBA's most coveted crown. While most of the first-round favorites appear poised to advance, three underdogs find themselves with legitimate opportunities to pull off opening-round upsets.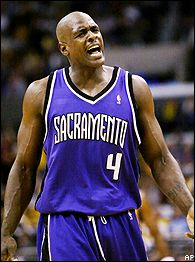 The Kings went 12-12 after Chris Webber returned from injury and suspension.
If you love defense, tune in to the NHL playoffs because this series isn't for you. For those of you craving a good old-fashioned 1980s, run-and-gun style shootout, brace yourselves -- the over/under on passes per possession is TWO!
Perhaps no team finds itself farther from playing its best basketball than the Kings. The reward for having Chris Webber return to the lineup after missing 58 games was a rapid descent from being in control of home-court advantage throughout the Western Conference playoffs to the No. 4 seed. The root of the problem, not surprisingly, has been health. C-Webb at 75 percent and an unavailable Bobby Jackson make the Kings vulnerable to an early exit. When you combine a porous defense (no offense, Doug Christie) with a short-handed offensive arsenal, you get a team that can't rely on merely outscoring opponents any longer.
Dallas, on the other hand, comes into this series with all guns blazing. In Texas, famous for all things being larger than life, it is Don Nelson's "small ball" that has the locals talking championship. The Mavericks have decided to bombard their opponents by keeping five legitimate scorers on the floor at all times. They dare you to match up with them. They defy you to stop them. We all know about Steve Nash, Michael Finley, Dirk Nowitzki, Antoine Walker and Antawn Jamison. But it could be the versatility and defensive pressure of rookie Marquis Daniels that makes the difference for the Mavs as they attempt to move on to the West's final four.
At least we know one thing about this series -- travel fatigue will not be a factor! The Knicks have been chirping for a while that they wouldn't mind seeing the Nets in the first round. Well, for
Stephon Marbury
and crew, it's time to put up or shut up.
Like Sacramento, the No. 1 concern for the Nets is the health of key components. Jason Kidd and Kenyon Martin, slowed by late-season injuries, have not found their rhythm as the playoffs begin. While it is nice that Richard Jefferson is playing some of the best ball of his career and Lucious Harris has picked up his contribution, let's face it -- a flight crew certainly makes the trip more enjoyable, but the plane won't even take off without the pilot (Kidd) and co-pilot (Martin)! Wonderkid Lawrence Frank will have to put in more hours at the office (if that's possible) if the Nets want to play in their third consecutive NBA finals.
The Knicks, in order to upset the Nets in the first round, must dictate tempo and force a more controlled, half-court game where Dikembe Mutombo can be a defensive factor. Marbury must be great -- not average -- and the Thomas boys, Tim and Kurt must provide the scoring they were counting on from an injured Allan Houston.
One thing is already certain -- between South Beach and Bourbon Street, no one will be complaining about going on the road.
The Hornets should send a big ol' pot of that New Orleans gumbo to Jalen Rose of the Toronto Raptors. Rose's 3-pointer with five seconds left on Wednesday night beat Milwaukee and sent the Bucks from a No. 4 seed to a No. 6 seed and a first-round pairing with the Pistons, thus sparing the Hornets a similar fate.
Don't get me wrong. I love what the Heat have done. Stan Van Gundy will get a number of votes for Coach of the Year. Dwyane Wade is the best rookie this side of LeBron James and Carmelo Anthony. Lamar Odom quietly turned in a great double-double kind of year. And solid veterans like Eddie Jones, Brian Grant and Rafer Alston have been solid. The problem for the Heat in this series could be the size and physical strength of the Hornets. If the Heat can get up and down the floor, they will win the series. If not, well, look at the bright side. They still have South Beach!
New Orleans, perhaps the most enigmatic and under-achieving team in the league, still has the ability to pull off a mild upset due to their undeniable talent. Baron Davis was the NBA's MVP over the first two months of the season and is one of the most physically intimidating point guards in the league. All-Star center Jamaal Magloire is just finding out how good he can be. Strong performances from the two stars could be enough to propel the Hornets into a second-round confrontation (and loss) with the top-seeded Pacers.
Tim Legler, an NBA analyst for ESPN and former NBA 3-point champion, is a weekly contributor to ESPN.com during the NBA playoffs.
NBA studio analyst
Former NBA player Tim Legler joined ESPN in 2000 as a studio analyst for ESPNEWS. Legler also appears regularly as an analyst of ESPN2's NBA Fastbreak. Legler played for five NBA teams -- the Suns, Jazz, Warriors, Mavericks and Wizards.