Where are these guys?
Updated:
April 23, 2004, 11:09 AM ET
By
Tim Legler
| Special to ESPN.com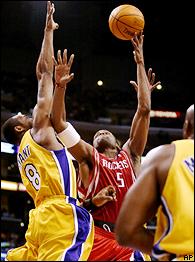 Cuttino Mobley scored six points below his regular-season average in each of the first two games.
Calling all cars, calling all cars! Missing person reports have been filed by several NBA teams desperately in need of help in order to avoid being bounced from the first round of the playoffs.
Search parties are forming in Houston, Milwaukee and Memphis in hopes of finding that much-needed production before it's too late. The victims were last seen during the regular season helping to lead their teams to the promised land. All interested parties should avoid looking in certain areas.
No need looking on the end of the bench for any little-used role players. Don't ask the stars like Yao Ming, Steve Francis, Michael Redd, or Pau Gasol to give you the answers. Please don't hold Jeff Van Gundy, Terry Porter, and Coach of the Year Hubie Brown responsible.
No, what we're looking for here are three normally productive players that need to make themselves heard while someone is still listening.
Cuttino Mobley, Rockets
It's not as if
Cuttino Mobley
, the starting shooting guard for the
Houston Rockets
, has been awful in the first two games against the
Los Angeles Lakers
. He has competed defensively, taken fairly good care of the basketball and provided just under 10 points per game in the Rockets' two losses. The problem has been that Houston needs Mobley to be a heck of a lot better than average. When you are facing a team with as much talent as the Lakers, it takes several guys to play above their head in order to truly compete in a best-of-seven series.
Houston let two golden opportunities to steal road wins slip away by self-destructing at critical times down the stretch. In both cases, a timely offensive spurt by Mobley may have been enough to wrestle home-court advantage away from the Lakers and make this series interesting. Instead, the man they call "Cat" has used up several of those nine lives by shooting just 9-for-24 fom the field. More importantly, Mobley has failed to make even a single 3-pointer in either game.
As recent NBA champions can all attest, 3-point shooting in the playoffs is critical as the games slow to a crawl in most cases and dominant post players face double teams on virtually every possession. Mobley's outside shooting will relieve pressure from Yao Ming and Steve Francis while also forcing Kobe Bryant to work a little harder on the defensive end of the floor. As the series heads to Houston for Games 3 and 4, Cuttino Mobley needs to step up or begin making tee times before Houston's beautiful golf courses get too crowded.
Keith Van Horn, Bucks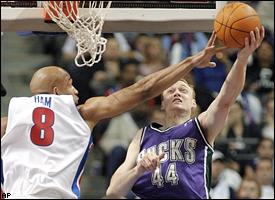 The Bucks are still waiting for Keith Van Horn, right, to show up.
I really hate to rain on the Bucks' parade as they beat their chests after knocking off the
Detroit Pistons
in Game 2 at The Palace of Auburn Hills. I mean, they should be feeling good about taking home-court advantage away from the stingy Pistons. This is especially true considering the physically dominant manner in which the Bucks competed against Detroit's Wallace boys on both backboards. The reality of the situation, however, is that the Pistons' ticket office can add one more person to the number of spectators attending Games 1 and 2 in Detroit. I'm talking, of course, about
Keith Van Horn
of the
Milwaukee Bucks
.
I understand that a lot of players see their numbers drop off in the playoffs, but this is ridiculous! The lack of production from Van Horn is staggering. In 51 minutes over two games, Van Horn is 3-for-18 from the field (including an 0-for-7 in Game 2), has scored a total of eight points and has grabbed a measly six rebounds. That's not even the worst part. He has looked nervous, overmatched and confused. All this from a player that averaged almost 16 points and over six rebounds a game for the Bucks after coming over in a trade from the New York Knicks.
Make no mistake about it. The Bucks need Van Horn to be a significant factor in order to compete in the remainder of this series. Michael Redd's hot start and complacency on the part of Larry Brown and the Detroit Pistons allowed Milwaukee to steal the NBA's only road win in the series' first two games. Now, look for defensive adjustments on the part of the Pistons to make life miserable for Redd. That will put a huge bull's-eye on the Buck with the knee-high socks. Van Horn has the talent to rise to the occasion. The question that lingers is whether he has the heart.
Jason Williams, Grizzlies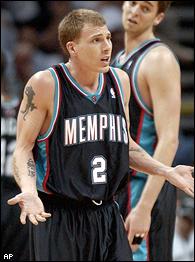 Jason Williams has been as disappointing as the Grizzlies' 3-0 series hole.
This one hurts. I was rooting for
Jason Williams
to have a great run in the playoffs, even if it meant a first-round defeat at the hands of the hottest team in the NBA, the
San Antonio Spurs
. I was pulling for the guy to rise to the occasion in his head-to-head battle with
Tony Parker
, the Spurs' lightning quick and ever improving point guard. Parker, whose Spurs now lead the Grizz 3-0 after last night's 95-93 victory in Memphis, hasn't dominated Williams, except for Game 2 when Parker lit up Williams for 27 big ones. Parker doesn't have to dominate. He has
Tim Duncan
for the heavy lifting. Williams, on the other hand, needed to come up huge for the Grizzlies to even have a chance in this series.
Through three games, the numbers -- 11-for-36 from the floor, 10 points a game, assists and turnovers about even with Parker -- aren't horrific, just poor. This is one case, however, when the statistics don't tell the story at all. Williams was torched on the defensive end of the floor in Game 2 and his decision making was suspect, at best, in Game 3, the one winnable game the Grizzlies have seen in this series. Several forced and hurried shots down the stretch along with a wasted timeout after falling in the open floor without contact cost Memphis down the stretch. The key ingredient in those plays was Jason Williams.
I feel badly for Williams because he has done a magnificent job of shedding his Sacramento Kings baggage this season while playing for mentor Hubie Brown. He has grown up, become reliable, delivered in clutch situations and become more consistent. Unfortunately, he needed to continue that level of play against the Spurs and failed. I don't want to say that this one is over, but even Elvis has left the building down in Memphis. The Grizzlies had a special year and Williams had a very solid season running the show. The Grizzlies have a lot of playoff basketball left in the tank. Williams will come through in the postseason. Just not this one.
Tim Legler, an NBA analyst for ESPN and former NBA 3-point champion, is a weekly contributor to ESPN.com during the NBA playoffs.
NBA studio analyst
Former NBA player Tim Legler joined ESPN in 2000 as a studio analyst for ESPNEWS. Legler also appears regularly as an analyst of ESPN2's NBA Fastbreak. Legler played for five NBA teams -- the Suns, Jazz, Warriors, Mavericks and Wizards.
SPONSORED HEADLINES
MORE NBA HEADLINES
MOST SENT STORIES ON ESPN.COM
EDITORS' PICKS
Pau Gasol was greeted warmly in his return to L.A.
The Ten »

No Boogie? Do KD and D-Wade belong? Our panel of experts breaks down the All-Star reserve picks.
5-on-5 »

Mike Conley and Kyle Lowry have been worth the wait.
Pelton