Wallace notches two playoff highs
Updated:
June 14, 2004, 1:45 AM ET
Associated Press
AUBURN HILLS, Mich. -- Rasheed Wallace was acquired to put the Detroit Pistons over the top -- to help transform a contender into a champion.
He just might do it.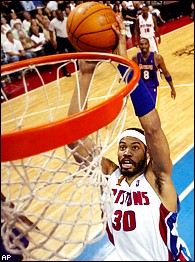 AP'Sheed repeatedly posted up and took it strong to the rack.
Wallace had playoff-highs of 26 points and 13 rebounds to lift Detroit to an 88-80 win over the Los Angeles Lakers on Sunday night, giving the Pistons a 3-1 lead in the NBA Finals.
He was able to stay out of foul trouble in the first half for the first time against the Lakers, and he made the most of his playing time.
"It just felt good for the first time in the series to play in the second quarter," Wallace said.
Wallace had nine points in the first half, after scoring a total of eight before halftime in the three previous games.
With 26 points -- surpassing the 22 he scored against Indiana in the conference finals -- he fell just two points short of his combined total from the first three games against Los Angeles.
The Pistons acquired Wallace on Feb. 19 -- just before the trading deadline -- from Atlanta for reserves and two No. 1 picks in a three-team deal.
"I think Rasheed gives them a lot of confidence because he's been there before," Kobe Bryant said. "Defensively, he gives them a big presence. Offensively, he's able to spread the floor.
"He's been big for this team."
If Detroit can win one more game, perhaps Tuesday at home, the Pistons will be champions for the first time since 1990 and the third time in franchise history.
Without a doubt, the Pistons would credit Wallace for making their good team great if they can prevent Los Angeles from winning its fourth title in five years.
While Wallace's statistics are not always impressive -- averaging 12.5 points and 7.9 rebounds before Game 4 -- his impact almost always is.
The 6-foot-11 power forward has made a stingy defense one of the best in league history. And he's made an average offense better.
Wallace also had two blocks, two steals and two assists Sunday.
"He was great on both ends," Pistons coach Larry Brown said.
When the Lakers tried to come back in the fourth quarter, Wallace wouldn't let them.
Following a basket by Bryant, which pulled Los Angeles within two, Wallace made an alley-oop dunk early in the final quarter.
After the Lakers pulled within three, Wallace made a jumper.
Wallace added two free throws, a fadeaway jumper and another basket in the final five minutes to help Detroit maintain a comfortable cushion.
He was able to take advantage of the void Karl Malone left when he was unable to play on his injured right knee.
"Rasheed had a great game, but you didn't see him doing that when Karl was able to guard him," Lakers forward Rick Fox said.
Wallace, who became a notorious member of the Portland Trail Blazers, has quickly become one of the most popular Pistons. Each time he touches the ball at The Palace, the crowd shouts in unison: "Sheeeeeed!"
"It feels good when they do that," he said. "I like that kind of crowd participation."
He was called for his second technical of the postseason midway through the third quarter, but stayed away from a second -- and an ejection.
Wallace did throw his headband into the crowd after missing a shot in the middle of the final quarter, but the temperamental player did not lose his cool.
Wallace will be a free agent following the season. While it seems obvious that he would want to return, Wallace has consistently said he's not thinking about where he wants to play next season.

Copyright 2004 by The Associated Press
SPONSORED HEADLINES
MORE NBA HEADLINES
MOST SENT STORIES ON ESPN.COM
EDITORS' PICKS
Forget surgery for now. LaMarcus Aldridge scored 26 points.
Story »

Brandon Knight is one of the NBA's unsung rising players.
Doolittle

Check out these five rooks who have the league buzzing.
Thorpe