PISTONS WON 4-2
Insider Sitelines
ESPN Radio Audio
Flag Rock
GameNight: Kid Rock shares a moment of his Pistons celebration.
Listen
Rush To Finals
AllNight: Brent Musburger and Todd Wright look ahead to the Lakers' latest trip to the NBA Finals.
Listen
Princely Swat
Dan Patrick Show: Pistons F Tayshaun Prince on his big block, a 7-2 wingspan and backing up 'Sheed vows.
Listen
Rejection Night
GameNight: Pistons F/C Mehmet Okur sizes up the block party that was Game 2 against the Pacers.
Listen
'It Might Be A Very Ill-Advised Shot'
Dan Patrick Show: When he's really going good, Pacers guard Reggie Miller says he'll takes a wild shot as a "heat check."
Listen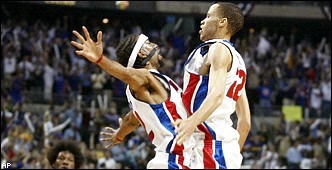 It's party time for Rip Hamilton and Tayshaun Prince (r).
In one of the lowest-scoring games in NBA playoff history, Richard Hamilton put the Pistons up for good late in the fourth quarter of their 69-65 Game 6 win.
More...
Lago: Rip gets in last shot against Artest
Richard Hamilton went one-on-one with the Defensive Player of the Year and lived to tell about it.
A stats analysis shows where the Pistons and Pacers are finding what little offense there is.

•

Yo, where's the O?

To be or not to be the man? That's the playoff question Jermaine O'Neal is trying to answer.

•

J.O.'s East finals exam
TEAM STATS (Regular Season)
PISTONS
PACERS
PPG
90.1
91.4
RPG
42.8
41.7
APG
20.8
21.6
FG%
43.506
43.546
FT%
75.265
76.365
3P%
.344
.351
More from ESPN
No Reggie time in Pacers' Game 6 loss
Reggie Miller has made a career out of coming through in the clutch for the Indiana Pacers. He just couldn't do it one more time.
Lago: Game 6 backup plan
With three starters ailing, the Pacers' hope of staying alive in the East finals could rest on their reserves.
Despite injury woes, Artest and O'Neal will start
With Ron Artest suffereding from a migraine and missing a morning shootaround, the Pacers are uncertain who would be available for Game 6.
Hamilton adds to Detroit's salad days
When Richard Hamilton reflects on his playoff success with the Detroit Pistons, he credits his teammates, coaches -- and his diet.
O'Neal's knee injury worse than thought
Jermaine O'Neal's sprained knee is worse than first believed, but the Indiana star is playing in Game 5 of the Eastern Conference finals.
Lago: Pistons re-establish front-line dominance
The Pistons found their front line being dominant once again on the floor of Conseco Fieldhouse in Game 5.
Lago: Pacers unable to keep up with Hamilton
The Pacers' next adjustment: Stop Rip Hamilton. But that's becoming much easier to say than do.
O'Neal, Tinsley expected to play for Pacers
Jermaine O'Neal and Jamaal Tinsley are expected to play in Game 5 despite nagging injuries.
Pacers' O'Neal sprains left knee in Game 4
Indiana Pacers star Jermaine O'Neal sprained his left knee Friday night against the Detroit Pistons in Game 4 of the Eastern Conference finals.
Threes aren't free against Detroit's D, either
The Pacers are having just as much trouble shooting over the Pistons' defense from 3-point range.
Pistons blow another chance to take control
Another untimely letdown proved that Detroit didn't learn from its mistakes against the Nets.
In O'Neal, Pacers find somebody to lean on
Leaning on an injured yet resolute Jermaine O'Neal, the Pacers turned the East finals into a dramatic best-of-three.
Pistons' D falls short in Game 4 loss
The Detroit Pistons' vaunted defense looked vulnerable amnd the Pacers got off to a great start offensively and then held off Detroit in an 83-68 victory.
Croshere gets rare start and makes gamble work
Indiana coach Rick Carlisle gave Austin Croshere his first start in more than two years and the seldom-used forward scored 14 points to lift the Pacers to an 83-68 victory over Brown's Detroit Pistons on Friday night.
Pacers' Miller fined $5K for kicking ball
Reggie Miller was fined $5,000 by the NBA on Thursday for kicking the ball into the stands after the Indiana Pacers lost to Detroit in Game 3 of the Eastern Conference finals.
Dr. Jack: How Indy can score against Detroit
The Pacers must attack the Pistons' shot-blockers, then pass to the perimeter for open jumpers.
May: East finals uneasy on the eyes
The only thing tougher than trying to score in the East finals is watching the teams try to score.
Billups the long shot for offense in East
If there's one player capable of putting on a show in the East finals, it's Chauncey Billups.
Pacers' defense comes up short
Shoddy defense helped put the Pacers in a 2-1 hole in the East finals.
Aldridge: The best GM in the business
Thanks to Donnie Walsh's patience, the Pacers' young talent has blossomed into a Finals contender.
Arrested D-velopment of Pistons, Pacers
The offenses are way behind the defenses in the East finals and they won't catch up anytime soon.
Brown can't take credit for Detroit's 19 blocks
The Pistons' Game 2 victory hinged on one aspect that is not taught -- shot blocking.
Artest fined for obscene gesture in Game 2
The NBA fined Ron Artest $10,000 for making an obscene gesture against the Pistons.
Stein: Artest says it's on him
After another dismal shooting display, Ron Artest took responsibility for Indiana's Game 2 loss.
Poor shooting compounds Pacers' woes
The Pacers shot just 27.5 percent in a 72-67 loss to the Detroit Pistons in Game 2 of the Eastern Conference finals on Monday night.
'Sheed sticks with Game 2 guarantee
"That's all I'm saying, people. We will win Game 2," Detroit's Rasheed Wallace announced Sunday, repeating his statement after Saturday's loss at Indiana.
Stein: Rasheed's guarantee
Rasheed Wallace's mouth was healthy enough for him to promise the Pacers "will not win Game 2."
Legler: Eastern Conference final's subplots
Which team's wings will soar? And which coach will get the last laugh, LB or Carlisle?
Aldridge: Pistons not fueling Carlisle's fire
Rick Carlisle faces the team that fired him last summer, but he's not out to pay back the Pistons.
'Sheed the ignition for Pistons
With the Detroit Pistons, it seems there's "B.R." and "A.R." Before Rasheed. After Rasheed.
Legler: Conference finals' subplots
Who'll get the last word, GP or Sam I Am? And which coach will get the last laugh, LB or Carlisle?
Sore eye: Injured O'Neal sits out Pacers practice
Jermaine O'Neal sat out the Pacers' practice Thursday to rest his injured left eye but plans to play in Game 1.
O'Neal happy to struggle if Pacers win
Jermaine O'Neal didn't have to score a bunch of points to leave his mark on the most important game of Indiana's season.