PACERS WON 4-2
Insider Sitelines
ESPN Radio Audio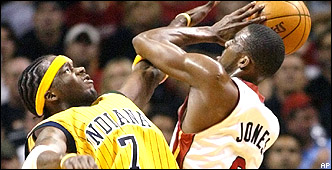 O'Neal contributed on the boards and defensively Tuesday.
Jermaine O'Neal didn't have to score a bunch of points to leave his mark on the most important game of Indiana's season.
More...
Sore eye: Injured O'Neal sits out Pacers practice
Jermaine O'Neal sat out the Pacers' practice Thursday to rest his injured left eye but plans to play in Game 1.
TEAM STATS (Regular Season)
HEAT
PACERS
PPG
90.3
91.4
RPG
41.5
41.7
APG
19.1
21.6
FG%
42.528
43.546
FT%
76.188
76.365
3P%
.357
.351
More from ESPN
Heat lament missed chance for Game 7
Being at home gave the Miami Heat a sense of invincibility that allowed them to turn their season around. Yet their own locker room was the last place they wanted to see.
Pacers snap Heat's home streak at 18
Indiana got 27 points from Ron Artest and withstood Dwyane Wade's fourth-quarter burst in dealing Miami a rare home loss to reach the East finals.
Smith: The Pacers' ex-factor
The Pacers play their best when Al Harrington is on the court. So why is he sitting on the bench?
Game 6 pressure result in gem for Heat?
Miami's comfort zone certainly is at home, where it has won 18 straight games. Will home court serve the Heat well in facing elimination vs. the Pacers?
Pacers' Jones expects to play in Game 6
Indiana guard Fred Jones expects to play Tuesday after missing Game 5 with an injured left shoulder.
Wade emerges as most valuable playoff rookie
After toiling in the shadows of LeBron and Carmelo all season, Dwyane Wade has snatched the spotlight with a sparkling playoffs.
Dr. Jack: Coping with a collapse to 2-2
What do you do when you go from up 2-0 to tied at 2-2? Take two aspirin and make these calls.
Legler: Unsung heroes of the second round
Members of the supporting cast in Minnesota and Miami have earned some time in the spotlight.
Heat, Pacers deal with being dinged up
Several members of the Miami Heat and Indiana Pacers will be playing with pain in Game 5 on Saturday.
Pressure squarely on Indiana in Game 5
After breezing through their first six playoff games, the Pacers didn't expect much trouble from Miami. But with the Heat turned on, it's a whole new ballgame.
Pacers' O'Neal, Artest get no offensive help
Jermaine O'Neal scored 37 points and Ron Artest added 28, but they didn't get any help in Game 4.
Heat seeking comfort in Miami
Miami, down 2-0 to Indiana, has won 16 straight home games. But the Heat also know it won't be easy on Tuesday with the way the Pacers are playing.
Pacers' Foster leaves Game 2 with bruised hip
Indiana Pacers center Jeff Foster left Saturday night's second-round playoff game against Miami with a bruised right hip.
Heat seek to control tempo vs. Pacers
The Heat outscored Indiana 14-0 on fastbreak points in Game 1, but the Pacers forced Miami mainly into a halfcourt game. The Heat hope to adjust on Saturday.
Carlisle misses practice for birth of daughter
Pacers coach Rick Carlisle missed practice Friday to be with his wife as she gave birth to a baby girl.
May: Larry's new Indiana legend
Indiana's biggest difference hasn't been on the court or bench, but in the front office with ol' No. 33.
Rested (or rusty) vs. tired (or battle-tested)
The Heat finally finished off the Hornets with a Game 7 win on Tuesday, giving them just one day to prepare for the top-seeded Pacers.
Previewing Heat vs. Pacers
The battle at power forward between Lamar Odom and Jermaine O'Neal is one of the key matchups.
Pacers keep playing the waiting game
After sweeping Boston on April 25, Indiana will not begin second-round play until May 6, an 11-day break.
Smith: The new life of Riley
Now that he's rebuilt the Heat, what will Pat Riley do next? And where? And will he be coaching?