Big Ben's challenge? Outplay Nazr
Updated:
June 13, 2005, 2:51 PM ET
By
Marc Stein
| ESPN.com
SAN ANTONIO – Memo to all of Michigan: The Detroit Pistons and the people who love them are obsessing about the wrong Wallace.
Rasheed Wallace is right, folks. The Pistons can indeed win Sunday's Game 2 of the NBA Finals even if he doesn't score big, just as he proclaimed after Game 1. They've done it before and they can do it again, so the widespread panic about 'Sheed's touch total is a bit misplaced.
What really can't happen again, if Detroit hopes to avoid the virtual death knell of a 2-0 deficit, is Ben Wallace getting outplayed by Nazr Mohammed.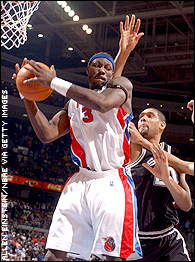 The Pistons had better see a lot more of this or they'll be handing over 'Sheed's title belt.
That little upset, in a matchup Detroit is supposed to dominate, hurt the Pistons on Thursday night almost as much as Manu Ginobili's second-half swoop into Maradona territory.
Let's be real. Regrettable as it is, considering that Tim Duncan has taken to calling 'Sheed's turnaround jumper "basically unguardable," Detroit shows up for every game knowing that, at some point, it'll take some loud lobbying to convince 'Sheed to be more aggressive in the post.
But Big Ben getting outworked by Nazr?
The Pistons will never be prepared for that.
Yet a troubling trend has emerged with Detroit's original Wallace. Four times in Detroit's past six playoff games, its robo-rebounder has grabbed just seven boards. This Wallace only had nine boards in the Game 7 win at Miami. The Pistons don't need Ben to score to flourish, but if he doesn't score and he doesn't rebound ...
Mohammed, meanwhile, contributed a tidy 10 points and seven rebounds to San Antonio's 84-69 triumph, in 13 fewer minutes than Wallace. Which prompted San Antonio Express-News sage Buck Harvey to suggest that general manager R.C. Buford's latest roster steal is looking as effective next to Duncan as the 2003 version of David Robinson.
If that continues, Big Ben's ongoing malaise will become even more of a focal point.
The Pistons can explain away most of their other issues stemming from the great start they wasted Thursday. Remind them only two teams in history have recovered from a 2-0 deficit in the Finals and the Pistons will counter with their perfect 5-0 record under Larry Brown when trailing in a playoff series. You can look it up: Detroit rallied from 3-2 and 1-0 down to New Jersey and Indiana, respectively, during its 2004 championship run, then recovered twice in its last series with Miami (from 2-1 and 3-2 down) after winning Game 4 from 2-1 down in the second round against Indiana.
Bring up Brown's mid-playoff flirtations with Cleveland as a possible explanation for Detroit's occasional coach-player disconnects in the focus and poise departments lately and team president Joe Dumars has to stifle a laugh. "We won a championship last year (with Brown) and we're sitting here back in the Finals," Dumars said Saturday, "so I'd be foolish to complain."
Yet what no one can seem to explain is what has happened to the Wallace who recently collected his third Defensive Player of the Year award. One suggestion is that dealing with Shaquille O'Neal in the conference finals sapped more of his energy than expected, but freshness certainly wasn't a factor for Ben in the '04 Finals, when Shaq was more spry than he is now ... and when Ben and the Pistons seemed to get only stronger as the playoffs deepened.
'Sheed was the silent Wallace on the eve of Game 2, refusing to speak to reporters at Saturday's media availability, but Ben wasn't exactly chatty, either. His answers were short and unrevealing, suggesting that he's the last guy who wants to join in and toss out a theory to account for his dwindling board totals and curious lack of energy.
Chauncey Billups nonetheless insists that the Pistons aren't worried about either of the Wallace Brothers. He promised that 'Sheed will get more post catches, whether he wants them or not, and promised even more strongly that there will be no repeat of the late-game splintering in the opener which featured Brown screaming at Billups to get the ball inside and 'Sheed screaming at Brown and Billups to let the power guard go at Tony Parker.
"I was spinning," Billups recalled.
As for Ben, Billups turned almost gleeful when someone asked if he's really as peeved as he's looked since the loss.
"I love it," Billups said. "I wish we could play right now so he doesn't get a chance to cool off."
Billups believes Ben plays better mad -- and Dumars echoed the notion -- even though that certainly wasn't the case in the opener. The Pistons faded quickly after Wallace flung his headband to protest a blocking call, earning Ben a T that helped spark San Antonio's decisive run.
My advice is the same offered in a November piece on the Pistons: If wearing his hair in full 'fro makes Ben "feel lighter on my feet," as Wallace has said, why would he ever braid it down like he did for Game 1?
At least with me, though, Ben's rebound has already started. What little he did discuss Saturday included a move away from the We Get No Respect platform that 'Sheed always brings up whenever he does consent to meet the press.
As the first prominent Piston in recent memory to decline the opportunity to seek props from his media audience, Ben must have boosted his karma quotient for Sunday night.
"I don't care about respect," he said. "Respect is overrated."
When O'Neal said the same about Wallace in the last round, it was dismissed as a typically inflammatory Shaq diss. You can be sure the comments will get a lot colder than that if Ben Ben doesn't start winning the Mohammed matchup.
Starting at the stroke of Game 2 tipoff time.
Marc Stein is the senior NBA writer for ESPN.com. To e-mail him, click here. Also, click here to send a question for possible use on ESPNEWS.
Senior Writer, ESPN.com
• Senior NBA writer for ESPN.com
• Began covering the NBA in 1993-94
• Also covered soccer, tennis and the Olympics
SPONSORED HEADLINES
MORE NBA HEADLINES
MOST SENT STORIES ON ESPN.COM
EDITORS' PICKS
The Spurs lost in triple overtime again Friday night.
The Ten »

Rajon Rondo hopes for a Dallas parade.
Tim MacMahon »

MJ's contribution to the black community is greater than perceived.
Scoop Jackson »