MIAMI -- Pat Riley stopped to think about the problem this weekend, about the way Vince Carter has gone haywire on the Heat. This hasn't happened to one of his basketball teams since ... since ... oh, how he hates to suggest it.
Since Michael.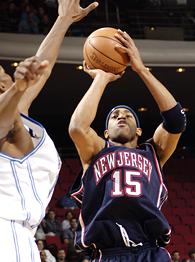 Fernando Medina/Getty ImagesSeeing VC soar again makes Raptors fans sick to their stomachs.
Now, it's another Carolina Tar Heel with a penchant for flying through the lane, switching hands in midair, hitting the most ridiculous of fades and falling-down jumpers. Carter has been a problem for the Heat, lighting them up the way no one else has done this season in the NBA.
As Riley flatly said to Miami reporters this past weekend, "He's definitely been dominating us. You try to trap him, get the ball out of his hands, make him a passer. It all looks good on paper, and in practice. But in a game, it's a whole different ball game."
There were the 51- and 45-point performances, plus the 27-point, 13-rebound and 10-assist triple-double. Across three victories in the regular season, there was pure devastation. To average 38.5 points on 56 percent shooting against Riley in the regular season probably promises this in the playoffs: When Carter goes to the basket, he likely will find himself crashing to the floor, his toughness and tenacity tested with some old-school physicality.
In a lot of ways, Game 1 Monday night on the shores of Biscayne Bay promises to be a fascinating window into Riley's desperation to advance in these playoffs. How far will Riley go with double-teams and hard hits to stop Carter?
"It's a frustrating thing," Carter said about defenses in general trying to stop a serial scorer. "It's like, 'We've gotta figure out something.' It's a frustrating thing. I'd be the first to admit it. Trying to figure that out is always tough. Dwyane Wade, especially last year, gave us trouble. It was tough for us to figure out, which we didn't."
Carter had a horrible shooting series against the Heat in a four-game sweep a year ago, but so much has changed. First of all, Richard Jefferson is playing at high level, not just returning from a broken wrist. Nenad Krstic has turned into a serious force.
What's more, these Heat are constructed in a different way, beginning and ending with the long, lean defender who inspired such problems for Carter, Eddie Jones. The Heat used to run Jones and a second defender at Carter -- even sometimes having a third hedge his way with the ball.
This time, Riley can't pay the respect to him that Stan Van Gundy did a year ago. This time, the Nets aren't as reliant on him. Carter dismissed Jones as "just another guy" on Sunday, suggesting there was nothing too profound about Jones' work on him. Only, it was pretty good, and something Wade and James Posey will have trouble duplicating in this series.
Of course, the Nets have to guard Wade and Shaquille O'Neal right back and this promises to be a fabulous series of stars against stars, big players chasing the biggest playoff moments. In a lot of ways, there's a validation for Carter on the line in this best-of-seven series. He had been relegated to secondary star status in the NBA since his meltdown in Toronto, but that could all change now. He's back in the bright lights of the playoffs, back with the starriest of stars in the sport.
Wade has passed him in the public consciousness as the next big thing, but Carter has used his rebirth with the Nets to resolidify his stature. These are the playoffs, and it's hard to believe Carter can go for 51 and 45 again on the Heat. That's the test now, though. That's the whole theater in this series, in which the desperation of Riley meets the ambitions of Carter and all hell threatens to break loose.
Adrian Wojnarowski is a sports columnist for The Record (N.J.) and a regular contributor to ESPN.com. He can be reached at ESPNWoj10@aol.com. His book, "The Miracle of St. Anthony: A Season with Coach Bob Hurley and Basketball's Most Improbable Dynasty," is now available in paperback.
SPONSORED HEADLINES
MORE NBA HEADLINES
MOST SENT STORIES ON ESPN.COM
EDITORS' PICKS
With LeBron out, Kyrie Irving dropped 55 on the Blazers to deliver the Cavs' eighth straight win.
Recap

Mike Conley and Kyle Lowry have been worth the wait.
Pelton

Is Texas freshman Myles Turner a top-five pick?
Debate