PLAYER MATCHUPS
CAVALIERS
PISTONS
K. Irving

PG
R. Jackson

I. Shumpert

SG
K. Caldwell-Pope

L. James
Points: 31.4
Rebounds: 7.0
Assists: 6.6

SF
M. Morris

K. Love

PF
E. Ilyasova

T. Mozgov

C
A. Drummond

TEAM STATS (Regular Season)
CAVALIERS
PISTONS
PPG
97.6
96.8
RPG
42.3
40.5
APG
19.0
24.0
FG%
45.352
45.486
FT%
72.865
72.718
3P%
.339
.384
PLAYOFF HISTORY
Championships: 0
Championships: 3
Last Championship: N/A
Last Championship: 2004
Last Season:
Did not qualify
Last Season:
Lost in NBA Finals last year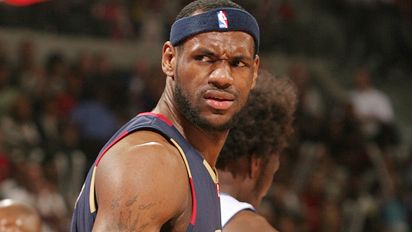 Oh, for Seven
Game 7s rarely turn out well for Cleveland teams. So while LeBron led a valiant effort to put Detroit on the edge, the Cavs were no match for the Pistons -- or history -- Sunday. Detroit held LeBron to six points after halftime to reach the East finals 79-61.
Story |
Scouts Inc.
LeBron James cannot get into a stretch where he settles for outside shots. James has to continue to drive to the basket and force the Pistons to pick up fouls as they attempt to contest his layups.

The Cavaliers have success on the pick and roll when the screener rolls toward the basket. The Pistons are late to defend the slashing screener because the focus is still on James.

Lindsey Hunter is defending James more and will do so in Game 7. James has the size advantage on Hunter and should look to post more, but Hunter works like crazy trying to front the post.

• Entire Game 7 scouting report | Full series scouting report
EXPERT PICKS

Anthony

Broussard

Hollinger

Sheridan

Stein

(In 5)

(In 6)

(In 5)

(In 4)

(In 5)
ESPN RESEARCH
• Pistons notes: This is Detroit's fifth straight postseason appearance. The Pistons made the NBA Finals each of the previous two seasons and won the title in '04.

• Cavs notes: This is Cleveland's first postseason appearance since 1998. They hadn't won a playoff series since 1993 (lost five straight series before beating the Wizards in Round 1).