PLAYER MATCHUPS
NUGGETS
CLIPPERS
T. Lawson

PG
C. Paul
Points: 16.1
Rebounds: 5.1
Assists: 7.8

R. Foye

SG
J. Redick

D. Gallinari

SF
M. Barnes
Points: 3.1
Rebounds: 2.2
Assists: 0.5

K. Faried

PF
B. Griffin

J. Nurkic

C
D. Jordan

TEAM STATS (Regular Season)
NUGGETS
CLIPPERS
PPG
100.3
97.2
RPG
41.3
43.1
APG
23.4
20.8
FG%
46.133
46.454
FT%
74.438
79.085
3P%
.325
.344
PLAYOFF HISTORY
Championships: 0
Championships: 0
Last Championship: N/A
Last Championship: N/A
Last Season:
Lost in Western Conference first round
Last Season:
Did not qualify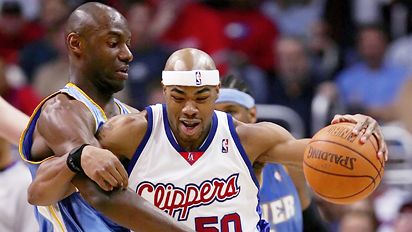 Finally ... Respect
Bust out the champagne. The Clippers' 30-year drought without a playoff series victory ended with a 101-83 victory over the Nuggets. Next up: the Western Conference semis.
Story
|
Daily Dime
Scouts Inc.
You would think that the Nuggets would have shown more energy and emotion in Game 4. It was disappointing to see the Nuggets go down the way they did.

They do not have the toughness to defend throughout their lineup and no matter what they have done offensively in this series this was one area they had some control over and could have done a much better job.

I was surprised that they lost on their home court the way they did. This series is over.

• Entire Game 5 scouting report
| Full series scouting report
EXPERT PICKS

Anthony

Broussard

Hollinger

Sheridan

Stein

(In 6)

(In 7)

(In 7)

(In 7)

(In 6)
ESPN RESEARCH
• Nuggets notes: Denver hasn't won a postseason series in 12 years, with a 2-11 record in postseason games since 1994.

• Clippers notes: Mike Dunleavy is trying to become only the third coach in franchise history to win a postseason game. In Buffalo, Jack Ramsay was 9-13. In Los Angeles, Larry Brown was 4-6.


MORE FROM ESPN.com
Nuggets know they're fortunate to be down only 2-1

The Denver Nuggets realize two things: They got away with a win in Game 3, and they're sure it won't happen again.

Karl: Martin out at least the next two Nuggets games

Nuggets coach George Karl said Kenyon Martin would miss at least the next two playoff games.

Clippers' Kaman doesn't practice, Game 3 in doubt

Clippers center Chris Kaman didn't practice Wednesday because of a sprained right ankle and his status for Game 3 Thursday at Denver is in doubt.