PLAYER MATCHUPS
KINGS
SPURS
D. Collison

PG
T. Parker
Points: 18.9
Rebounds: 3.3
Assists: 5.8

B. McLemore

SG
D. Green

R. Gay

SF
K. Leonard

W. Cauley-Stein

PF
L. Aldridge

D. Cousins

C
T. Duncan
Points: 18.6
Rebounds: 11.0
Assists: 3.2

TEAM STATS (Regular Season)
KINGS
SPURS
PPG
98.9
95.6
RPG
40.5
41.5
APG
22.3
20.9
FG%
45.446
47.193
FT%
78.417
70.175
3P%
.351
.385
PLAYOFF HISTORY
Championships: 1
(as Rochester Royals)
Championships: 3
Last Championship: 1951
Last Championship: 2005
Last Season:
Lost in Western Conference first round
Last Season:
Won NBA finals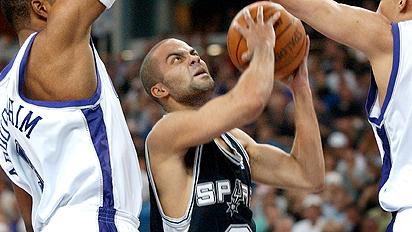 Spurred On
The Kings finally ran out of gas on Friday, as the Spurs cruised behind Tony Parker's 31 points to a 105-83 win, clinching the opening-round series 4-2. The defending champs now turn to their much anticipated second-round series with the Mavs.
Story
Scouts Inc.
The Spurs will need to continue the pick and roll game that creates dribble drives for Tony Parker and Manu Ginobili. And they need to find Bruce Bowen, Brent Barry, Michael Finley and Robert Horry for open perimeter shots when their men leave them to help out on the other scorers.

The Spurs did a marvelous job in Game 5 of spacing the court and getting ball penetration. However the Kings are not going away and the Spurs may need to repeat their offensive statistics of 57 percent shooting, 43 percent 3-point shooting, 27 assists and 14 turnovers to win Game 6 on the road.

• Entire Game 6 scouting report
| Full series scouting report
EXPERT PICKS

Anthony

Broussard

Hollinger

Sheridan

Stein

(In 6)

(In 6)

(In 5)

(In 5)

(In 5)
ESPN RESEARCH
• Kings notes: This is Sacramento's eighth straight postseason appearance, all under Rick Adelman. Before Adelman, the Kings franchise made the playoffs seven times (1967 to 1998).

• Spurs notes: Gregg Popovich (along with Rick Adelman) has 69 career postseason wins. Only nine coaches in NBA history have at least 70 playoff victories.


MORE FROM ESPN.com
Tony Parker and Manu Ginobili just want a little closure. The Sacramento Kings want to make sure they've got to go home to get it.
After Manu Ginobili's turnover led to Kevin Martin's layup at the buzzer and a celebration for the Kings, the Spurs suddenly were forced to regroup after their own difficult loss.

Artest suspended one game for forearm to Ginobili

Ron Artest of the Sacramento Kings was suspended one game without pay for hitting Manu Ginobili of the San Antonio Spurs in the head with his forearm.

Kings close long practice; Spurs take Sunday off

Kings coach Rick Adelman pulled a black curtain across the entrance to the AT&T Center floor before a lengthy practice Sunday. The Spurs took the day off.