Staggered champs face quick KO by raging Bulls
Updated:
April 28, 2007, 1:14 AM ET
By
Chris Sheridan
| ESPN.com
MIAMI -- The visiting locker room was almost completely cleared out by the time Ben Wallace and I got into a debate about semantics, arguing back and forth about what would be the best way to describe what had just happened.
If you were to start by mentioning how the Chicago Bulls won, would you be doing a disservice to the big picture of the defending champs failing so miserably to defend their title?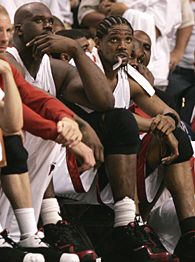 Lynne Sladky/AP PhotoShaq and his Heat could end up on the wrong end of a sweep.
And if, on the other hand, you were to start by mentioning how the
Miami Heat
lost again, would you showing too little respect to the team that's knocked them off three straight times.
Bulls won? Or Heat lost? Which says it better?
"Well, they're still the defending champs. And until someone knocks them off, they're still the defending champs. So I can see how the story might come from that angle," Wallace said after the 104-96 Game 3 decision. "I've been in that situation, too. And until someone beats you, you're still the champ. You're still the leader."
Whatever the case with the semantics, this telling of this story is almost through. The defending champs are one loss away from going home for the summer, and the upstart Bulls are one victory away from moving into the second round of the playoffs for the first time since Michael Jordan was the king of Chicago. "We're outplaying them right now, outworking them and playing harder," Wallace said. "I think we want it more than they want it."
Maybe it is only a question of desire. After being first-round flameouts for the past two years, the Bulls are the team bringing the most sustained energy and the most creativity, while the Heat is still looking too much like they did on opening night when they faced this very same opponent. Back then, on Halloween night, the Heat were so enamored of receiving their championship rings that they never bothered showing up for the game, losing by 42 points. And despite a brief surge here and there during the regular season, the Heat has never really looked like a team up to the task of doing what is necessary to defend that title, instead always coming off as a team a little too satisfied with what was accomplished last year rather than a team with an urge to be the best once again.
Plenty of folks were writing them off even before this game began, which gave Heat coach Pat Riley a reason to laugh before tipoff.
"If in fact any of my players or myself believed one iota of what the press thought about us [last season], we would have lost early. It was really a testimony to their grit last year, and that's why I continue to believe deep down inside this team, that there's something there," Riley said. "I believed it last year, and when they get it together and they're rolling, they can be formidable. I'm not going to make any excuses about now, but the whole dynamic of this season has been different. Our team has to dig down and not worry about what other people think, and they've got to take all the negative thoughts and put them out of their minds and come with energy and efficiency."
That they did, but only for about two quarters. It may very well go down that the best the Heat looked in the postseason was a stretch from the start of the second quarter until late in the third when they outscored Chicago 47-29 to turn a six-point deficit into a 12-point lead, a run that had you thinking: You know what, maybe Riley was right for keeping the faith in his guys.
But his team did him a disfavor throughout the night by missing 19 of 35 free throws, and when the momentum shifted soundly in the direction of Chicago during the fourth quarter, you could tell there might not be enough fight left in the champs to keep this a compelling series. And when you saw thousands upon thousand of white-clad fans streaming toward the exits with under 30 seconds left, the picture got even clearer: May is going to be a month that has nothing to do with D-Wade, Shaq, South Beach or Riley.
So this thing should probably end on Sunday, and Riley will be left to wonder as he heads into the offseason whether it was worth it to keep his team intact and not make major changes for the defense of the title.
He said on opening night how he felt his team deserved at least that much, and look where it has gotten him: His team is on the verge of being swept. Or, to put it another way, the Chicago Bulls are on the verge of sweeping his team.
Whichever way you say it, the bottom line is the same: The better team is about to finish off this series, and the better team is the Chicago Bulls.
Chris Sheridan covers the NBA for ESPN Insider. To e-mail Chris, click here.
EDITORS' PICKS
Who are the best -- and worst -- owners in the league? Our ESPN Forecast panel weighs in.
Rankings »

ESPN The Magazine

Which NBA team will land Kentucky's Karl-Anthony Towns? Take a spin through the Lottery Mock Draft.
Lotto Mock Draft »