Mag: Final word of the NBA Finals
Updated:
June 5, 2007, 11:17 PM ET
ESPN The Magazine
[Editor's note: As LeBron navigates the unfamiliar territory of the NBA Finals, guys who've been there offer a little GPS. And for more coverage, see the NBA Playoff preview issue of ESPN The Magazine . . . ]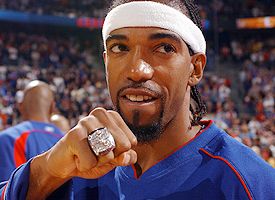 Allen Einstein/NBAE via Getty ImagesRip Hamilton can't resist showing off his 2004 NBA Championship ring.
If you want to see it, better put on sunglasses
"The thing that surprised me is how much being in the Finals raised my profile. You think everyone knows who you are because you play in the NBA, but it's nothing compared with what happens when you're the focus of the entire league. People come up to you in restaurants, airports, bathrooms, wherever. And here's a little advice for the winners: Don't wear your ring, because everybody wants to see it."
-- Rip Hamilton, Pistons, 2004-05
Check yourself before you wreck yourself
"The Finals against the Lakers was my first trip to LA. On the bus to Staples, I waved out the window to the fans. Then I noticed a guy throwing gang signs, and I realized I was being a little na´ve. This was something deeper than I'd expected. I put on my headphones and looked straight ahead."
-- Raja Bell, 76ers, 2001
Try checking in as Newman
"Turn off your cell phone, and check into the hotel under an alias -- I used Cosmo Kramer -- and nobody will bother you. Some people might say that's selfish, but it's what you've got to do to get yourself ready. Otherwise, your phone will be ringing 24/7, with every radio station in the United States calling to get an interview."
-- Will Perdue, Bulls and Spurs, 1991-93 and '99
Take time to stop and examine the logos
"The little trophy on the jersey, that's the first thing I noticed. Then you see the banners everywhere and the logo on the floor. I just wanted to appreciate the stage and soak it all in before we got started. Once the games start, there's no time to focus on anything except playing."
-- Kobe Bryant, Lakers, 2000-02 and '04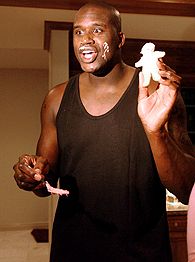 Catherine Steenkeste/NBAE via Getty ImagesIt's not a club sandwich, but chances are Shaq's hungry.
Avoid the club with extra mayo
"I've never had to make a drastic change because I've always played at a high level when it counts. I always ate what I wanted to eat. But the worst I've ever been was when we won my third championship. I was at 14 percent body fat, but that was because I had my foot surgery. The biggest problem is when we go on the road. I have chef at home but when I'm on the road, I'd always get into trouble. My main problem is with club sandwiches. That's all I eat."
-- Shaquille O'Neal, '95 Magic, 2000-02 and '04 Lakers, '06 Heat
Don't order the botulism omelet
"You know those rumors about players getting food poisoning on the road in the Finals? Well, I experienced it firsthand. I'm not going to say in what city, but I ordered room service. By the way, I do check in under an alias; I guess hotel employees know a lot more than we think. Anyway, I was fine until I got on the bus, but as soon as I got on, I was like, 'My stomach is killing me.' It bothered me the whole game. Fortunately we won, but it's scary to think that someone would do that to you. And I'm not the only one. My teammates are all a little paranoid too."
-- Bruce Bowen, Spurs, 2003, '05 and '07
Being a family guy can help
"Family and friends can be distractions, but it turns out I'm more relaxed when I have someone I know around. In my last Finals, I stayed in a hotel while the rest of my family stayed in my house in Encino. I thought it would keep me better focused, but I never got comfortable. With shootaround at 10 or 11 and the games so late, the days seem longer during the Finals. If my mom is cooking, and dad and I can talk about the game, the time passes quicker."
-- Derek Fisher, Lakers, 2000-02 and '04
Know your foe
"There aren't as many mistakes in the games because your opponent is the same each night. There might be slight tweaks or changes to the game plans, but very little, so you know your opponent inside and out. It's almost like practicing against your own team. All you can do is try to bring something a little different."
-- Jason Kidd, Nets, 2002-03
Nothing like a new pair of shoes for spotless play
"I wore a different pair of sneakers for every game. Remember what it was like when you were young and got a new pair? You felt like you could conquer the world!"
-- John Starks, Knicks, 1994
Don't look too far ahead
"You have to approach each game of the Finals as if it's just another playoff game. You can't get ahead of yourself by saying stuff like, 'Four more to get to the championship!' You have to be like, 'Hey, we've got to win this game.'"
-- Richard Jefferson, Nets, 2002-03
Play great, even late
"The games are played so late. That's a big change for guys like us, who are so routine-driven. I tried to follow my usual routine of taking a nap from 1 to 3, but when I got up, I still had so much time to kill. And by the time the game is over, it's midnight, so you're not getting to sleep before 3. Still, by the time you get to the Finals, you're prepared for whatever. You could play at 2 in the morning and it wouldn't bother you."
-- Allan Houston, Knicks, 1999
Take advantage of spotlight time
"By the time your team reaches the Finals, you're banged up; the season has worn you down. So role players often have a chance to shine. Take Raja Bell. He wasn't getting heavy minutes in the regular season or early in the playoffs, but because he is a consummate professional, he was ready when he got the call to guard Kobe. The rest is history. One good Finals performance can make your career."
-- Aaron McKie, 76ers, 2001
Draw comfort from official familiarity
"The referees settle in as well as the players do. It's difficult for them to do that during the season because of the different styles of play they encounter from night to night. But during the Finals there's a rhythm -- like a dance, almost -- so the games are refereed at a higher level. There's a comfort and trust the players and referees have in each other, and that means the players are more likely to determine the outcomes."
-- B.J. Armstrong, Bulls, 1991-93
Quotations supplied to ESPN The Magazine by Ric Bucher, Chris Broussard, Chris Palmer, Ken Berger and Sam Alipour.
SPONSORED HEADLINES
MORE NBA HEADLINES
MOST SENT STORIES ON ESPN.COM
EDITORS' PICKS
Steve Nash will miss the entire 2014-15 season with a back injury.
Adande »

Where does Carmelo land on our countdown?
#NBArank »

Pelton breakdown