Commentary
For Garnett and Gasol, Game 4 told the tale
Originally Published:
June 13, 2008
By
J.A. Adande
| ESPN.com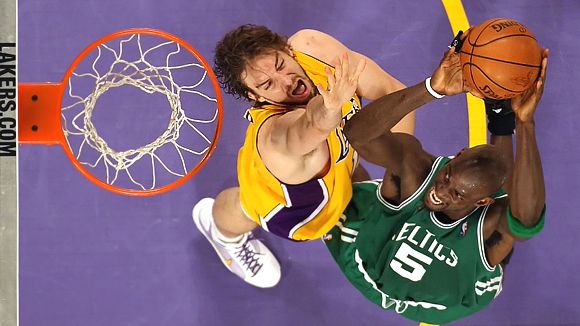 Jed Jacobsohn/Getty ImagesTrade imbalance: Of the new acquisitions, Kevin Garnett has given his team more than Pau Gasol.

LOS ANGELES -- There's a reason the Celtics succeeded in Game 4 whereas the Lakers failed in Game 2 in the historic task of coming back from a 24-point deficit in the NBA Finals. That difference was personified when Pau Gasol checked back in with 6:06 remaining in the fourth quarter Thursday. The most important moments of the year call for great defensive play. The Lakers aren't equipped to do that.

The final half of the game's final quarter was a referendum on the two landscape-changing trades of the past 12 months. The two individuals who brought renewed hope to their franchises were both on the court, with the tenor of the Finals hanging in the balance. It would be a brand-new series, all squared at two, or the only remaining detail would be the date of the parade in Boston.

The Lakers got this far because of the added dimension Gasol brought to their offense as a skilled shooter and deft passer who made the Lakers a threat from every position on the court. He has become even more critical to the Lakers' identity because the Celtics' defense has kept Bryant from dominating in every game except the third one.

Bryant's 17-point game was a function of the early effectiveness of the other Lakers and his willingness to pass to them in the first half, but Boston was directly responsible for yet another Bryant stretch of more field goal attempts than points in the second half.
ESPN CLASSIC: INSTANT CLASSIC
ESPN Classic will air the historic 24-point comeback of the NBA Finals, Game 4: Celtics at Lakers, as an INSTANT CLASSIC, Saturday from 7:30 p.m. to 10 p.m. ET.

See, the Celtics built their brand on the defensive intensity of Kevin Garnett.
That's what prevailed in Game 4, when the free-flowing, high-scoring ways the Lakers enjoyed in the first half came to an abrupt halt midway through the third quarter, when passes and layups turned into extended dribbles and 3-pointers against the Celtics' defensive wall, and the lead, which crested at 24 points halfway through the second quarter, kept getting smaller and smaller until the Celtics finally pushed ahead on an Eddie House jumper with 4:07 left. No team had lost a game after leading by such a margin in the Finals since the Elias Sports Bureau started keeping records in the 1970-71 season.
We have seen the flaws of both Garnett and Gasol on full display in this series. But the Celtics can survive Garnett's weaknesses. The Lakers have not been able to get past Gasol's.
Run all the drills you want, but defense comes down to desire and instincts. And something in Gasol's defensive DNA held him back the last time the Lakers had a chance to do anything in this game. In a sense they had already lost. This is the position they didn't want to be in, having to get a defensive stop to win, instead of merely giving the ball to Bryant and asking him to deliver a victory the way he has so many times before.
The Celtics led by three points, but there was still enough time on the clock that the Lakers didn't have to foul to get a chance to regain possession. Ray Allen dribbled around and around, resetting at the Lakers logo at midcourt, then driving past Sasha Vujacic and getting all the way to the basket. Gasol was on the right side of the lane, guarding Garnett. He kept guarding him for too long, belatedly approaching Allen as the Celtics guard got closer and closer to the basket for the layup that gave Boston an insurmountable five-point lead with 16 seconds remaining.
(Speaking of insurmountable, no team has ever come back to win the NBA Finals after falling into the 3-1 hole the Lakers find themselves in.)
Lakers coach Phil Jackson let Gasol off the hook, saying his players were instructed to stay with the shooters. Vujacic took the blame for his defense on Allen, saying, "I wasn't as aggressive as I should be and he went to the basket. So it was completely my fault."
That's all fine and honorable. No under-the-bus-throwing in the Lakers' locker room.
Now let's go back and imagine if Garnett had been traded to the Lakers and the Celtics dumped some expiring contracts off on the Grizzlies for Gasol.
Is there any way Garnett lets Allen swoop all the way in for a layup there? No. None at all. In fact, we'd just seen an example on the Lakers' last basket the play before, when Bryant drove, Garnett came over, and Bryant dropped the ball off to Gasol for a dunk.
The difference between what Gasol was told to do and what he should have done seemed to sink in with the Spanish center after the game.
"I saw the shot clock running down and kind of went to make sure I put a body on Garnett for the rebound, but I probably should have helped [Vujacic] out, react to that penetration," Gasol said.
Garnett, meanwhile, finally produced some plays to answer the critics.
Doc Rivers sat him for the first three minutes of the fourth quarter, and while he was out Leon Powe made a tough shot in the lane. I wondered then why we never see Garnett do that. But maybe Garnett saw the light.
When he returned he backed in for a 7-foot jumper that tied the score. And he also made two free throws and another close-range jumper. No more long jump shots that have had so many fans shaking their heads, wondering why the tallest Celtic on the court won't go inside.
Speaking of defense, both coaches found themselves defending their big men before the game.
Jackson was asked, in one of the most remarkable questions of the week, what he thought about the word "soft" and how it applied to Gasol.
Jackson said he believed that Gasol's reputation of not being "tough enough or powerful enough to be a center" was the reason Memphis put him on the block, but that "he's constantly risen to the occasion in every series that we've gone through this year." Only one thing: "I won't touch the word soft, though."
Rivers was asked to address Garnett's inability -- or is it unwillingness? -- to deliver in crunch time, and he made a pointed bit of psychoanalysis.
"If Paul [Pierce] makes three shots in a row, he's shooting the fourth time he gets the ball whether it's a good shot or not," Rivers said. "Kobe as well. If Kevin makes three in a row, he's thinking that he's taken too many shots already and needs to get someone involved."
"I'm not perfect," Garnett said, and that's one of the things that makes him so fascinating. He hasn't been able to overcome his weaknesses to add a championship to all of his other accolades.
But something went off inside him Thursday.
"Even before I put the tape [of Game 3] in, I knew what kind of focus I had to have in this game," Garnett said. "And I would have to be in aggressive mode from the giddy-up."
He found his way. He was a threat. So much so, that Gasol stayed with him -- and stayed true to his nature -- on that fateful play.
This is who the Lakers got, this is who they are. As a result, this is where they are, on the wrong side of history in so many ways.
J.A. Adande is an ESPN.com senior writer and the author of "The Best Los Angeles Sports Arguments." Click here to e-mail J.A.
ESPN.com senior writer since 2007
Around The Horn panelist
Formerly at Los Angeles Times
2008 NBA FINALS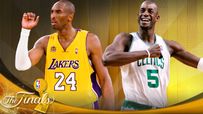 And then there were two -- the Lakers and Celtics. Who will win the NBA Finals? Let the games begin.
Finals schedule | Playoff bracket | Playoff home
Daily Dime
•
Celtics win 17th championship title
•
Did C's lose Regret Game?
•
A little help from Kobe's friends
•
Time for L.A. to go small
•
The Finals Can't Shake Donaghy Mess
•
Unlikely Game 4 comeback gives C's 3-1 lead
•
Rondo's ankle could change L.A.'s game plan
•
Kobe leads Lakers to Game 3 win
•
Lakers need to attack the paint
•
Lakers learn Powe's name in Game 2
•
Time for Gasol to step up
•
Lakers need better defense in Game 2
•
Pierce sparks Celtics in Game 1 victory
•
Expert predictions, clutch stats
•
Pierce loves playing Lakers
•
Celtics to meet L.A. in the Finals
Lakers vs. Celtics
•
Stein: Q&A after six-game "sweep"
•
MacMullan: Pierce's long road to greatness
•
Hollinger: From camp to champs
•
Stein: Boston's big three shine
•
Adande: Questions loom over Lakers' future
•
Hollinger: Celtics commit to defense
•
Scouts Inc.: Game 6 breakdown
•
Hollinger: Farmer steps up in Game 5
•
Sheridan: Late-game letdown for Celtics
•
Stein: Lakers ready to make history?
•
Adande: Greatness eluding Phil and Kobe
•
MacMullan: Doc adheres to dad's lessons
•
Jackson: Time for L.A.'s concession speech?
•
Stein: Game 4 not Kobe's finest hour
•
Adande: KG dominates Gasol again
•
Hollinger: Rivers makes all the right moves
•
Hill: Kobe's Laker legacy on the line
•
Hollinger: Vujacic lends helping hand in Game 3
•
Jackson: Jump shot Jesus has returned
•
Stein: Lakers need to earn sympathy
•
Adande: Lakers feel foul over whistle disparity
•
Jackson: Leading role suits Pierce
•
Adande: Kobe turns away from the pass late
•
Stein: Pierce's knee key to rest of series
•
Finals factor 1: Kobe Bryant
•
Finals factor 2: Celtics Defense
•
Finals factor 3: Paul Pierce
•
Finals factor 4: Home-court advantage
•
Finals factor 5: Battle of the benches
•
Hollinger: Lakers offense vs. Celtics defense
•
Broussard: Turning back the clock

•
Adande: How did Kobe get here?
•
Scouts Inc. breakdown: Lakers vs. Celtics
•
Coaching comparison: Red vs. Phil
•
Smith: Kobe's moving forward
•
Scoop: Fiendin' for a ring
•
Top 10 moments of Lakers-Celtics rivalry
•
ESPN Classic schedule: Relive the rivalry
TrueHoop
•
TrueHoop: Finals reflections
•
TrueHoop: Doc Rivers' redemption
•
TrueHoop: Lakers got Rondo'd
•
Tough night for Allen
•
Game 5 live blogging
•
Laker nation vs. NBA refs
•
Pierce and the evaporating knee story
•
Game 2 live blogging
•
Coaxing Kobe Bryant into hero mode
•
Game 1 live blogging
•
Today's game isn't so different
Simmons
•
Notes from the C's winning night
•
Boston's X factors
•
Game 4 running diary
•
Time for NBA Finals answers
•
The C's and city both look good
•
The Truth comes out in Game 1
•
NBA Finals forecast
•
Chat: NBA Finals preview
•
Simmons: You want a piece of Kobe, Boston?
ESPN The Magazine
•
Sporting Equivalency: NBA Finals meets hip hop
•
Broussard: Reporting from the NBA Finals
Fantasy
•
Join the fun of NBA Finals: Playcaller
Audio
•
Dish: NBA Finals recap
•
Wyc Grossbeck on C's championship
•
Ray Allen on how the Celtics evolved
•
Bob Ryan compares '86 C's to current one
•
Jon Barry credits Tom Thibodeau's team defense
•
Game 4 reactions
•
Rajon Rondo on Pierce, Game 2 plans
•
Bill Walton on Celtics-Lakers history
•
Dr. J on Finals, '80s hoops