Commentary
Kobe becomes supporting cast mate for Lakers' Game 5 escape
Originally Published:
May 15, 2008
By
J.A. Adande
| ESPN.com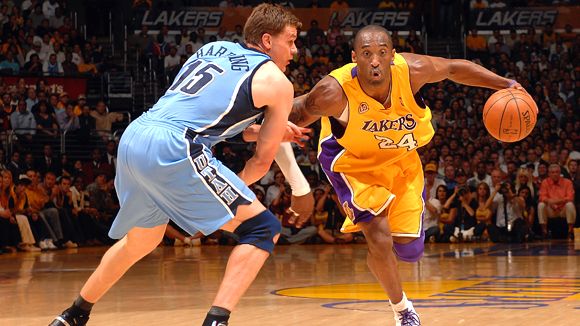 Noah Graham/NBAE/Getty ImagesKobe scored 26 points against the Jazz in Game 5, but didn't attempt a field goal in the fourth quarter.

LOS ANGELES -- It was almost like a scientific experiment, a two-part test designed to see if home court really is the only difference-maker in the conference semifinals.

Step 1: Reduce the sport's best player to a set-up man, the equivalent of asking Mariano Rivera to pitch middle relief.

Step 2: Send out some of the least reliable players on the team for the most critical stretch of the season to date.

Somehow the test produced the desired results for the Lakers, a 111-104 victory over the Jazz in the pivotal Game 5 of the Western Conference semifinals (and, in the 2008 playoffs, it was win No. 19 for the home team in 20 conference semifinal games).

The Lakers prevailed even though Kobe Bryant didn't attempt a field goal for the final 13 minutes as his injured back tightened up throughout the night. They went from a tie score to a three-point lead in the first 3½ minutes of the fourth quarter, when coach Phil Jackson sent out a lineup that included Jordan Farmar (who had made only one basket -- solamente uno -- in the previous 10 days), Vladimir Radmanovic (whose shooting and playing time had become so sporadic that he admitted he was surprised to be on the court in the fourth quarter) and Luke Walton (who botched a key play in Game 4 when he couldn't master the simple task of controlling the ball when it landed right in his hands).

Chalk it up to home-court advantage? The Staples Center crowd was vocal at the end, but there were long stretches when the building went quiet as the Jazz stayed uncomfortably close throughout the game -- even if Utah never did manage to take the lead.

The benefits of home were more apparent on the stat sheet: The Lakers enjoyed a 42-28 advantage in free-throw attempts (and that includes the four free throws Bryant shot in the final 10.7 seconds, when the Jazz fouled to stop the clock).

When the Jazz got close to the basket, there was more contact than in a rush-hour crowd shoving into the subway, but rarely a blown whistle. Meanwhile, at the other end, Lamar Odom breezed past Carlos Boozer for a layup and got a gift and-one. And Utah players and coaches are still wondering how Mehmet Okur could wind up sprawling toward the baseline, leaving Pau Gasol alone under the basket for an easy offensive rebound and dunk to put the Lakers ahead by five points with 20.5 seconds remaining.

The question now is if the Lakers can expect to win Game 6 in Utah, where the calls didn't always go their way in Games 3 and 4, and where the support players practically no-showed, and if they can do it when the usual antidote to road challenges -- Bryant -- must experience life as a mere mortal.

Jackson said he "wasn't particularly happy" with the way the Lakers played in Game 5. Unlike the first two games here, in which the Jazz never seemed to have a real chance, this one was up for grabs until the final minute. Jackson knows a similar effort won't get it done in Utah.

"I don't know," he sighed. "We'll see what we can do."

He'd surely feel more confident if he knew exactly what to expect from Bryant.

Bryant said his back didn't get any worse after this game, but it's unlikely to get any better. Remember, this came after two full days off to rest and get treatment. This time there's only one day off before Friday's game.

Wednesday, Bryant made three of his first four shots, and those accounted for half of his field goals. He attempted only 10 field goals overall.

"I just wanted to pick my spots," Bryant said. "I knew I wasn't 100 percent healthy. I wanted to get us off to a good start, give us an emotional boost."

By the latter stages of the second half, he was reduced to a facilitator.

It started on the Lakers' final two plays of the third quarter. The Jazz gave the Lakers a zone look, and Bryant found Walton in the left corner for a 3-pointer that missed. And on the final play of the quarter, Bryant pushed the ball ahead and found Farmar for an open 3-pointer that missed at the buzzer.

But Bryant had kept them involved in the game. As he put it, the game didn't leave him much choice.

"They're open," Bryant said.

He didn't try to rewrite the rules of the game. With his back preventing him from attempting any comic-book heroics, he followed basketball basics. One time, after the Jazz inexplicably rotated away from him, Bryant passed up an open jump shot, drove and dished to Odom for a baseline dunk.

By then Bryant had abdicated the top dog responsibilities.

"In the third quarter I had a moment where I had to pick us up a little bit, and I was able to do that," Bryant said. "And in the fourth quarter Lamar and Pau took it from there."

Odom and Gasol combined for 13 of the Lakers' 30 fourth-quarter points, big parts of a box score that showed 22 points and 11 rebounds for Odom and 21 points and 8 assists for Gasol. After getting bumped around throughout the game, Gasol had his toughness challenged in a timeout by Jackson (using feline references), but the big man responded down the stretch.

"I had to dig inside of me and bring out some energy," Gasol said.

The problem is, Gasol couldn't find those same energy reserves on the road. Neither could most of the other L.A. supporting crew members. As a result, this series has been extended to six games, and there was a feeling on both sides that it could easily come back here for a seventh game.

"It's promising," said Utah's Deron Williams, who had another stellar game with 27 points and 10 assists against a defense geared to keep him out of the lane. "We feel like we can win here. We've just got to go back home right now and take care of business."

Going home could be all there is to it. This game was yet another example.

J.A. Adande is the author of "The Best Los Angeles Sports Arguments." He joined ESPN.com as an NBA columnist in August 2007 after 10 years with the Los Angeles Times. Click here to e-mail J.A.
ESPN.com senior writer since 2007
Around The Horn panelist
Formerly at Los Angeles Times
SPONSORED HEADLINES
MORE NBA HEADLINES
MOST SENT STORIES ON ESPN.COM
2008 NBA PLAYOFFS Round 2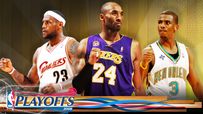 LeBron, Kobe and CP3 dominated Round 1 of the 2008 NBA playoffs, where the top four seeds in each conference advanced to the second round.
Playoff schedule | Playoff bracket | Playoff home
Daily Dime
•
Daily Dime: Lakers end Jazz season in Game 6
•
Daily Dime: Spurs dominate Hornets in Game 6
•
Daily Dime: Rondo gets C's rolling in Game 5
•
Daily Dime: Hornets one win from advancing
•
Daily Dime: Celtics with road woes
•
Daily Dime: Williams puts Utah on his back
•
Daily Dime: Cavs roll in Game 3 victory
•
Daily Dime: Boozer makes impact in Game 3
•
Daily Dime: Spurs keep head above water
•
Daily Dime: Kobe's most valuable promise
•
Daily Dime: Beauty is in eye of beholder
•
Daily Dime: CP3 making Spurs look old
•
Daily Dime: Kobe free to reign in Game 1
•
Daily Dime: Hornets sting the champs
Columns
•
Hollinger: Handing out some playoff awards
Cavaliers vs. Celtics
•
Windhorst: LeBron's chance to be Jordanesque
•
Sheridan: Legacies on the line for Celtics
•
Sheridan: Screwball finish to Game 6
•
Sheridan: Allen finds his range
•
Windhorst: Cavs search for offense
•
Windhorst: LeBron likes his chances
•
Scouts Inc.'s series breakdown
•
Wojciechowski: Rest easy, Celtics ... for now
•
Jackson: Do you still love the Celtics?
•
Series page: More coverage
Magic vs. Pistons
•
Magic eliminated, but won't disappear
•
Hollinger: Hunter dusts off rust
•
Hollinger: Pistons win without Billups
•
Scouts Inc.'s series breakdown
•
Series page: More coverage
Jazz vs. Lakers
•
Adande: Kobe plays supporting role
•
Adande: Jazz find Lakers out of tune
•
Wojciechowski: Miller won't listen on the Sabbath
•
Adande: A year to remember for Fisher
•
Scouts Inc.'s series breakdown
•
Series page: More coverage
Spurs vs. Hornets
•
Stein: Spurs knew Hornets were trouble
•
Neel: Enjoy Chris Paul while you can
•
Hollinger: Champs back to winning ways
•
Palmer: Birdman's redemption bittersweet
•
Adande: Chris Paul's mean streak
•
TrueHoop: Spurs stung twice by Hornets
•
Scouts Inc.'s series breakdown
•
Series page: More coverage
TrueHoop
•
Stat Geek Smackdown: 2008 playoffs
SportsNation
•
Which teams will advance to conference semis?
•
Rank the remaining eight playoff teams