Commentary
Kobe can't find the winning touch in Game 1
Originally Published:
June 6, 2008
By
J.A. Adande
| ESPN.com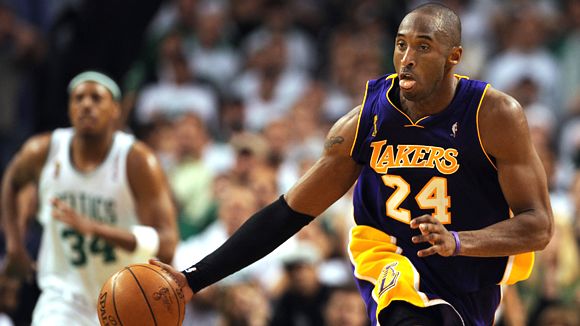 Gabriel Bouys/Getty imagesWhen his team needed less MJ and more Magic near the end, Kobe Bryant's passing decreased.

BOSTON -- Looks like the biggest question about the Los Angeles Lakers is the only one that wasn't asked before the series: What if Kobe Bryant has a hard time scoring?

More ominously for them: What if this is the continuation of a trend of bad Finals performances?

He has delivered virtuoso performances on this stage before, beginning with his first trip to the Finals. In 2000 he scored eight points in overtime to snatch Game 4 from the Indiana Pacers. It was the start of the legend, when he went from phenom to phenomenal. As Sam Cassell said the other day, "That's when he became KB8."

Of course, now he's KB24. And he has the accolades (not to mention the MVP trophy) that come with being the most accomplished player in the league.

But the last time Bryant played in June, he shot 38 percent during the Lakers' five-game loss to the Detroit Pistons in 2004. It was an ugly and ill-fated attempt to prove he could be the No. 1 guy and wrest control of the team from Shaquille O'Neal.
Now even more so, he's the focal point of the defense rather than a dangerous weapon alongside Shaq. Once again we're seeing what happens when the league's best defense locks in on the league's best player, especially when that player is oriented on the perimeter. The defense wins.
"They're not going to give him much of an opportunity to break down their defense off of dribble penetration," Lakers guard Derek Fisher said. "So he's going to end up in a situation where he's taking more catch-and-shoot opportunities when he's coming off of cuts and coming off of screens and catching and shooting the basketball. That's something he's going to get used to as the series goes on. He's so great at breaking down defenses off the dribble. The Celtics' defense just doesn't allow that type of play."
Bryant's shot chart showed only two attempts in the paint in his 24-point night. He made one, missed one -- a much better percentage than overall, when he made about one of every three shots he put up. In fact, his 9-for-26 performance in the Finals opener, a 98-88 loss to Boston, continued the woeful shooting against the Celtics in the two regular-season games and leaves him at exactly 33 percent against Boston this year (24-for-72). For Boston's defense, that's even better than the 35 percent shooting they extracted from LeBron James during seven games in the Eastern Conference semifinals.
Bryant and coach Phil Jackson said the problem wasn't the quality of his shots.
"I had some great looks," Bryant said. "They just didn't stay down. I'll just have to pile it in with the other bad shooting games I've had and flush it and come back Game 2 and hopefully I get the same looks."
As one Laker said, he had good looks … but he had chances to pass, too. As the game went on, L.A.'s offense became increasingly stagnant and Bryant tried to do it by himself.
None of Bryant's six assists came in the fourth quarter, when he made only 1 of 6 shots. He's supposed to bring the Lakers home down the stretch; instead, he matched the fourth-quarter shooting of notorious late-game disappearing act Kevin Garnett miss-for-miss. Garnett called his fourth quarter "terrible," which means the same must be said of Bryant's.
But Garnett, thanks to some timely rebounds, his intimidation of Pau Gasol and most of all the heroics of Paul Pierce, is now one victory closer to the championship, one victory closer to removing all asterisks, ellipses and "buts" from his career. Meanwhile, Bryant's rise has been so great this season that we have to be reminded that he hasn't won a championship without Shaq yet, that he's still only halfway to Jordan's collection of six rings.
For the multitudes who picked the Lakers to win the series, the thinking was that Bryant's ability, particularly in the clutch, mattered more than the collective ability of Boston's big three. After all, he was able to overcome San Antonio's top trio. But maybe the collective hunger of this Boston group is greater. If Bryant isn't able to get easy shots, maybe he'll need to sacrifice a little more.
At one point, early in the third quarter, he pulled off a shake-and-fall away jumper that came straight from the Michael Jordan handbook. But Bryant and the Lakers would be better served right now if he played like Magic Johnson.
The 1984 Finals were one of the most traumatic experiences of my adolescence in Los Angeles, but I allowed myself to watch just enough of the replays on ESPN Classic Thursday to see how the Lakers pushed the ball up the court at every opportunity back then. Then I watched in person as the 2008 Lakers scored exactly two fast-break points Thursday.
So there weren't easy baskets to get the rest of the Lakers going, and none to boost Bryant's totals either.
Instead, he had to walk into the rotation of defenders the Celtics threw at him: Ray Allen, Pierce and James Posey. Then he had secondary defenders sliding over when he tried to penetrate. Things were going so well for the Celtics' defense that when the 108-year-old Cassell found himself guarding Bryant, Cassell was able to draw a charge.
If the Lakers can't find a faster tempo, Bryant and the Lakers will have to come up with different ways to attack Boston's half-court defense. Against San Antonio he surveyed the Spurs for two and a half quarters, then lit them up for 23 points. It didn't come together so quickly for him this time, probably leading to a sleep-deprived night of replays.
"I'll be thinking about those [missed shots] a little bit tonight," Bryant said.
"As the series goes on," his teammate Fisher said, "He'll understand where his shots are going to come from and what spots, and he'll shoot the ball I think at a higher percentage than he did tonight."
That's the expectation. Hasn't changed. But it wasn't the result in the first game. And against the Celtics and in the Finals, it isn't the trend. That hasn't changed, either.
J.A. Adande is an ESPN.com senior writer and the author of "The Best Los Angeles Sports Arguments." Click here to e-mail J.A.
ESPN.com senior writer since 2007
Around The Horn panelist
Formerly at Los Angeles Times
2008 NBA FINALS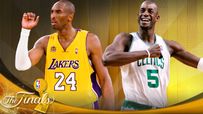 And then there were two -- the Lakers and Celtics. Who will win the NBA Finals? Let the games begin.
Finals schedule | Playoff bracket | Playoff home
Daily Dime
•
Celtics win 17th championship title
•
Did C's lose Regret Game?
•
A little help from Kobe's friends
•
Time for L.A. to go small
•
The Finals Can't Shake Donaghy Mess
•
Unlikely Game 4 comeback gives C's 3-1 lead
•
Rondo's ankle could change L.A.'s game plan
•
Kobe leads Lakers to Game 3 win
•
Lakers need to attack the paint
•
Lakers learn Powe's name in Game 2
•
Time for Gasol to step up
•
Lakers need better defense in Game 2
•
Pierce sparks Celtics in Game 1 victory
•
Expert predictions, clutch stats
•
Pierce loves playing Lakers
•
Celtics to meet L.A. in the Finals
Lakers vs. Celtics
•
Stein: Q&A after six-game "sweep"
•
MacMullan: Pierce's long road to greatness
•
Hollinger: From camp to champs
•
Stein: Boston's big three shine
•
Adande: Questions loom over Lakers' future
•
Hollinger: Celtics commit to defense
•
Scouts Inc.: Game 6 breakdown
•
Hollinger: Farmer steps up in Game 5
•
Sheridan: Late-game letdown for Celtics
•
Stein: Lakers ready to make history?
•
Adande: Greatness eluding Phil and Kobe
•
MacMullan: Doc adheres to dad's lessons
•
Jackson: Time for L.A.'s concession speech?
•
Stein: Game 4 not Kobe's finest hour
•
Adande: KG dominates Gasol again
•
Hollinger: Rivers makes all the right moves
•
Hill: Kobe's Laker legacy on the line
•
Hollinger: Vujacic lends helping hand in Game 3
•
Jackson: Jump shot Jesus has returned
•
Stein: Lakers need to earn sympathy
•
Adande: Lakers feel foul over whistle disparity
•
Jackson: Leading role suits Pierce
•
Adande: Kobe turns away from the pass late
•
Stein: Pierce's knee key to rest of series
•
Finals factor 1: Kobe Bryant
•
Finals factor 2: Celtics Defense
•
Finals factor 3: Paul Pierce
•
Finals factor 4: Home-court advantage
•
Finals factor 5: Battle of the benches
•
Hollinger: Lakers offense vs. Celtics defense
•
Broussard: Turning back the clock

•
Adande: How did Kobe get here?
•
Scouts Inc. breakdown: Lakers vs. Celtics
•
Coaching comparison: Red vs. Phil
•
Smith: Kobe's moving forward
•
Scoop: Fiendin' for a ring
•
Top 10 moments of Lakers-Celtics rivalry
•
ESPN Classic schedule: Relive the rivalry
TrueHoop
•
TrueHoop: Finals reflections
•
TrueHoop: Doc Rivers' redemption
•
TrueHoop: Lakers got Rondo'd
•
Tough night for Allen
•
Game 5 live blogging
•
Laker nation vs. NBA refs
•
Pierce and the evaporating knee story
•
Game 2 live blogging
•
Coaxing Kobe Bryant into hero mode
•
Game 1 live blogging
•
Today's game isn't so different
Simmons
•
Notes from the C's winning night
•
Boston's X factors
•
Game 4 running diary
•
Time for NBA Finals answers
•
The C's and city both look good
•
The Truth comes out in Game 1
•
NBA Finals forecast
•
Chat: NBA Finals preview
•
Simmons: You want a piece of Kobe, Boston?
ESPN The Magazine
•
Sporting Equivalency: NBA Finals meets hip hop
•
Broussard: Reporting from the NBA Finals
Fantasy
•
Join the fun of NBA Finals: Playcaller
Audio
•
Dish: NBA Finals recap
•
Wyc Grossbeck on C's championship
•
Ray Allen on how the Celtics evolved
•
Bob Ryan compares '86 C's to current one
•
Jon Barry credits Tom Thibodeau's team defense
•
Game 4 reactions
•
Rajon Rondo on Pierce, Game 2 plans
•
Bill Walton on Celtics-Lakers history
•
Dr. J on Finals, '80s hoops