Commentary
Lakers come up short, leaving questions about long-term success
Originally Published:
June 18, 2008
By
J.A. Adande
| ESPN.com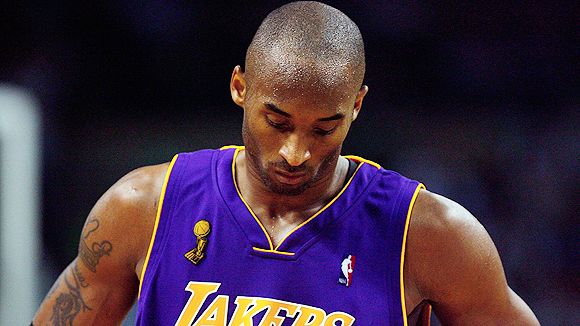 Jim Rogash/Getty ImagesKobe's 22 points in Game 6 weren't nearly enough as the Celtics put a damper on Mamba's MVP season.

BOSTON -- The stunning thing about these NBA Finals is what the Lakers didn't produce.
No memorable performance from Kobe Bryant.
No critical adjustments from Phil Jackson.
No candidate for the Tyronn Lue Award for best unexpected performance that lands a lucrative new contract.
Shelton: Blown Away
Since the end of the Lakers' 3-peat in 2002, they have put up little resistance in elimination games. One constant in all of this is Kobe Bryant. Shaquille O'Neal was still in the purple and gold for two of those defeats, but Bryant has been a part of all five of their flameouts and he has often been very "un-Kobe like."
2003: After the Spurs survived in Game 5 to take a 3-2 lead in the conference semifinals. The Lakers had a chance to send it to a seventh game with a win at the Staples Center. Instead, they lost 110-82. Kobe had 20 points, six assists and seven turnovers on 9-for-19 shooting from the floor.
2004: In Game 5 of the NBA Finals, the heavily favored Lakers saw their season end in a 4-1 loss to the Detroit Pistons. The final score of that one was 100-87 with the Pistons leading by as much as 28 in the fourth quarter. Kobe went 7-for-21 from the field with 24 points and 4 assists.
2005: Didn't make playoffs
2006: The Lakers pushed the second-seed Suns to the brink in the first round, leading 3-1. However, the Suns battled back to take the last 3, including Game 7 in a rout 121-90. Kobe did have 24 points but 23 of those came in the first half. In fact he only took three shots in the second half.
2007: The Lakers faced the Suns again but this time the Suns didn't take long to win, eliminated LA in five games. The Lakers battled hard in Game 5, losing "only" 119-110 despite being down 16 in the fourth quarter. Kobe had 34 points on 13-for-33 shooting from the floor with one assist and six turnovers.
2008: The Lakers were blown off the floor in Game 6 of the NBA Finals, losing 131-92. The 39-point loss was the largest margin of defeat in a clinching game in NBA Finals history. They trailed by as many as 43 points in the fourth quarter. Kobe had 22 points, one assist and four turnovers on 7-for-22 shooting from the floor. Only 11 of those points came after the first quarter, including zero in the fourth quarter.
Lakers When Eliminated ...
| | | |
| --- | --- | --- |
| Year | Opp. | Margin |
| '08 NBA Finals | Celtics | 39 |
| '07 1st Round | Suns | 9 |
| '06 1st Round | Suns | 31 |
| '04 NBA Finals | Pistons | 13 |
| '03 Conf Semis | Spurs | 28 |
... Kobe during that span
| | | |
| --- | --- | --- |
| Stat | Avg. | Totals |
| PPG | 24.8 | 124 pts/5 games |
| APG | 2.6 | 13 assists/5 games |
| TO PG | 4.6 | 23 TOs/5 games |
| FG pct | 39.6 | 44 FG/111 FGA |
-- Harold Shelton, ESPN
And, in the end, no resistance as the Celtics closed in on their 17th championship.
Their submissive 131-92 defeat didn't just bring the Finals to its conclusion. It made you wonder if this Laker season was a mirage instead of the dawn of a new dynasty.
Over the course of the series, the Lakers showed an alarming lack of toughness, defensive backbone and offensive creativity. As a result they suffered the worst Finals blown lead on record in Game 4 and the worst ending loss in Finals history in Game 6.
Privately, some folks at the upper levels in Lakerland believe these Finals were a bonus and only a prelude to when they get really dangerous when Andrew Bynum comes back from his knee injury. Jackson gave a glimpse into that mind-set when he said, "We were surprised we were here, and we're glad that we had an opportunity."
The danger in that thought process is the Celtics beat the Lakers twice in the regular season with Bynum. And the supposed savior has played only about 40 to 50 really good NBA games in his career. And we've yet to see how he does in June, when the games matter most. And, oh yeah, he's coming off a knee injury.
Bryant said Bynum could solve a couple of the Laker issues: rebounding and shot-blocking. But could he single-handedly make up for the Lakers' 48-29 deficit on the boards in Game 6, in which they didn't get a single offensive rebound in the first three quarters?
Stats like that -- and a 65-49 offensive rebounding advantage for Boston in the series -- indicate that the problems go deeper.
Lamar Odom said the Lakers need to: "Get better this summer individually, come back as a better team, get stronger, get nastier and get ready for next year."
Odom kept talking about the team's needs for the future, but it's possible the long-term might not even include him. He has the shortest contract term of their key, high-salary players, with one more year left on his deal. A strong role in a championship run might have solidified his status, but instead he averaged an inconsistent 13.5 points and nine rebounds in a losing effort.
He was one of the people lacking aggression, especially when it came to attacking the basket. Game 6 was another example, when the Lakers would rack up quick fouls on the Celtics early in quarters, only to allow long stretches to pass before they shot bonus free throws.
So can people actually get nastier?
"It's just a mindset," Odom said. "It's called disposition. Carry yourself a certain way throughout the game, throughout the whole 48 minutes. I think they did a better job at that."
It's usually easier to import toughness than instill it. Every oven needs a pilot light, which is what Kevin Garnett gave to the Celtics. The Lakers didn't have anyone to give them that spark. For a while Ronny Turiaf was their wild energy guy, but he was strangely subdued over the past month and saw his minutes dwindle.
The Lakers would like to bring in Sacramento's Ron Artest, who attended a few Lakers games at Staples Center in these playoffs and was in the TD Banknorth Garden on Tuesday. He was wearing a "Property of Kings" t-shirt, and he'll remain that way unless he opts out of his contract this summer. He said he doesn't plan to do so.
"If you're in a foxhole with somebody, you don't want to jump out of the foxhole because of some gold," Artest said.
A foxhole mentality is exactly what the Lakers need.
[+] Enlarge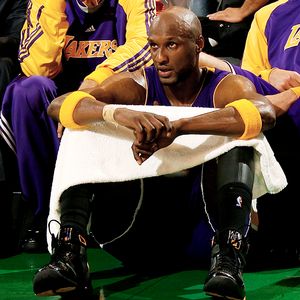 Nathaniel S. Butler/NBAE/Getty ImagesIs Lamar Odom part of the Lakers' future plans?
Bryant couldn't provide that -- or enough points either -- in this series. He averaged 25.7 points per game on 40.5 percent shooting. The Celtics' defense didn't yield many looks at the basket, and in those times he did heat up, Bryant couldn't maintain his early high-scoring pace. In Game 6 it was 11 points in the first six and a half minutes, then only 11 more the rest of the way, missing 14 of his final 17 shots. In the second quarter, when James Posey had the lead defensive assignment on him, he scored only on three technical free throws.
This was one of those rare times Bryant dropped the fašade after a loss and didn't try to mask how deeply it hurt him. Normally he tries to cool his way through the postgame interviews, say that it's simply a process of getting the team's rhythm and flow back and they'll be fine.
Not Tuesday. For once you could see the pain on his face and hear it in his voice.
"Just upset more than anything, frustrated," he said.
He added that he was proud of the Lakers' effort and what they accomplished this season, but they'd have to realize this isn't good enough.
It was a big difference from the way he went out last year, when he was seething after losing Game 5 in Phoenix, angry that he'd had to go to battle with this group, upset that his input hadn't been solicited or heeded, frustrated that another one of his prime years had gone by the wayside, anxious that it wouldn't get better fast.
Bryant looked a little trapped. Losing always hurts, but this time he can't unleash and demand a trade the way he did last summer. Not after he got a bunch of hard-working teammates who came back better, then an All-Star big man at a Euros-for-dollars exchange rate.
There would have been something karmically wrong about a guy being rewarded with a championship a year after he trashed his teammates and the organization. Bryant needs to be quiet this summer, and maybe even work out harder. He's known as a fitness fanatic, but he faded in the latter stages of the last two games, his jumpers coming up shorter and shorter.
The question is whether this game will be a tombstone or a turning point for the Lakers. It evoked memories of the 148-114 loss to the Celtics at the start of the 1985 NBA Finals. That wound up launching the Lakers into the run that cemented their team-of-the-'80s status. Pat Riley came up with the keynote speech of his Lakers career, channeling the parting words from his father to inspire his team. Kareem Abdul-Jabbar uncorked the greatest series in the twilight of his career, and Magic Johnson redeemed himself for his choke job in 1984. The Lakers won that series, and two of the next three as well.
To paraphrase one of the most famous sports rants in this town's history, Riley, Kareem and Magic aren't walking through that door.
These Lakers couldn't live up to their tradition-laden past. The question now is, can they fulfill the promise of their future?
J.A. Adande is an ESPN.com senior writer and the author of "The Best Los Angeles Sports Arguments." Click here to e-mail J.A.
ESPN.com senior writer since 2007
Around The Horn panelist
Formerly at Los Angeles Times
2008 NBA FINALS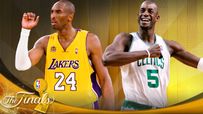 And then there were two -- the Lakers and Celtics. Who will win the NBA Finals? Let the games begin.
Finals schedule | Playoff bracket | Playoff home
Daily Dime
•
Celtics win 17th championship title
•
Did C's lose Regret Game?
•
A little help from Kobe's friends
•
Time for L.A. to go small
•
The Finals Can't Shake Donaghy Mess
•
Unlikely Game 4 comeback gives C's 3-1 lead
•
Rondo's ankle could change L.A.'s game plan
•
Kobe leads Lakers to Game 3 win
•
Lakers need to attack the paint
•
Lakers learn Powe's name in Game 2
•
Time for Gasol to step up
•
Lakers need better defense in Game 2
•
Pierce sparks Celtics in Game 1 victory
•
Expert predictions, clutch stats
•
Pierce loves playing Lakers
•
Celtics to meet L.A. in the Finals
Lakers vs. Celtics
•
Stein: Q&A after six-game "sweep"
•
MacMullan: Pierce's long road to greatness
•
Hollinger: From camp to champs
•
Stein: Boston's big three shine
•
Adande: Questions loom over Lakers' future
•
Hollinger: Celtics commit to defense
•
Scouts Inc.: Game 6 breakdown
•
Hollinger: Farmer steps up in Game 5
•
Sheridan: Late-game letdown for Celtics
•
Stein: Lakers ready to make history?
•
Adande: Greatness eluding Phil and Kobe
•
MacMullan: Doc adheres to dad's lessons
•
Jackson: Time for L.A.'s concession speech?
•
Stein: Game 4 not Kobe's finest hour
•
Adande: KG dominates Gasol again
•
Hollinger: Rivers makes all the right moves
•
Hill: Kobe's Laker legacy on the line
•
Hollinger: Vujacic lends helping hand in Game 3
•
Jackson: Jump shot Jesus has returned
•
Stein: Lakers need to earn sympathy
•
Adande: Lakers feel foul over whistle disparity
•
Jackson: Leading role suits Pierce
•
Adande: Kobe turns away from the pass late
•
Stein: Pierce's knee key to rest of series
•
Finals factor 1: Kobe Bryant
•
Finals factor 2: Celtics Defense
•
Finals factor 3: Paul Pierce
•
Finals factor 4: Home-court advantage
•
Finals factor 5: Battle of the benches
•
Hollinger: Lakers offense vs. Celtics defense
•
Broussard: Turning back the clock

•
Adande: How did Kobe get here?
•
Scouts Inc. breakdown: Lakers vs. Celtics
•
Coaching comparison: Red vs. Phil
•
Smith: Kobe's moving forward
•
Scoop: Fiendin' for a ring
•
Top 10 moments of Lakers-Celtics rivalry
•
ESPN Classic schedule: Relive the rivalry
TrueHoop
•
TrueHoop: Finals reflections
•
TrueHoop: Doc Rivers' redemption
•
TrueHoop: Lakers got Rondo'd
•
Tough night for Allen
•
Game 5 live blogging
•
Laker nation vs. NBA refs
•
Pierce and the evaporating knee story
•
Game 2 live blogging
•
Coaxing Kobe Bryant into hero mode
•
Game 1 live blogging
•
Today's game isn't so different
Simmons
•
Notes from the C's winning night
•
Boston's X factors
•
Game 4 running diary
•
Time for NBA Finals answers
•
The C's and city both look good
•
The Truth comes out in Game 1
•
NBA Finals forecast
•
Chat: NBA Finals preview
•
Simmons: You want a piece of Kobe, Boston?
ESPN The Magazine
•
Sporting Equivalency: NBA Finals meets hip hop
•
Broussard: Reporting from the NBA Finals
Fantasy
•
Join the fun of NBA Finals: Playcaller
Audio
•
Dish: NBA Finals recap
•
Wyc Grossbeck on C's championship
•
Ray Allen on how the Celtics evolved
•
Bob Ryan compares '86 C's to current one
•
Jon Barry credits Tom Thibodeau's team defense
•
Game 4 reactions
•
Rajon Rondo on Pierce, Game 2 plans
•
Bill Walton on Celtics-Lakers history
•
Dr. J on Finals, '80s hoops