Commentary
Greatness eluding Phil and Kobe in NBA Finals
Originally Published:
June 15, 2008
By
J.A. Adande
| ESPN.com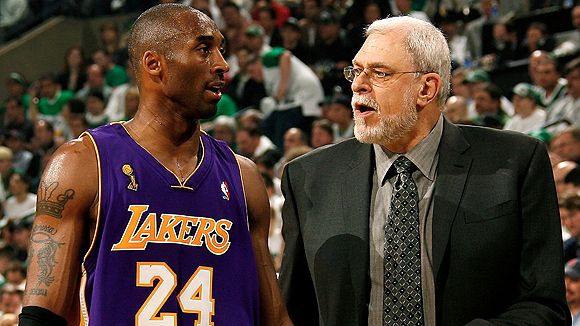 Nathaniel S. Butler/NBAE/Getty ImagesThe reputations of Kobe Bryant and Phil Jackson have taken a hit in the 2008 NBA Finals.

LOS ANGELES -- So how is it possible that the Lakers can have, in the words of Celtics coach Doc Rivers, "the greatest player in the game right now in our league" in Kobe Bryant and "the best coach, at least of my generation" in Phil Jackson, and still find themselves down 3-1 in the NBA Finals?
And if they lose this series, does that mean we have to take those labels away from Bryant and Jackson?
The answer can be found in 14 more words from Rivers: "This is a players game. It always will be, and it really should be."
Note the use of plural for "players." It's not about an individual. It's not about the coach.
As much as we fixate on the stars in the NBA, basketball remains a sport where the collective means more than the individual. And the Celtics' collection of players has outperformed the Lakers'.
Is it too late to recut the "There can only be one" ad with Bryant and Kevin Garnett? Take Garnett out and have the Celtics' side spin like a slot machine, landing on Ray Allen or Paul Pierce or even P.J. Brown, Leon Powe or Eddie House.
Each of those individuals has had at least one good game this series. What's Bryant had around him? Sasha Vujacic for one night in Game 3, Lamar Odom for one half in Game 4, Pau Gasol for one quarter in Game 2.
[+] Enlarge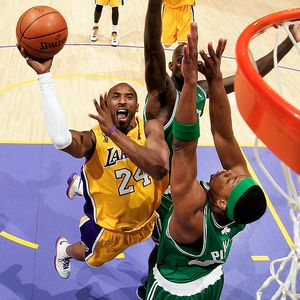 Nathaniel S. Butler/NBAE/Getty ImagesThe Finals have shown that Kobe isn't MJ yet, but we should have understood that already.
As one of the Lakers told me on Saturday, it's not that their guys aren't trying hard, it's just that the Celtics are trying harder and seem to want it more desperately. And that's been the difference.
That's not to say that Jackson and Bryant are absolved of blame.
The Lakers have lost every third quarter, and maybe it's just a matter of Rivers motivating his players more than Jackson. The Celtics' defensive energy has been stronger in the second half, particularly during Game 1 and Game 4.
In these playoffs we've seen Rivers on those locker room camera shots telling the Celtics they're the better team, as if he's trying to get them to believe it. Jackson doesn't do rah-rah. The latest time he successfully rallied his team from a two-game deficit in the playoffs was against the Spurs in 2004. His approach was to go around the locker room and remind players how tenuous their future with the team was, then he told the media another loss would sound the "death knell" for the Lakers. Not very uplifting, huh?
But that wouldn't be Jackson's style. He tries to get his team relaxed in the face of pressure, in the moment in chaotic times. Since the end of Game 4 he has insisted, "The series is not over," which, when you think about it, is more about adhering to the logistics of the remaining schedule than it is boldly predicting a Lakers comeback.
Interesting how the swing of a few points can change perceptions. Against San Antonio, Jackson was praised for trusting his bench and sticking with the regular substitution patterns, even in the face of large deficits. Now he's blamed for the same things when the Celtics pull away from the Lakers.
In addition, the Celtics have done a good job of exposing the weaknesses of Jackson's preferred triangle offense. One issue is that the offense can get guys the ball, but it just can't get them shots. When you watch Lakers games, you don't see shooters running along the baseline and coming off double screens for an open jumper on the baseline. The offense needs spacing and ball movement, and relies on penetration via the pass or dribble to create shots. In this series, the Lakers haven't been dedicated enough to do that in the face of Boston's persistent defense.
As much as we fixate on the stars in the NBA, basketball remains a sport about the collective more than the individual.
So that's left Bryant to fend for himself against multiple defenders, and when Bryant was asked about the challenge of going against Pierce, who is bigger than most defenders that face him, he said, "Yeah. It's usually tough, especially when there's about four other people behind him. That helps."
But Bryant's teammates just haven't delivered. At least not in the way John Paxson and Steve Kerr once did for Michael Jordan.
And just like that, the comparisons have shifted from the gods of Mt. Olympus down to the mere mortals. Instead of ascending past Jordan, in some quarters Bryant is falling behind LeBron James because James' Cavaliers took the Celtics to seven games.
But it was erroneous to move Bryant ahead of Jordan in the first place -- can we at least wait until he gets six rings?
It's like Tiger Woods and Jack Nicklaus. As bad a man as Tiger is (oh, and Saturday's round at the U.S. Open was better than any performance in these NBA playoffs), Nicklaus still holds the top spot in golf until Woods gets to 18 majors.
Jackson has reached the pinnacle of his field, but he just can't seem to break from Red Auerbach and win championship No. 10. And now, with unusually fawning/bold questions about Rivers outcoaching Jackson in this series, Bryant had a revealing nonresponse response to that topic.
"I'm not a coaching analyst," he said.
[+] Enlarge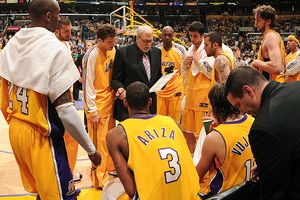 Andrew D. Bernstein/NBAE/Getty ImagesThe Lakers have lost every third quarter in the Finals. Is the Zen Master not motivating his team?
Interesting, because he had plenty to say about the job Larry Brown was doing when Brown's Pistons dismantled the Lakers in 2004. That was Bryant's way of distancing himself from the pending implosion, trying to escape the debris that was about to start flying once Jackson and Shaquille O'Neal were no longer Lakers. If Brown was the guy doing all the coaching in the series, how much would Jackson's departure really hurt?
But this time Bryant knows his fate is tied with Jackson's. All of the greatest moments in Bryant's career have come with Jackson on the sideline. And they need each other to get to the top level of the NBA pantheon.
Only right now it feels as if they're moving backward. They're on the verge of losing their second consecutive Finals appearance together, dropping seven of their past nine Finals games.
It's tempting to look back on those three championships at the start of the decade and wonder if those were more about Shaq and less about Bryant than we thought. Don't do it. The Lakers wouldn't have reached all of those Finals (especially the one that started it all in 2000) if Bryant didn't deliver big performances along the way.
This series has shown that Bryant is not Jordan. That should have been understood already. But sometimes we let the mythology of Jordan overshadow the reality. Do you think Jordan never had a Finals performance with numbers like the 27 points and 43 percent shooting Bryant's experiencing against the Celtics? You must not have watched the 1996 Finals, when Jordan averaged 27 points and shot 42 percent against Seattle.
Do we not hold Jordan accountable for missing the playoffs with the Washington Wizards because he was 38 when he came out of retirement to play for them? If so, are we going to forget that Kareem Abdul-Jabbar was 38 when he won the 1985 NBA Finals MVP?
No, Bryant isn't MJ. But MJ wasn't MJ either, at least not the infallible figure we've established in our minds.
As a reminder, here's the worst-case scenario for Bryant and Jackson if these Finals end the way we think they will: Bryant will be a three-time champion with scoring feats that rank with Jordan and Wilt Chamberlain, and Jackson will be a Hall of Famer tied for the most coaching championships in NBA history.
It's not that Jackson and Bryant can lose. It's that they stand not to gain. For two people as used to success as they are, it's just as painful.
J.A. Adande is an ESPN.com senior writer and the author of "The Best Los Angeles Sports Arguments." Click here to e-mail J.A.
ESPN.com senior writer since 2007
Around The Horn panelist
Formerly at Los Angeles Times
2008 NBA FINALS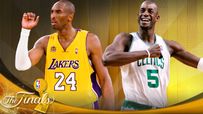 And then there were two -- the Lakers and Celtics. Who will win the NBA Finals? Let the games begin.
Finals schedule | Playoff bracket | Playoff home
Daily Dime
•
Celtics win 17th championship title
•
Did C's lose Regret Game?
•
A little help from Kobe's friends
•
Time for L.A. to go small
•
The Finals Can't Shake Donaghy Mess
•
Unlikely Game 4 comeback gives C's 3-1 lead
•
Rondo's ankle could change L.A.'s game plan
•
Kobe leads Lakers to Game 3 win
•
Lakers need to attack the paint
•
Lakers learn Powe's name in Game 2
•
Time for Gasol to step up
•
Lakers need better defense in Game 2
•
Pierce sparks Celtics in Game 1 victory
•
Expert predictions, clutch stats
•
Pierce loves playing Lakers
•
Celtics to meet L.A. in the Finals
Lakers vs. Celtics
•
Stein: Q&A after six-game "sweep"
•
MacMullan: Pierce's long road to greatness
•
Hollinger: From camp to champs
•
Stein: Boston's big three shine
•
Adande: Questions loom over Lakers' future
•
Hollinger: Celtics commit to defense
•
Scouts Inc.: Game 6 breakdown
•
Hollinger: Farmer steps up in Game 5
•
Sheridan: Late-game letdown for Celtics
•
Stein: Lakers ready to make history?
•
Adande: Greatness eluding Phil and Kobe
•
MacMullan: Doc adheres to dad's lessons
•
Jackson: Time for L.A.'s concession speech?
•
Stein: Game 4 not Kobe's finest hour
•
Adande: KG dominates Gasol again
•
Hollinger: Rivers makes all the right moves
•
Hill: Kobe's Laker legacy on the line
•
Hollinger: Vujacic lends helping hand in Game 3
•
Jackson: Jump shot Jesus has returned
•
Stein: Lakers need to earn sympathy
•
Adande: Lakers feel foul over whistle disparity
•
Jackson: Leading role suits Pierce
•
Adande: Kobe turns away from the pass late
•
Stein: Pierce's knee key to rest of series
•
Finals factor 1: Kobe Bryant
•
Finals factor 2: Celtics Defense
•
Finals factor 3: Paul Pierce
•
Finals factor 4: Home-court advantage
•
Finals factor 5: Battle of the benches
•
Hollinger: Lakers offense vs. Celtics defense
•
Broussard: Turning back the clock

•
Adande: How did Kobe get here?
•
Scouts Inc. breakdown: Lakers vs. Celtics
•
Coaching comparison: Red vs. Phil
•
Smith: Kobe's moving forward
•
Scoop: Fiendin' for a ring
•
Top 10 moments of Lakers-Celtics rivalry
•
ESPN Classic schedule: Relive the rivalry
TrueHoop
•
TrueHoop: Finals reflections
•
TrueHoop: Doc Rivers' redemption
•
TrueHoop: Lakers got Rondo'd
•
Tough night for Allen
•
Game 5 live blogging
•
Laker nation vs. NBA refs
•
Pierce and the evaporating knee story
•
Game 2 live blogging
•
Coaxing Kobe Bryant into hero mode
•
Game 1 live blogging
•
Today's game isn't so different
Simmons
•
Notes from the C's winning night
•
Boston's X factors
•
Game 4 running diary
•
Time for NBA Finals answers
•
The C's and city both look good
•
The Truth comes out in Game 1
•
NBA Finals forecast
•
Chat: NBA Finals preview
•
Simmons: You want a piece of Kobe, Boston?
ESPN The Magazine
•
Sporting Equivalency: NBA Finals meets hip hop
•
Broussard: Reporting from the NBA Finals
Fantasy
•
Join the fun of NBA Finals: Playcaller
Audio
•
Dish: NBA Finals recap
•
Wyc Grossbeck on C's championship
•
Ray Allen on how the Celtics evolved
•
Bob Ryan compares '86 C's to current one
•
Jon Barry credits Tom Thibodeau's team defense
•
Game 4 reactions
•
Rajon Rondo on Pierce, Game 2 plans
•
Bill Walton on Celtics-Lakers history
•
Dr. J on Finals, '80s hoops