Commentary
Regrets, they have a few, but at least Suns avoid broom treatment
Originally Published:
April 27, 2008
By
J.A. Adande
| ESPN.com
PHOENIX -- The Phoenix Suns have as much reason to be regretful as they are optimistic after they pounded the San Antonio Spurs 105-86 Sunday. Sure, they avoided a sweep by winning Game 4. They reminded people that they can beat the Spurs. Handily.

And yet they have to wonder why they couldn't sustain double-digit leads in the first two games, why they failed to execute in a few critical moments of Game 1 and why they didn't play Game 3 with the type of energy and passion they displayed in Game 4. If they had done those things, it could just as easily have been the Suns up 3-1, not the Spurs, as they head to San Antonio for Game 5.

[+] Enlarge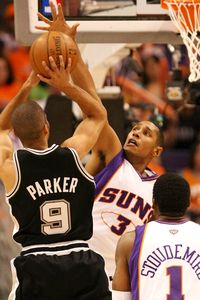 Jed Jacobsohn/Getty ImagesBoris Diaw's defense on fellow Frenchman Tony Parker was one key to the Suns' win.

"A lot of woulda coulda shouldas," Steve Nash said. "But we're still alive, and we played well in San Antonio and haven't got a win yet. So we want to go down there with a very optimistic attitude."
There was more reason to be optimistic Friday, when the Suns were back home after two close-but-no-Cohiba losses in San Antonio and had a legitimate chance to get back in the series. But neither the fans nor the players were as energetic then as they were Sunday, when the crowd made noise and the Suns made plays despite a history book that shows no NBA team has come back from a 3-0 deficit to win a best-of-seven series.
It was as if everything Suns fans asked for all season came true. They got effective adjustments from coach Mike D'Antonio and aggressive play from Boris Diaw.
If anything, D'Antoni coached too much -- more than he had to. Long after Spurs coach Gregg Popovich pulled his key players, D'Antoni kept in Diaw. Then he sent Amare Stoudemire back in the game with 5:39 left and the Suns ahead by 21. (One possible rationale: If they're both on the court, they can't get suspended for leaving the bench should a confrontation break out, as they did during a pivotal moment in last year's series.) Then D'Antoni was ejected for arguing with the officials when his team was ahead by 23.
D'Antoni caught more heat than a solar panel last week, for failing to sustain what the Suns did right in the first halves of Games 1 and 2 and for not forcing the ball out of the hands of Tony Parker, who dissected them with 41 points and 12 assists in Game 3.
With Grant Hill unable to play because of a groin injury (he didn't say if he could play Tuesday, but his painfully slow gait made it look doubtful), D'Antoni put Diaw into the starting lineup. It was a strategic decision that paid off when the passive Diaw morphed into a rabid pit bull. The Suns frequently ran their offense through him, and he went to work against Parker, Michael Finley and Manu Ginobili. After taking 28 shots in the first three games, he put the ball up 19 times in Game 4 and made 10 shots for 20 points. When he wasn't scoring, he passed to the open shooter and picked up eight assists.
He also had 10 rebounds, and just as important was his defense against Parker, his teammate on the French national squad.
"I'm sure they've had some croissants together," D'Antoni said.
More importantly, according to Diaw, "I kind of know sometimes when he wants to go to his floater, when he tries to go for his jump shot or when he is looking for the pass. But the main thing is trying to stay close to him and bother the pass or shot."
The Suns needed something to change after Parker had his way with them in Game 3. Diaw's long arms discouraged Parker from taking the jumpers he hit Friday, and when Parker drove to the basket, he was bothered by the Suns' big men.
But it was Diaw's offensive effort that was most surprising. He battled in the low post. He looked for his shot instead of passing at the slightest sign of defensive resistance.
"When he does that, we're a much better team," said Raja Bell, whose own unexpected 27-point outburst helped make up for an off night by Amare Stoudemire (seven points). "We have to find a way to get him in position to do that night-in, night-out."
One way stars are defined is by their off nights. Even in a bad game, with limited minutes, Tim Duncan still had a double-double (14 points, 10 rebounds). A "contained" Parker had 18 points, less than a point off his regular-season average. When Diaw has off nights, he's practically invisible.
So his performance was kind of like the Suns themselves, reminding you of what they're capable of, making you wonder why they haven't capitalized yet, and leaving you with the feeling that it's coming too late.
Can we rule out the Suns in the second round of the playoffs? Well, we wouldn't have expected to see Shaquille O'Neal's wife in Phoenix after he filed for divorce last year, but there was Shaunie, with the kids in tow, for both games.
So stranger things have happened. But never in the NBA playoffs.
J.A. Adande is the author of "The Best Los Angeles Sports Arguments." He joined ESPN.com as an NBA columnist in August 2007 after 10 years with the Los Angeles Times. Click here to e-mail J.A.
ESPN.com senior writer since 2007
Around The Horn panelist
Formerly at Los Angeles Times
SPONSORED HEADLINES
MORE NBA HEADLINES
MOST SENT STORIES ON ESPN.COM
2008 NBA PLAYOFFS Round 1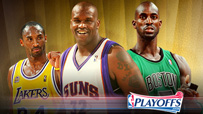 The 2008 NBA playoffs are finally here and the postseason field is more stacked than ever.
Playoff schedule | Playoff bracket | Playoff home
Columns
•
Daily Dime: Suns fade out again
•
Daily Dime: Hawks soar over Celtics
•
Daily Dime: Phoenix fails its test
•
Daily Dime: Suns stumble in second half
•
Adande: Great time to be a sports fan
•
Stein: Best first-round series ever
•
Daily Dime: Rockets failure to launch
•
Daily Dime: Pistons stumble in opener
•
Daily Dime: Spurs leave a mark on Suns
•
Hollinger: How will the postseason play out?
•
Adande: Sixteen teams, sixteen dramas
Podcasts
•
NBA Dish: Ford and Stein talk Round 1
•
NBA Dish: Ford and Adande predict playoffs
Hawks vs. Celtics
•
TrueHoop's Series Bullets
•
Sheridan: Celtics come out swinging
•
Scouts Inc.'s series breakdown
•
Series page: More coverage
Sixers vs. Pistons
•
Sheridan: Sixers slam Pistons
•
Sheridan: Pistons win with complete effort
•
TrueHoop's Series Bullets
•
Scouts Inc.'s series breakdown
•
Series page: More coverage
Raptors vs. Magic
•
TrueHoop's Series Bullets
•
Hill: Dwight Howard vs. Chris Bosh
•
Scouts Inc.'s series breakdown
•
Series page: More coverage
Wizards vs. Cavaliers
•
Windhorst: The new LeBron Rules
•
Windhorst: Wiz get reality check
•
TrueHoop's Series Bullets
•
Windhorst: LeBron quiets Wiz with late heroics
•
Scouts Inc.'s series breakdown
•
Series page: More coverage
Nuggets vs. Lakers
•
Adande: Bynum not nearly ready
•
TrueHoop's Series Bullets
•
Adande: Gasol gets first playoff win
•
Scouts Inc.'s series breakdown
•
Series page: More coverage
Mavericks vs. Hornets
•
Dallas steps up
•
TrueHoop's Series Bullets
•
Jackson: Dinner with the Hornets
•
Hollinger: Paul powers Hornets again
•
Hollinger: Paul finds groove in playoff debut
•
Scouts Inc.'s series breakdown
•
Series page: More coverage
Suns vs. Spurs
•
Adande: Suns missing an identity
•
TrueHoop's Series Bullets
•
Scouts Inc.'s series breakdown
•
Series page: More coverage
Rockets vs. Jazz
•
TrueHoop's Series Bullets
•
Scouts Inc.'s series breakdown
•
Series page: More coverage
SportsNation
•
Make your playoff predictions
•
Rank 'em: All 16 NBA playoff teams
•
Quiz: What's your playoff IQ?