Commentary
Suns losing at own game, now racing against elimination
Originally Published:
April 25, 2008
By
J.A. Adande
| ESPN.com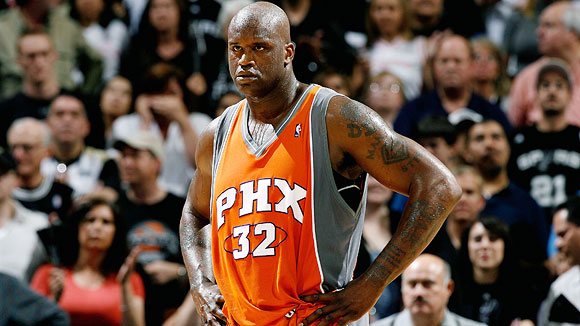 Joe Murphy/NBAE via Getty ImagesPhoenix acquired Shaq to be a difference-maker in the playoffs. Mission accomplished? Not exactly.

The Phoenix Suns once again are running at the fastest pace in the league; less than a week into the playoffs and they've already arrived at their day of reckoning. Three games in is awfully quick for a team with championship aspirations to find its survival at stake, but let's be real: Down 2-0 in the series, if the Suns don't beat the San Antonio Spurs tonight, Phoenix's elimination becomes a matter of when, not if.
The Suns attempted to remake themselves into the ultimate hybrid: the size of an SUV, but still quick off the line -- and fuel efficient, too. But sometimes when you try to be everything, it turns you into nothing. In the cauldron of a road playoff game, with the Spurs applying the heat, the Suns could rely on … what?
Shaquille O'Neal in the low post? Steve Nash and Amare Stoudemire in the pick-and-roll? Leandro Barbosa's speed? The threat of the 3-point shot? None of those things define the Suns. This group hasn't been together long enough or fought enough battles alongside each other to forge an identity.
The Spurs are beating Phoenix in the way Phoenix used to win. Even in their six-game defeat in last year's playoffs, the Suns outshot the Spurs 42 percent to 36 percent from behind the arc. So far this series, the Spurs have the edge, 36 percent to 31 percent. And in the ultimate indignity, the Spurs outscored the Suns 23-4 in fastbreak points in Game 2.
When they were strictly known as the running Suns, they did manage to impose their will on teams in the playoffs more often than people expected. That's because they had Their Way, a plan, and they were committed to following it.
The Suns' entire approach was to win with volume and accuracy. It didn't matter if the opponent scored. The faster they scored, the faster the Suns could get off shots of their own. The Suns would shoot at a higher percentage and make more 3-pointers than their foes, and that was all they cared about.
[+] Enlarge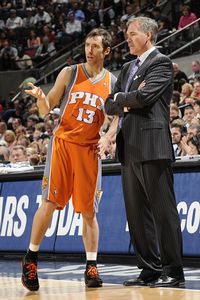 D. Clarke Evans/Getty ImagesSteve Nash and Mike D'Antoni are searching for answers.
Now it's the Spurs who have the edge in overall field goal percentage in this series. That's because the Spurs are getting exactly what they want, especially when they lock O'Neal into pick-and-roll defense. He isn't jumping out at the ball handler -- usually Manu Ginobili or Tony Parker -- so they have all the time they want to shoot, drive or even pause to send a text message if they'd like.
The Spurs have changed this season, too. But it's been a gradual transition, one that unfolded over the course of this year. In crunch time, they no longer run everything through Tim Duncan. They put the ball in Ginobili's hands and let him create.
The Suns were forced to adjust on the fly, with O'Neal joining their lineup right after the All-Star break. There hasn't been enough time for them to find a comfort zone. There's no established direction on this team. In the late stages of Game 1, they threw the ball in to O'Neal but -- perhaps wary of picking up his sixth personal foul -- he quickly passed it, without making a move or waiting to see if the double-team came over. When he had it late in Game 2, he held it … while the rest of the Suns stood around and watched. Nash has looked hesitant as well, unsure whether he should shoot or distribute. Stoudemire went from a 25-point first half to an eight-point second half in Game 2, while Barbosa never did anything at all, missing all seven of his shots.
The Suns figure to get a few more breaks, have a little more energy and confidence now that they're back home for Games 3 and 4. Perhaps they'll be able to sustain the play that got them double-digit leads in the first half of both of the games in San Antonio.
Only 12 NBA teams have ever come back from a 2-0 deficit to win a best-of-seven series. The good news for the Suns: O'Neal played for two of the past six teams that did it (the Miami Heat against the Dallas Mavericks in the 2006 NBA Finals and the Los Angeles Lakers against the Spurs in the 2004 Western Conference semis). And should the Suns fall behind 3-1, all they have to do is look through the playoff history pages of their own media guide to find the last team to overcome that deficit: They did it against the Lakers in the first round of the 2006 playoffs.
Only four regulars from that team are still on the squad: Nash, Barbosa, Raja Bell and Boris Diaw. That's a reminder of the constant change in the NBA, the continuous shifting of rosters even at the normal pace. Then came the drastic jolt this season, when the Suns sent Shawn Marion to Miami for O'Neal.
And now the Suns' outlook has changed as well. They started the playoffs thinking of themselves as championship contenders, in the same class as the Celtics, Pistons and Lakers. Now they're hoping to be like the Wizards, Rockets and Raptors, getting a win in Game 3 to extend the series after dropping the first two games.
Teams never like it when they get beaten at their own game. After four years of pushing the tempo, the Suns have never felt so uncomfortable with an accelerated pace.
J.A. Adande is the author of "The Best Los Angeles Sports Arguments." He joined ESPN.com as an NBA columnist in August 2007 after 10 years with the Los Angeles Times. Click here to e-mail J.A.
ESPN.com senior writer since 2007
Around The Horn panelist
Formerly at Los Angeles Times
SPONSORED HEADLINES
MORE NBA HEADLINES
MOST SENT STORIES ON ESPN.COM
2008 NBA PLAYOFFS Round 1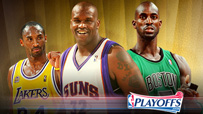 The 2008 NBA playoffs are finally here and the postseason field is more stacked than ever.
Playoff schedule | Playoff bracket | Playoff home
Columns
•
Daily Dime: Suns fade out again
•
Daily Dime: Hawks soar over Celtics
•
Daily Dime: Phoenix fails its test
•
Daily Dime: Suns stumble in second half
•
Adande: Great time to be a sports fan
•
Stein: Best first-round series ever
•
Daily Dime: Rockets failure to launch
•
Daily Dime: Pistons stumble in opener
•
Daily Dime: Spurs leave a mark on Suns
•
Hollinger: How will the postseason play out?
•
Adande: Sixteen teams, sixteen dramas
Podcasts
•
NBA Dish: Ford and Stein talk Round 1
•
NBA Dish: Ford and Adande predict playoffs
Hawks vs. Celtics
•
TrueHoop's Series Bullets
•
Sheridan: Celtics come out swinging
•
Scouts Inc.'s series breakdown
•
Series page: More coverage
Sixers vs. Pistons
•
Sheridan: Sixers slam Pistons
•
Sheridan: Pistons win with complete effort
•
TrueHoop's Series Bullets
•
Scouts Inc.'s series breakdown
•
Series page: More coverage
Raptors vs. Magic
•
TrueHoop's Series Bullets
•
Hill: Dwight Howard vs. Chris Bosh
•
Scouts Inc.'s series breakdown
•
Series page: More coverage
Wizards vs. Cavaliers
•
Windhorst: The new LeBron Rules
•
Windhorst: Wiz get reality check
•
TrueHoop's Series Bullets
•
Windhorst: LeBron quiets Wiz with late heroics
•
Scouts Inc.'s series breakdown
•
Series page: More coverage
Nuggets vs. Lakers
•
Adande: Bynum not nearly ready
•
TrueHoop's Series Bullets
•
Adande: Gasol gets first playoff win
•
Scouts Inc.'s series breakdown
•
Series page: More coverage
Mavericks vs. Hornets
•
Dallas steps up
•
TrueHoop's Series Bullets
•
Jackson: Dinner with the Hornets
•
Hollinger: Paul powers Hornets again
•
Hollinger: Paul finds groove in playoff debut
•
Scouts Inc.'s series breakdown
•
Series page: More coverage
Suns vs. Spurs
•
Adande: Suns missing an identity
•
TrueHoop's Series Bullets
•
Scouts Inc.'s series breakdown
•
Series page: More coverage
Rockets vs. Jazz
•
TrueHoop's Series Bullets
•
Scouts Inc.'s series breakdown
•
Series page: More coverage
SportsNation
•
Make your playoff predictions
•
Rank 'em: All 16 NBA playoff teams
•
Quiz: What's your playoff IQ?