Commentary
What we've learned so far in the postseason
Originally Published:
April 22, 2008
By
J.A. Adande
| ESPN.com
If you can't get with these NBA playoffs, you need to renounce your status as a sports fan. Go watch "The View" or something.
There are so many story lines already in motion that could easily be the top theme of the playoffs in an ordinary year. How about Chris Paul's arrival? LeBron telling the Wizards to "Shut the hell up" via his 62 points, 16 assists and 15 rebounds through two games? The 76ers channeling Rocky? Dwight Howard channeling Superman?
[+] Enlarge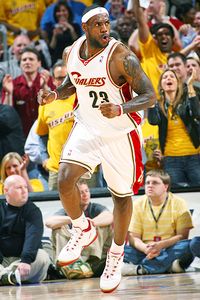 Jesse D. Garrabrant/NBAE via Getty ImagesLeBron James and the Cavs have roared to a 2-0 lead on the Wiz.
But these extra-hyped playoffs have already delivered a peak point, thanks to the unforgettable game between the Suns and Spurs. And that game's incredible swings make it mandatory for us to address one thing before we continue on through this postseason: the myth of the Emotionally Devastating Loss.
Don't fret for the Suns because they got their feelings hurt Saturday. If these guys were wrapped up in their feelings, they wouldn't be in the playoffs in the first place.
Think back to some of the cruelest playoff losses over the years. Ones in which a team had the game in hand and then (cue Dennis Green) they let 'em off the hook.
The Gerald Henderson steal in Game 2 of the 1984 Finals. Larry Bird's steal against Isiah and the Pistons in Game 5 of the 1987 Eastern Conference finals. Magic's Junior Junior Skyhook against the Celtics in Game 4 of the Finals that same year. Reggie Miller's eight-point flurry to swipe Game 1 from the Knicks in the 1995 Eastern Conference semis. Robert Horry's 3-pointer against Sacramento in Game 4 of the 2002 Western Conference finals. Horry's 3-pointer to beat Detroit in Game 5 of the 2005 NBA Finals.
Or even some games from the past couple of seasons, ones that aren't as legendary but seemed pretty demoralizing at the time. In 2006, it was the Wizards giving up a last-second basket to LeBron James, or Raja Bell's 3-pointer over Daniel Ewing when the Clippers were 3.6 seconds away from taking a 3-2 series lead over the Suns. Last year it was the Warriors blowing a five-point lead in the final 40 seconds, then losing Game 2 of the conference semis in overtime at Utah.
What do all of those potential nightmare-inducing games have in common? In every case, the team on the losing end came back to win the next game. So much for being haunted, for being incapable of dragging yourself back on the court and winning a game.
No, the effect isn't on the psyche, it's simply on the won-lost tally. Because in each of those cases, the team that won the devastating game also prevailed in the series. When two teams are so closely matched, squeezed together like passengers in a crowded elevator, there isn't enough room to spare a loss. It's tough enough to find victories without having to make up for games you should have won. That will be the lasting impact of Game 1.
I'm a little bit mad at myself for picking against the Spurs. I keep harping on the importance of playoff experience, then I ignored the team that has experienced the most success of any group in the tournament. You saw all of it put to use Saturday. The poise, the confidence, the strict refusal to beat themselves.
Another thing you saw in that game: evidence of how the little transactions could prove just as big as the megadeals that went down from June to February.
Who made the play of the game in Suns-Spurs? Kurt Thomas, who alertly stepped in to take a charge from Amare Stoudemire, simultaneously nullifying a basket that would have put the Suns up five in the final minute of the first overtime and sending Amare to the bench with his sixth foul.
Meanwhile, it was James Posey, not one of Boston's big three, who made the turnaround sequence in the Celtics' playoff-opening victory against Atlanta. After the Hawks cut Boston's lead to six in the first half, Posey hit a 3-pointer then grabbed a defensive rebound, which led to a Paul Pierce bucket, and the Hawks were done.
Those were two of the lesser-heralded moves from last summer and the pre-deadline trading frenzy, and they've already paid off in the playoffs.
What else have we learned?
How about the importance of white T-shirts? This is just a hypothesis so far, something that's yet to be proven as a definite law. More and more teams are turning arenas into a uniform color by giving all the fans the same T-shirts. (Cleveland's Quicken Loans Arena looks like a giant McDonald's with that yellow and red color scheme).
[+] Enlarge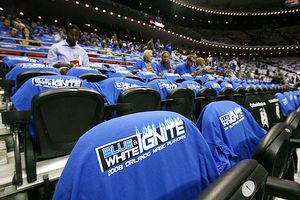 Doug Benc/Getty ImagesThose shooting into the Orlando fans' blue shirts in Game 1 had more difficulty.
But at the first game in Orlando, half the arena was given white T-shirts and half was given blue T-shirts. When the Magic shot at the side with the white T-shirts in the first half, they made 12 of 19 3-pointers, while the Raptors were 3-for-8 on 3-pointers shooting against the blue background.
In the second half, the Raptors made five of their first eight 3-pointers (5 of 12 overall) against the white T-shirts, while the Magic made only two of 10 3-pointers shooting on the side with the blue T-shirts. The visiting team gets to choose which side to shoot on first. Usually teams like to play defense in front of their bench in the second half. But the Raptors might want to have the lighter shooting background down the stretch again.
I also learned two things thanks to this Lamar Odom quote about Pau Gasol: "He's graceful, finesse-ful. He's got a mean streak as well, that I haven't really seen before because I wasn't his teammate."
I didn't know "finesse-ful" was a word. And Gasol has a mean streak? Seriously?
"He wants it," Odom said. "He attacks the basket. He finishes. You can look in his eyes during the game and tell that he wants the ball."
That's what I love about the playoffs. You learn what's really inside players' hearts. In addition to expanding your vocabulary.
J.A. Adande is the author of "The Best Los Angeles Sports Arguments." He joined ESPN.com as an NBA columnist in August 2007 after 10 years with the Los Angeles Times. Click here to e-mail J.A.
ESPN.com senior writer since 2007
Around The Horn panelist
Formerly at Los Angeles Times
2008 NBA PLAYOFFS Round 1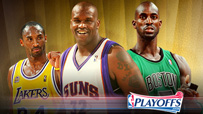 The 2008 NBA playoffs are finally here and the postseason field is more stacked than ever.
Playoff schedule | Playoff bracket | Playoff home
Columns
•
Daily Dime: Suns fade out again
•
Daily Dime: Hawks soar over Celtics
•
Daily Dime: Phoenix fails its test
•
Daily Dime: Suns stumble in second half
•
Adande: Great time to be a sports fan
•
Stein: Best first-round series ever
•
Daily Dime: Rockets failure to launch
•
Daily Dime: Pistons stumble in opener
•
Daily Dime: Spurs leave a mark on Suns
•
Hollinger: How will the postseason play out?
•
Adande: Sixteen teams, sixteen dramas
Podcasts
•
NBA Dish: Ford and Stein talk Round 1
•
NBA Dish: Ford and Adande predict playoffs
Hawks vs. Celtics
•
TrueHoop's Series Bullets
•
Sheridan: Celtics come out swinging
•
Scouts Inc.'s series breakdown
•
Series page: More coverage
Sixers vs. Pistons
•
Sheridan: Sixers slam Pistons
•
Sheridan: Pistons win with complete effort
•
TrueHoop's Series Bullets
•
Scouts Inc.'s series breakdown
•
Series page: More coverage
Raptors vs. Magic
•
TrueHoop's Series Bullets
•
Hill: Dwight Howard vs. Chris Bosh
•
Scouts Inc.'s series breakdown
•
Series page: More coverage
Wizards vs. Cavaliers
•
Windhorst: The new LeBron Rules
•
Windhorst: Wiz get reality check
•
TrueHoop's Series Bullets
•
Windhorst: LeBron quiets Wiz with late heroics
•
Scouts Inc.'s series breakdown
•
Series page: More coverage
Nuggets vs. Lakers
•
Adande: Bynum not nearly ready
•
TrueHoop's Series Bullets
•
Adande: Gasol gets first playoff win
•
Scouts Inc.'s series breakdown
•
Series page: More coverage
Mavericks vs. Hornets
•
Dallas steps up
•
TrueHoop's Series Bullets
•
Jackson: Dinner with the Hornets
•
Hollinger: Paul powers Hornets again
•
Hollinger: Paul finds groove in playoff debut
•
Scouts Inc.'s series breakdown
•
Series page: More coverage
Suns vs. Spurs
•
Adande: Suns missing an identity
•
TrueHoop's Series Bullets
•
Scouts Inc.'s series breakdown
•
Series page: More coverage
Rockets vs. Jazz
•
TrueHoop's Series Bullets
•
Scouts Inc.'s series breakdown
•
Series page: More coverage
SportsNation
•
Make your playoff predictions
•
Rank 'em: All 16 NBA playoff teams
•
Quiz: What's your playoff IQ?

MOST SENT STORIES ON ESPN.COM