Commentary
With each passing win, Paul's mean streak widens
Originally Published:
May 6, 2008
By
J.A. Adande
| ESPN.com
NEW ORLEANS -- Chris Paul has become the must-see player in these playoffs, the one doing the most amazing things with the greatest regularity, the one worth flying 1,700 miles across two time zones to see.

Well, there was another reason I wanted to come down to the Big Easy. I had to confront and question him on this little theory I've developed: Chris Paul is a mean guy.

When I say this to him, he doesn't offer a rebuttal, only a justification.

"I hate to lose," he said.

[+] Enlarge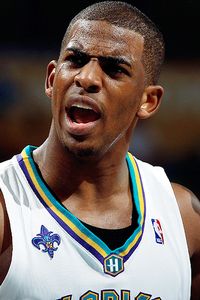 Chris Graythen/Getty ImagesChris Paul's got something to say, and it might not be diplomatically delivered.

He's the opposite of some of the great point guards to whom he's compared, the ones whose angelic looks masked a darker side. Isiah Thomas wore a continuous smile on the court but could be treacherous off it (ask Adrian Dantley). John Stockton looked clean-cut but was one of the dirtiest players in the league (ask anyone who ever caught one of his elbows).
Paul has a friendly reputation, but he's as nasty a competitor as you'll find.
You see Chris Paul smiling and dancing in his commercials, promoting Louisiana tourism or narrating an NBA Cares ad. Do you ever see that persona on the court?
In uniform, while the clock ticks down 12 minutes times four, Paul is as nasty as it gets, all glares and angry words, jumping on every teammates' slightest mistake.
"I don't want to say he's like Jekyll and Hyde," David West said, "but he has to change who he is a little bit to be able to go out there and compete and get the results that he wants."
West should know. Paul calls the power forward one of his best friends on the team, but says the two go at it on the court as much as anyone.
Take the open shot. Go to the right place. Be more aggressive. Foul harder.
"Just wherever he sees something lacking, he'll let you know," West said. "And that's a good thing. He's not going to hold his tongue."
Just remember, Paul always operates under this basic premise: "They know it's nothing personal. I want to win."
Before the game, Paul is as friendly as a mom baking cookies. Monday night he was the first one on the court for shooting practice, so by the time his teammates wandered out to get their jumpers in, he was done, reclining on the sideline, taking in the Pistons-Magic game on the scoreboard screen. He sat up for a quick chat, happy to talk ball, while fans, arena workers, the flag honor guards, all stop by to say hi and wish him well.
He talked about how much he loves this team, how it would be fine with him if the roster stayed the same forever, and how he's motivated to keep winning in these playoffs because he doesn't want this group to split up for the summer.
He talked about what he's learned in his three years in the league, most notably how unwise it is for a man his size (6-0, 175) to keep driving all the way to the basket (that's why his free-throw attempts dropped from 465 his rookie season to 390 this season).
He said his "Big Easy" lobs to Tyson Chandler just come naturally, but he's learned other things about his teammates over time, such as how Peja Stojakovic is most effective from the farthest corner on the baseline, not closer in.
For the captains' meeting before the game, Paul greeted Tim Duncan and Tony Parker with big hugs. Official Dick Bavetta wanted a hug, too, so Paul showed him some love.
But during the game, he scowled at the officials when they let him get roughed up without blowing the whistle. He glared at Chandler when Chandler let Duncan get free for a layup. He gave a quick "gotcha" look to Bruce Bowen after hitting a 3-pointer in Bowen's face.
And a couple of minutes after a botched fast break, he was still getting on Stojakovic for running alongside Julian Wright and disrupting a lob pass instead of pulling up in jump-shot range.
"Stop," Paul advised him as they waited for a timeout to end. "Stop. I kept asking myself, 'When is he going to stop?'"
The thing is, if his teammates go to the right places, Paul will get them the ball. Every time.
Again and again, Paul disappears into a thicket of taller players in the paint and the ball suddenly materializes at the rim for a Chandler or West dunk, or out on the sidelines for a Stojakovic 3-pointer.
Paul knows exactly when to pull up for a jumper or when to use a burst of speed for a layup. He controls the game with an easy foot on the accelerator. For someone who has no tolerance for teammates who take too long to get to their spots on offense (he says it's because their plays take so long to run there's no time to spare), Paul has an incredible amount of patience when he's dribbling. He'll direct players to the right spot, survey the scene, then get to it.
Paul's 12.1 assists per game in the playoffs are 3½ better than the runner-up, Deron Williams. And Paul has committed only nine turnovers in seven playoff games, even though he has the ball in his hands more than Larry Johnson did with the NFL's Chiefs a couple of years ago. And he's giving you 24 points per night, as well? You can't name a player who's been as singularly important for a team that's been this successful in the playoffs to date.
Tony Parker was the MVP of the Spurs' first-round series, very quietly the third-leading scorer in the playoffs, and after two games the point-guard matchup in this series isn't close.
Paul makes you look again at how you define dominance, as he completely controls the game from well below the rim. And he's making you rethink the meaning of mean.
Maybe it isn't such a bad thing after all. After all, each week 23 million people watch Simon Cowell get all snippy on "American Idol." At least half of those folks should be checking out Paul. You won't find any better performers.
J.A. Adande is the author of "The Best Los Angeles Sports Arguments." He joined ESPN.com as an NBA columnist in August 2007 after 10 years with the Los Angeles Times. Click here to e-mail J.A.
ESPN.com senior writer since 2007
Around The Horn panelist
Formerly at Los Angeles Times
SPONSORED HEADLINES
MORE NBA HEADLINES
MOST SENT STORIES ON ESPN.COM
2008 NBA PLAYOFFS Round 2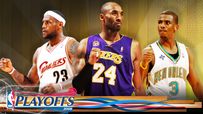 LeBron, Kobe and CP3 dominated Round 1 of the 2008 NBA playoffs, where the top four seeds in each conference advanced to the second round.
Playoff schedule | Playoff bracket | Playoff home
Daily Dime
•
Daily Dime: Lakers end Jazz season in Game 6
•
Daily Dime: Spurs dominate Hornets in Game 6
•
Daily Dime: Rondo gets C's rolling in Game 5
•
Daily Dime: Hornets one win from advancing
•
Daily Dime: Celtics with road woes
•
Daily Dime: Williams puts Utah on his back
•
Daily Dime: Cavs roll in Game 3 victory
•
Daily Dime: Boozer makes impact in Game 3
•
Daily Dime: Spurs keep head above water
•
Daily Dime: Kobe's most valuable promise
•
Daily Dime: Beauty is in eye of beholder
•
Daily Dime: CP3 making Spurs look old
•
Daily Dime: Kobe free to reign in Game 1
•
Daily Dime: Hornets sting the champs
Columns
•
Hollinger: Handing out some playoff awards
Cavaliers vs. Celtics
•
Windhorst: LeBron's chance to be Jordanesque
•
Sheridan: Legacies on the line for Celtics
•
Sheridan: Screwball finish to Game 6
•
Sheridan: Allen finds his range
•
Windhorst: Cavs search for offense
•
Windhorst: LeBron likes his chances
•
Scouts Inc.'s series breakdown
•
Wojciechowski: Rest easy, Celtics ... for now
•
Jackson: Do you still love the Celtics?
•
Series page: More coverage
Magic vs. Pistons
•
Magic eliminated, but won't disappear
•
Hollinger: Hunter dusts off rust
•
Hollinger: Pistons win without Billups
•
Scouts Inc.'s series breakdown
•
Series page: More coverage
Jazz vs. Lakers
•
Adande: Kobe plays supporting role
•
Adande: Jazz find Lakers out of tune
•
Wojciechowski: Miller won't listen on the Sabbath
•
Adande: A year to remember for Fisher
•
Scouts Inc.'s series breakdown
•
Series page: More coverage
Spurs vs. Hornets
•
Stein: Spurs knew Hornets were trouble
•
Neel: Enjoy Chris Paul while you can
•
Hollinger: Champs back to winning ways
•
Palmer: Birdman's redemption bittersweet
•
Adande: Chris Paul's mean streak
•
TrueHoop: Spurs stung twice by Hornets
•
Scouts Inc.'s series breakdown
•
Series page: More coverage
TrueHoop
•
Stat Geek Smackdown: 2008 playoffs
SportsNation
•
Which teams will advance to conference semis?
•
Rank the remaining eight playoff teams