Commentary
Back story: Deron Williams puts Utah on his, while Kobe's aches
Originally Published:
May 11, 2008
By
J.A. Adande
| ESPN.com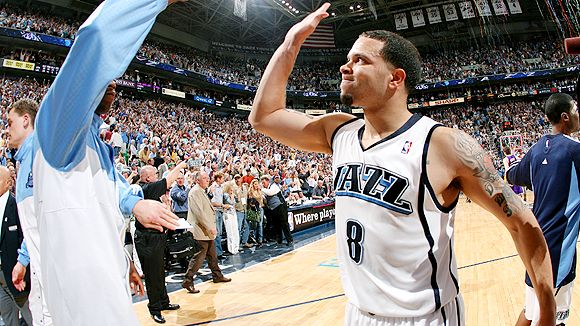 Melissa Majchrzak/NBAE/Getty ImagesJazz guard Deron Williams, right, celebrates Utah's 123-115 Game 4 overtime win over the Lakers with Ronnie Brewer. The teams head to L.A. for Game 5 of the West semifinals Wednesday tied 2-2.

SALT LAKE CITY -- Deron Williams forced himself back into the NBA conversation just as much as the Jazz clawed their way back into this series with the Lakers over the weekend.

Actually, the second part of that sentence depended on the first. For a young team seeking consistent efforts in these playoffs, Williams is turning into the Jazz's most reliable option. Carlos Boozer had his best game of the postseason Friday night, then regressed to a 5-for-15 shooting performance Sunday. Williams followed a solid effort in Game 3 with an even better Game 4, a 123-115 overtime win, the central recurring character in the two Jazz victories that evened these Western Conference semifinals at 2-2.

So while Chris Paul has the accolades, the Sports Illustrated covers and all that, Williams has coaxed his team to the conference finals once, and now is halfway to another. Just saying.

And while it might not have been dramatic as Kobe Bryant's back injury that made the Lakers star look like Fred Sanford finishing a marathon as he ran down the court, Williams did excel over the past six quarters despite bruising his wrist and hand in a fall just before halftime of Game 3.

"If we're struggling to score, I try to assert myself in the game," Williams said.

He played so masterfully Sunday, had his hand in so many positive things for the Utah Jazz, that there really was only one question to ask.

How'd you get your shot blocked by Derek Fisher?

After the Lakers mounted a 12-point comeback in the fourth quarter, Williams had a chance to win the game in the waning seconds. But Fisher got a piece of Williams' jumper and the Lakers safely recovered. It was, statistically, almost as unlikely as Tim Duncan's 3-pointer in the Spurs' first playoff game; Fisher blocked only three shots the entire season.

"I should've went right," Williams said. "I wish I had the play over again. He did a great job of defending and getting his hand up."

No problem for Williams and the Jazz; they outscored the Lakers 15-7 in overtime, and he got four more points and three more assists to pad his totals to 29 and 14.

The Lakers kept lamenting their inability to get stops at critical times, and the main reason for that was their inability to corral Williams. At one point my editor e-mailed to say Williams looked like Joe Montana running things in the pocket. But a couple of key plays looked more like Brett Favre improvisations.

On the first, Williams saved the ball from going into the backcourt then dribbled, spun and hit a fallaway 20-footer to restore Utah's lead to three points.

On another he spun out of a sideline double-team by Bryant and Lamar Odom, stumbled and somehow got the ball to Boozer, who was fouled by Fisher and converted both free throws.

More heady play from Williams, who is savvy enough for Jazz coach Jerry Sloan to entrust with the offense after calling most of the plays from the sidelines during the John Stockton era.

"I think he's a terrific player," Sloan said of Williams. "He tries to get us into what we want to do. He's great at trying to get players to where they need to be. He's just grown and grown and grown as a great player every day. You don't have much coaching to do when he does what he does."

[+] Enlarge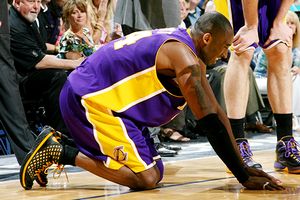 Melissa Majchrzak/NBAE /Getty Images Kobe Bryant, battling back pain, spent some extra time on the floor during the overtime loss to Utah.

We're used to all of the crunch-time accolades going to Bryant. But he never was the same after wrenching his back on a turnaround jump shot on the second play of the game and shot 2-for-13 in the fourth quarter and overtime.
He went into the locker room for some stretching exercises at the end of the first quarter, emerged and wrapped a heat pad back around it, and appeared to aggravate it several times during the course of the game. Afterward he had an electrical stimulator working his back muscles, and he conducted his press conference while standing and holding a wireless microphone ("Like Don Cornelius," he noted).
He said he "should be OK," by Wednesday and he'll "definitely play in Game 5."
The Lakers hoped to close out the series by then, but now they'll have to make another trip to Salt Lake City for Game 6 Friday.
In addition to Bryant's injury, the Lakers were undone by 11 misses among their 25 free throws, three fouls that limited Fisher to only 3½ minutes in the first half, and the ejection of backup big man Ronny Turiaf for a flagrant foul 2 on Ronnie Price that was a case of the impact looking much worse than the intent.
Sasha Vujacic rebounded from his scoreless Game 3 to score 11 points on 4-for-6 shooting, but the rest of the reserves were so ineffective, Lakers coach Phil Jackson had to call them out after the game, when he also criticized Bryant's teammates for becoming too dependent on their ailing star in crunch time.
"I was angry at his teammates for dropping the ball off in his lap," Jackson said. "I thought guys just bailed out on him."
"I know what he means by that," Bryant said. "He wants them to come at me, but come to me later, not right away and just stand around."
To some, watching Bryant limp around this building was reminiscent of Michael Jordan's "sick game" in the 1997 NBA Finals, when he willed himself through the pain. Sloan indicated he had some of those flashbacks himself.
"That's not a pleasant feeling," Sloan said. "I've been in it a couple of times and usually come up short."
This time, the Jazz prevailed. This time, they had the impact star. His name happened to be Deron Williams.
J.A. Adande is the author of "The Best Los Angeles Sports Arguments." He joined ESPN.com as an NBA columnist in August 2007 after 10 years with the Los Angeles Times. Click here to e-mail J.A.
ESPN.com senior writer since 2007
Around The Horn panelist
Formerly at Los Angeles Times
SPONSORED HEADLINES
MORE NBA HEADLINES
MOST SENT STORIES ON ESPN.COM
2008 NBA PLAYOFFS Round 2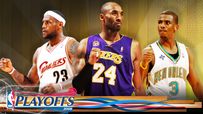 LeBron, Kobe and CP3 dominated Round 1 of the 2008 NBA playoffs, where the top four seeds in each conference advanced to the second round.
Playoff schedule | Playoff bracket | Playoff home
Daily Dime
•
Daily Dime: Lakers end Jazz season in Game 6
•
Daily Dime: Spurs dominate Hornets in Game 6
•
Daily Dime: Rondo gets C's rolling in Game 5
•
Daily Dime: Hornets one win from advancing
•
Daily Dime: Celtics with road woes
•
Daily Dime: Williams puts Utah on his back
•
Daily Dime: Cavs roll in Game 3 victory
•
Daily Dime: Boozer makes impact in Game 3
•
Daily Dime: Spurs keep head above water
•
Daily Dime: Kobe's most valuable promise
•
Daily Dime: Beauty is in eye of beholder
•
Daily Dime: CP3 making Spurs look old
•
Daily Dime: Kobe free to reign in Game 1
•
Daily Dime: Hornets sting the champs
Columns
•
Hollinger: Handing out some playoff awards
Cavaliers vs. Celtics
•
Windhorst: LeBron's chance to be Jordanesque
•
Sheridan: Legacies on the line for Celtics
•
Sheridan: Screwball finish to Game 6
•
Sheridan: Allen finds his range
•
Windhorst: Cavs search for offense
•
Windhorst: LeBron likes his chances
•
Scouts Inc.'s series breakdown
•
Wojciechowski: Rest easy, Celtics ... for now
•
Jackson: Do you still love the Celtics?
•
Series page: More coverage
Magic vs. Pistons
•
Magic eliminated, but won't disappear
•
Hollinger: Hunter dusts off rust
•
Hollinger: Pistons win without Billups
•
Scouts Inc.'s series breakdown
•
Series page: More coverage
Jazz vs. Lakers
•
Adande: Kobe plays supporting role
•
Adande: Jazz find Lakers out of tune
•
Wojciechowski: Miller won't listen on the Sabbath
•
Adande: A year to remember for Fisher
•
Scouts Inc.'s series breakdown
•
Series page: More coverage
Spurs vs. Hornets
•
Stein: Spurs knew Hornets were trouble
•
Neel: Enjoy Chris Paul while you can
•
Hollinger: Champs back to winning ways
•
Palmer: Birdman's redemption bittersweet
•
Adande: Chris Paul's mean streak
•
TrueHoop: Spurs stung twice by Hornets
•
Scouts Inc.'s series breakdown
•
Series page: More coverage
TrueHoop
•
Stat Geek Smackdown: 2008 playoffs
SportsNation
•
Which teams will advance to conference semis?
•
Rank the remaining eight playoff teams