Commentary
Donaghy's fixing allegations cast a shadow over Game 3
Originally Published:
June 11, 2008
By
J.A. Adande
| ESPN.com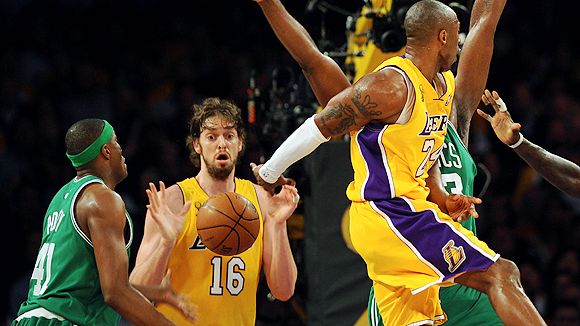 Gabriel Bouys/AFP/Getty ImagesWith concerns over whistles past and present in the air, Kobe Bryant was distributing in winning fashion.

LOS ANGELES -- If this series existed in a vacuum, with no news conferences and no headline-making legal documents, we could listen to Boston coach Doc Rivers' summary of the Lakers' victory in Game 3 Tuesday and just move on.

"I thought they were the more aggressive team all night," Rivers said. "To me that was the reason."

Because this game came after a full day of focusing on Boston's 38-10 advantage in free-throw attempts in Game 2, and on the same day the unkillable Tim Donaghy scandal delivered another blast that included an allegation of playoff games fixed by officials, it's not as simple as Lakers 87, Celtics 81.

Not even Rivers could resist throwing another log into the ugly story line burning on the side of this series. When Phil Jackson's name was included in a question, Rivers sarcastically said, "I'm just surprised he didn't whine about fouls tonight."

No, Jackson didn't have a word to say about the officials after this one. No reason to, after the Lakers shot 22 free throws to Boston's seven in the first half, and 34 to 24 overall. Maybe it's because after all the yearning for trips to the free-throw line, the Lakers didn't do much once they got there, missing 13 of their 34 attempts (62 percent).

Still, Bryant couldn't resist one last reference to Game 2 while discussing his own dismal 11-for-18 night at the line.

"At least I got there," he said.

He got there because he spent the bulk of his time in the paint this game instead of settling for the jump shot. As always, the Celtics committed multiple defenders to him. Only this time he was able to find his way to the gaps in the defense, taking half of his 20 shots from inside the paint in addition to drawing all those fouls.

"I just went," Bryant said. "Took it to them. I just went and just had the confidence that once I get in there I'll be able to make the right play and hopefully some of the whistles will go our way a little bit tonight, get to the free-throw line. If they collapse, I hit my shooters.

"They did a great job in Boston of just zoning and not having to help too much. That's something I wanted, to put their defense in jeopardy a little bit more than we did in Boston."

The Lakers still have their issues, most notably the lack of production from their starting frontline. Not even a return to Staples Center could bring out the best in Lamar Odom and Pau Gasol, who combined for 13 points.

They should be concerned that even in Los Angeles the Celtics determined the style of play, and it still feels like it's the Celtics' series. They were within two points in the final two minutes despite all the L.A. free throws, and despite combined 8-for-35 shooting by Paul Pierce and Kevin Garnett.

Pierce's postgame analysis sounded a lot like Rivers, to the point that you wonder if Rivers told his guys not to mention the officials.

"It's the way [the Lakers] played," Pierce said. "They were very aggressive, especially Kobe early."

It finally got to Odom in the late stages. He seemed to be napping throughout most of the night. At one point, as he stared into space during a timeout, fellow New Yorker Spike Lee clapped his hands, got his attention and urged him to get it together.

Odom made two strong drives in the final 5½ minutes. Even though Odom didn't get the basket either time, Gasol followed up both misses and the Lakers protected their slim lead long enough for Bryant to bring them home with the Lakers' final two baskets of the game.

Granted, they did a better job guarding the Celtics, particularly with a smaller lineup that had Bryant on Pierce and Sasha Vujacic on Ray Allen. The Lakers got tougher around the basket, with Ronny Turiaf dishing out some hard fouls and Luke Walton taking out the frustration of a scoreless night with a near tackle of James Posey at the hoop.

But the Lakers won this game with efficient offense down the stretch, when they scored on four straight possessions. That allowed them to prevail even though a breakdown on defense resulted in a wide-open Garnett dunk and a slow rotation allowed Eddie House to hit a 3-pointer in the corner.

If the Lakers have to get a stop to win the championship -- or to stay alive for it -- can they? That remains an unanswered question, but one that will determine this series at some point (if it hasn't already).

"It's not about offense at this stage of the season," Bryant said. "Obviously you want to play better offensively, but defensively is where we really get things done at this point."

At least it's a series now, but the way things have gone that's not something to celebrate. David Stern had the Angry Dave look as he walked out of the arena, in part because a victory by the home team down 2-0, with a nice free-throw advantage, didn't exactly end the notion that the league wants a longer series so that's what it will get.

Stern condemned Donaghy as a desperate felon and slighted the media for taking his allegations and running with them with no verification. Actually, the media is way behind the public opinion on this one. Some fans already believe that games are fixed by the officials, and now a former member of the officiating fraternity is saying the same thing.

There are obvious questions to ask, including why Donaghy waited until now, after the NBA is trying to hit him up for $1 million in restitution, to unveil these allegations. And if the NBA wanted to ensure a long series, wouldn't it be safer to put the fix in Game 2 for the Lakers, guaranteeing a fifth game earlier and building the anticipation for Game 3?

Too bad it's not simply a matter of whether the Lakers can get more production from players besides Bryant, and if Garnett is going to assert himself in this series.

Basketball stuff, you know?

J.A. Adande is an ESPN.com senior writer and the author of "The Best Los Angeles Sports Arguments." Click here to e-mail J.A.
ESPN.com senior writer since 2007
Around The Horn panelist
Formerly at Los Angeles Times
2008 NBA FINALS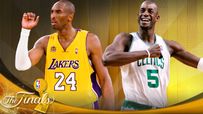 And then there were two -- the Lakers and Celtics. Who will win the NBA Finals? Let the games begin.
Finals schedule | Playoff bracket | Playoff home
Daily Dime
•
Celtics win 17th championship title
•
Did C's lose Regret Game?
•
A little help from Kobe's friends
•
Time for L.A. to go small
•
The Finals Can't Shake Donaghy Mess
•
Unlikely Game 4 comeback gives C's 3-1 lead
•
Rondo's ankle could change L.A.'s game plan
•
Kobe leads Lakers to Game 3 win
•
Lakers need to attack the paint
•
Lakers learn Powe's name in Game 2
•
Time for Gasol to step up
•
Lakers need better defense in Game 2
•
Pierce sparks Celtics in Game 1 victory
•
Expert predictions, clutch stats
•
Pierce loves playing Lakers
•
Celtics to meet L.A. in the Finals
Lakers vs. Celtics
•
Stein: Q&A after six-game "sweep"
•
MacMullan: Pierce's long road to greatness
•
Hollinger: From camp to champs
•
Stein: Boston's big three shine
•
Adande: Questions loom over Lakers' future
•
Hollinger: Celtics commit to defense
•
Scouts Inc.: Game 6 breakdown
•
Hollinger: Farmer steps up in Game 5
•
Sheridan: Late-game letdown for Celtics
•
Stein: Lakers ready to make history?
•
Adande: Greatness eluding Phil and Kobe
•
MacMullan: Doc adheres to dad's lessons
•
Jackson: Time for L.A.'s concession speech?
•
Stein: Game 4 not Kobe's finest hour
•
Adande: KG dominates Gasol again
•
Hollinger: Rivers makes all the right moves
•
Hill: Kobe's Laker legacy on the line
•
Hollinger: Vujacic lends helping hand in Game 3
•
Jackson: Jump shot Jesus has returned
•
Stein: Lakers need to earn sympathy
•
Adande: Lakers feel foul over whistle disparity
•
Jackson: Leading role suits Pierce
•
Adande: Kobe turns away from the pass late
•
Stein: Pierce's knee key to rest of series
•
Finals factor 1: Kobe Bryant
•
Finals factor 2: Celtics Defense
•
Finals factor 3: Paul Pierce
•
Finals factor 4: Home-court advantage
•
Finals factor 5: Battle of the benches
•
Hollinger: Lakers offense vs. Celtics defense
•
Broussard: Turning back the clock

•
Adande: How did Kobe get here?
•
Scouts Inc. breakdown: Lakers vs. Celtics
•
Coaching comparison: Red vs. Phil
•
Smith: Kobe's moving forward
•
Scoop: Fiendin' for a ring
•
Top 10 moments of Lakers-Celtics rivalry
•
ESPN Classic schedule: Relive the rivalry
TrueHoop
•
TrueHoop: Finals reflections
•
TrueHoop: Doc Rivers' redemption
•
TrueHoop: Lakers got Rondo'd
•
Tough night for Allen
•
Game 5 live blogging
•
Laker nation vs. NBA refs
•
Pierce and the evaporating knee story
•
Game 2 live blogging
•
Coaxing Kobe Bryant into hero mode
•
Game 1 live blogging
•
Today's game isn't so different
Simmons
•
Notes from the C's winning night
•
Boston's X factors
•
Game 4 running diary
•
Time for NBA Finals answers
•
The C's and city both look good
•
The Truth comes out in Game 1
•
NBA Finals forecast
•
Chat: NBA Finals preview
•
Simmons: You want a piece of Kobe, Boston?
ESPN The Magazine
•
Sporting Equivalency: NBA Finals meets hip hop
•
Broussard: Reporting from the NBA Finals
Fantasy
•
Join the fun of NBA Finals: Playcaller
Audio
•
Dish: NBA Finals recap
•
Wyc Grossbeck on C's championship
•
Ray Allen on how the Celtics evolved
•
Bob Ryan compares '86 C's to current one
•
Jon Barry credits Tom Thibodeau's team defense
•
Game 4 reactions
•
Rajon Rondo on Pierce, Game 2 plans
•
Bill Walton on Celtics-Lakers history
•
Dr. J on Finals, '80s hoops