Commentary
Rivers punching all the right buttons
Originally Published:
June 13, 2008
By
John Hollinger
| ESPN.com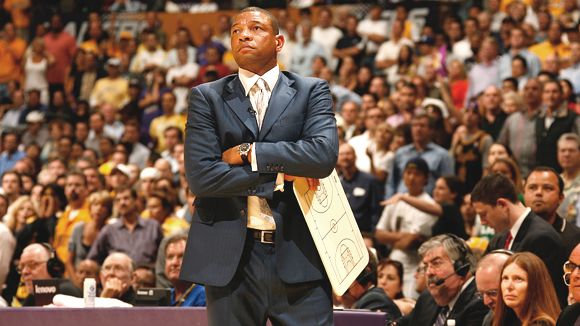 Nathaniel S. Butler/NBAE/Getty ImagesCeltics coach Doc Rivers has worked some magic with his clipboard in the 2008 NBA Finals.

LOS ANGELES -- Entering this series, the one mismatch everyone pointed to wasn't on the court, but on the sidelines -- nine-time champion Phil Jackson against Finals neophyte Doc Rivers.
Well, it's been a mismatch all right. Just not the way we expected.
Doc -- the same Doc who Boston fans were clamoring to fire a year ago, and the same Doc who as recently as a few weeks ago was pounded in the media as the Celtics struggled -- is tooling around the legendary Zen Master and has the Celtics one win away from the title as a result.
ESPN CLASSIC: INSTANT CLASSIC
ESPN Classic will air the historic 24-point comeback of the NBA Finals, Game 4: Celtics at Lakers, as an INSTANT CLASSIC, Saturday from 7:30 p.m. to 10 p.m. ET.

All series long it's been Rivers, not Jackson, who has pushed the right buttons and given his team the upper hand. That was never more evident than in Thursday's Game 4. Rivers' in-game adjustments helped the Celtics shake off a three-touchdowns-plus-a-field-goal deficit, while Jackson was left fumbling for a response all the way through the final seconds, when the Lakers burned two timeouts to advance the ball with 15.7 seconds left after they'd mistakenly inbounded the ball before using the first.
The biggest adjustment was Rivers' decision to go small by inserting Eddie House and James Posey into the lineup. Those two 3-point shooters provided the spacing Boston lacked with Kendrick Perkins and Rajon Rondo on the court, and repeatedly burned the Lakers when they tried to double Kevin Garnett and Paul Pierce. It was something Rivers had been considering heading into the game, and once the Celtics fell behind and Perkins hurt his shoulder, he rolled the dice.
"They were trapping off Rondo [and] Perk," Rivers said. "I brought it up with our staff yesterday. It was probably a 50/50 split, and I just did it because I thought we had to have floor spacing."
"That changed the course of the game," Jackson said. "They spread the lineup and ran screen-rolls, put some pressure on us to have to match up on screen-rolls and have 3-pointers available, and they hit shots in the second half."
All series long it's been Doc, not Phil, who has pushed the right buttons and given his team the upper hand.
Specifically, Posey and House hit shots. They combined for 17 points in the second half, and in doing so provided openings for Boston's big three to do their thing down the stretch. Ray Allen, Kevin Garnett and Paul Pierce all scored or got to the line in one-on-one situations in which the Lakers didn't bring help.
"When Posey made those shots, I knew that from that point on we were going to have one-on-one coverage," Rivers said. "Whether we made shots from that point on was up to us. But the trap stopped, the floor was spaced … and our scorers could score."
That's an understatement -- by the end, the floor was more spaced out than Pauly Shore. The Lakers were so fearful of Boston's lineup -- of Garnett and four shooters -- that they let Ray Allen drive right down main street for the game-clinching layup.
"You can't leave Kevin," Rivers said. "When he's the only big on the floor and you have guards driving, the [opponents'] big is reluctant to leave. Ray's layup was an example."
That wasn't the only adjustment Rivers made. He also shook up the defense, first by putting Pierce on Kobe Bryant at the start of the second half to take away his post-up chances, then by confusing the Lakers with a 3-2 zone look for a trip late in the third quarter.
"Paul came to me at halftime and said, 'I want to guard him. Let me guard him. I'm foulless, I can commit some fouls, be physical with him,'" Rivers said. "It would take [Bryant] off the post, so we went with it and it was terrific."
As a result of that switch and Rivers' other moves, the Lakers mustered only 33 points on 33 percent shooting after the break.
"I thought they played much better defense in front of the [Celtics] bench," said Jackson, as the Lakers were going toward Boston's bench during the second half. "They're coached very well from the bench."
Meanwhile, Jackson has been found wanting on a few different occasions. In Game 2, for instance, he was caught with five subs on the court at the start of the second quarter and gave up a 10-0 run that changed the tenor of the game. And he's seemed as puzzled as anyone as to how to get Lamar Odom involved in the offense: Game 4 marked the third time in four games Odom finished the game on the bench.
The most glaring example of Doc's dominance has come in third quarters, after each side has been able to go into the locker room and make adjustments. The Celtics have crushed the Lakers in the third in all four games, holding a cumulative 116-73 advantage. In the other three quarters, L.A. is plus-27.
Of course, the coaches aren't in uniform, and obviously, the players had something to do with this outcome, too.
"We just wet the bed," said Kobe Bryant, who should never again be compared to Michael Jordan unless his play undergoes a seismic shift.
And Rivers benefits from having so many toys with which to play. Boston goes 12 deep, which allows the Celtics to shrug off injuries and foul situations that would knock a shallower team sideways.
Nonetheless, one of the big stories of this series is being written on the sideline. Rivers has had to adjust to four different in-game injuries affecting three different players, yet has provided his team with superior matchup situations at nearly every key moment. He's feeling so confident, in fact, that he even taunted Jackson's complaints about free throws in the news conference after Game 3.
If he outwits Jackson one more time, Rivers will complete one of the most dramatic U-turns in perception in coaching history. The man whom Celtics fans united in detesting a year ago is 48 minutes from delivering them a championship.
John Hollinger writes for ESPN Insider. To e-mail him, click here.
2008 NBA FINALS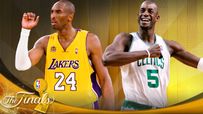 And then there were two -- the Lakers and Celtics. Who will win the NBA Finals? Let the games begin.
Finals schedule | Playoff bracket | Playoff home
Daily Dime
•
Celtics win 17th championship title
•
Did C's lose Regret Game?
•
A little help from Kobe's friends
•
Time for L.A. to go small
•
The Finals Can't Shake Donaghy Mess
•
Unlikely Game 4 comeback gives C's 3-1 lead
•
Rondo's ankle could change L.A.'s game plan
•
Kobe leads Lakers to Game 3 win
•
Lakers need to attack the paint
•
Lakers learn Powe's name in Game 2
•
Time for Gasol to step up
•
Lakers need better defense in Game 2
•
Pierce sparks Celtics in Game 1 victory
•
Expert predictions, clutch stats
•
Pierce loves playing Lakers
•
Celtics to meet L.A. in the Finals
Lakers vs. Celtics
•
Stein: Q&A after six-game "sweep"
•
MacMullan: Pierce's long road to greatness
•
Hollinger: From camp to champs
•
Stein: Boston's big three shine
•
Adande: Questions loom over Lakers' future
•
Hollinger: Celtics commit to defense
•
Scouts Inc.: Game 6 breakdown
•
Hollinger: Farmer steps up in Game 5
•
Sheridan: Late-game letdown for Celtics
•
Stein: Lakers ready to make history?
•
Adande: Greatness eluding Phil and Kobe
•
MacMullan: Doc adheres to dad's lessons
•
Jackson: Time for L.A.'s concession speech?
•
Stein: Game 4 not Kobe's finest hour
•
Adande: KG dominates Gasol again
•
Hollinger: Rivers makes all the right moves
•
Hill: Kobe's Laker legacy on the line
•
Hollinger: Vujacic lends helping hand in Game 3
•
Jackson: Jump shot Jesus has returned
•
Stein: Lakers need to earn sympathy
•
Adande: Lakers feel foul over whistle disparity
•
Jackson: Leading role suits Pierce
•
Adande: Kobe turns away from the pass late
•
Stein: Pierce's knee key to rest of series
•
Finals factor 1: Kobe Bryant
•
Finals factor 2: Celtics Defense
•
Finals factor 3: Paul Pierce
•
Finals factor 4: Home-court advantage
•
Finals factor 5: Battle of the benches
•
Hollinger: Lakers offense vs. Celtics defense
•
Broussard: Turning back the clock

•
Adande: How did Kobe get here?
•
Scouts Inc. breakdown: Lakers vs. Celtics
•
Coaching comparison: Red vs. Phil
•
Smith: Kobe's moving forward
•
Scoop: Fiendin' for a ring
•
Top 10 moments of Lakers-Celtics rivalry
•
ESPN Classic schedule: Relive the rivalry
TrueHoop
•
TrueHoop: Finals reflections
•
TrueHoop: Doc Rivers' redemption
•
TrueHoop: Lakers got Rondo'd
•
Tough night for Allen
•
Game 5 live blogging
•
Laker nation vs. NBA refs
•
Pierce and the evaporating knee story
•
Game 2 live blogging
•
Coaxing Kobe Bryant into hero mode
•
Game 1 live blogging
•
Today's game isn't so different
Simmons
•
Notes from the C's winning night
•
Boston's X factors
•
Game 4 running diary
•
Time for NBA Finals answers
•
The C's and city both look good
•
The Truth comes out in Game 1
•
NBA Finals forecast
•
Chat: NBA Finals preview
•
Simmons: You want a piece of Kobe, Boston?
ESPN The Magazine
•
Sporting Equivalency: NBA Finals meets hip hop
•
Broussard: Reporting from the NBA Finals
Fantasy
•
Join the fun of NBA Finals: Playcaller
Audio
•
Dish: NBA Finals recap
•
Wyc Grossbeck on C's championship
•
Ray Allen on how the Celtics evolved
•
Bob Ryan compares '86 C's to current one
•
Jon Barry credits Tom Thibodeau's team defense
•
Game 4 reactions
•
Rajon Rondo on Pierce, Game 2 plans
•
Bill Walton on Celtics-Lakers history
•
Dr. J on Finals, '80s hoops

MOST SENT STORIES ON ESPN.COM