Commentary
Man or Machine? Vujacic both in Game 3
Originally Published:
June 11, 2008
By
John Hollinger
| ESPN.com
LOS ANGELES -- The Lakers' broadcasters call him The Machine. Phil Jackson called him "a rock head."

By any name, he was the key. Sasha Vujacic made 7-of-10 from the field, including 3-of-5 on 3-pointers, and scored 20 points off the bench in the Lakers' 87-81 Game 3 victory. It couldn't have come at a better time, as he provided much-needed scoring support for Kobe Bryant on a night when no other Laker reached double figures.

[+] Enlarge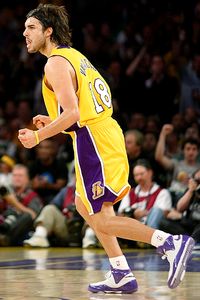 Stephen Dunn/Getty ImagesSasha Vujacic delivered 20 points on a night the Lakers needed it.
Never lacking for confidence, Vujacic was one of the few Lakers who seemed unfazed by Boston's defensive schemes, letting his jumper rip whenever he got space.
"The Machine played like a machine," Bryant said. "He's gotten better as the season has gone on, not just being a spot-up shooter but being able to put the ball on the floor one or two bounces and taking a step back. He's really developed into a well-rounded scorer."
"I thought Vujacic was the key to the game," Celtics coach Doc Rivers said. "He was aggressive, and he deserved what he got."
Aggressive indeed. Forget the soft European stereotype -- this Slovenian is one of the league's toughest players. And that's what kept him in the Lakers' plans even as he struggled with his shot in his first three pro seasons.
"He's a little bit of a rock head," Lakers coach Phil Jackson said. "That's what we call him. He believes in himself very sincerely that he's going to make the next one, and you have to be that way if you're going to have the guts to go out there and do it."
That produces some questionable shots at times, but it also gives him the mettle to pull the trigger freely in tight spots -- as he did in crunch time Tuesday night. Vujacic made what was arguably the key shot of the game, hitting a 3-pointer from the left corner with 1:53 left that gave the Lakers an 81-76 lead.
"They double-teamed Kobe, Lamar [Odom] got the ball and he found me in the corner and I was wide open," Vujacic said. "If they're going to double-team [Kobe], he's going to find open teammates."
That basket was worth its weight in gold because it convinced the Celtics to stop trapping Bryant once he crossed half court -- allowing him to work one-on-one for the two baskets in the final 1:06 that sealed the Los Angeles victory.
"That's what happens when we [have] shooters on the team and our spacing is great," Vujacic said, "so Kobe has an opportunity [to] do whatever he wants."
Vujacic's impact on the offense can be seen in L.A.'s scoring totals. In the 27:36 he played, the Lakers scored 55 points; when he wasn't on the court for the other 20:24, the Lakers mustered just 32 points. The latter is a 75.3 pace for a full game, the former 95.7 -- that's a 20-point swing.
And when Kobe rested in the second quarter, The Machine became The Man. He hit a 3-pointer on a beautiful play where all five Lakers touched the ball without it hitting the floor, and followed that up with an 18-footer off a pin-down -- a rarity for him since most of his points come on kickouts.
So good was Vujacic that in both halves he never came out once he checked in -- raising the question once again of why, exactly, the Lakers bother starting Vladimir Radmanovic and keep Vujacic on the pine for half the game.
For the series, Vujacic has 36 points in 74 minutes; on a per-minute basis, he's the team's No. 2 scorer, trailing only Bryant. And it's not like this is unexpected -- he had better numbers than Radmanovic in the regular season, too.
Jackson has two days to contemplate such a switch. For Tuesday, though, Vujacic was on the floor plenty long enough to help L.A. pull out a must-win victory and stay in the series. And looking ahead, The Machine's trigger may be the key to giving The Mamba enough room for the kill.
John Hollinger writes for ESPN Insider. To e-mail him, click here.
2008 NBA FINALS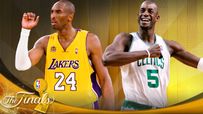 And then there were two -- the Lakers and Celtics. Who will win the NBA Finals? Let the games begin.
Finals schedule | Playoff bracket | Playoff home
Daily Dime
•
Celtics win 17th championship title
•
Did C's lose Regret Game?
•
A little help from Kobe's friends
•
Time for L.A. to go small
•
The Finals Can't Shake Donaghy Mess
•
Unlikely Game 4 comeback gives C's 3-1 lead
•
Rondo's ankle could change L.A.'s game plan
•
Kobe leads Lakers to Game 3 win
•
Lakers need to attack the paint
•
Lakers learn Powe's name in Game 2
•
Time for Gasol to step up
•
Lakers need better defense in Game 2
•
Pierce sparks Celtics in Game 1 victory
•
Expert predictions, clutch stats
•
Pierce loves playing Lakers
•
Celtics to meet L.A. in the Finals
Lakers vs. Celtics
•
Stein: Q&A after six-game "sweep"
•
MacMullan: Pierce's long road to greatness
•
Hollinger: From camp to champs
•
Stein: Boston's big three shine
•
Adande: Questions loom over Lakers' future
•
Hollinger: Celtics commit to defense
•
Scouts Inc.: Game 6 breakdown
•
Hollinger: Farmer steps up in Game 5
•
Sheridan: Late-game letdown for Celtics
•
Stein: Lakers ready to make history?
•
Adande: Greatness eluding Phil and Kobe
•
MacMullan: Doc adheres to dad's lessons
•
Jackson: Time for L.A.'s concession speech?
•
Stein: Game 4 not Kobe's finest hour
•
Adande: KG dominates Gasol again
•
Hollinger: Rivers makes all the right moves
•
Hill: Kobe's Laker legacy on the line
•
Hollinger: Vujacic lends helping hand in Game 3
•
Jackson: Jump shot Jesus has returned
•
Stein: Lakers need to earn sympathy
•
Adande: Lakers feel foul over whistle disparity
•
Jackson: Leading role suits Pierce
•
Adande: Kobe turns away from the pass late
•
Stein: Pierce's knee key to rest of series
•
Finals factor 1: Kobe Bryant
•
Finals factor 2: Celtics Defense
•
Finals factor 3: Paul Pierce
•
Finals factor 4: Home-court advantage
•
Finals factor 5: Battle of the benches
•
Hollinger: Lakers offense vs. Celtics defense
•
Broussard: Turning back the clock

•
Adande: How did Kobe get here?
•
Scouts Inc. breakdown: Lakers vs. Celtics
•
Coaching comparison: Red vs. Phil
•
Smith: Kobe's moving forward
•
Scoop: Fiendin' for a ring
•
Top 10 moments of Lakers-Celtics rivalry
•
ESPN Classic schedule: Relive the rivalry
TrueHoop
•
TrueHoop: Finals reflections
•
TrueHoop: Doc Rivers' redemption
•
TrueHoop: Lakers got Rondo'd
•
Tough night for Allen
•
Game 5 live blogging
•
Laker nation vs. NBA refs
•
Pierce and the evaporating knee story
•
Game 2 live blogging
•
Coaxing Kobe Bryant into hero mode
•
Game 1 live blogging
•
Today's game isn't so different
Simmons
•
Notes from the C's winning night
•
Boston's X factors
•
Game 4 running diary
•
Time for NBA Finals answers
•
The C's and city both look good
•
The Truth comes out in Game 1
•
NBA Finals forecast
•
Chat: NBA Finals preview
•
Simmons: You want a piece of Kobe, Boston?
ESPN The Magazine
•
Sporting Equivalency: NBA Finals meets hip hop
•
Broussard: Reporting from the NBA Finals
Fantasy
•
Join the fun of NBA Finals: Playcaller
Audio
•
Dish: NBA Finals recap
•
Wyc Grossbeck on C's championship
•
Ray Allen on how the Celtics evolved
•
Bob Ryan compares '86 C's to current one
•
Jon Barry credits Tom Thibodeau's team defense
•
Game 4 reactions
•
Rajon Rondo on Pierce, Game 2 plans
•
Bill Walton on Celtics-Lakers history
•
Dr. J on Finals, '80s hoops

MOST SENT STORIES ON ESPN.COM
ESPN.COM PARTNER: NBA.COM