Commentary
Commitment to defense delivers title No. 17 for Celtics
Originally Published:
June 18, 2008
By
John Hollinger
| ESPN.com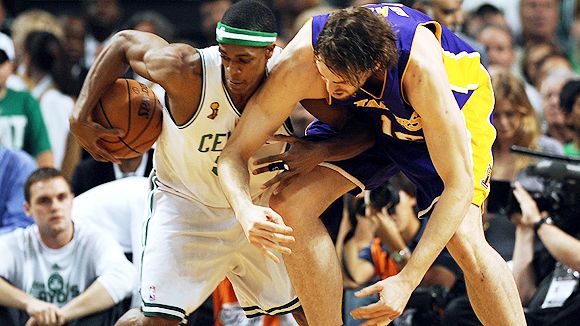 Gabriel Bouys/AFP/Getty ImagesCeltics guard Rajon Rondo had six steals, helping Boston's defense suffocate any Lakers' hopes.

BOSTON -- From opening night, when Boston held Washington to 83 points on 35 percent shooting and forced 20 turnovers, to the championship ceremony, when the crowd spontaneously chanted "De-fense," the Celtics' swarming, suffocating D was the dominant theme of the 2007-08 NBA season.
With the arrival of Kevin Garnett and the addition of ace defensive assistant Tom Thibodeau, the Celtics had the third-best defensive efficiency mark since the league began tracking turnovers in 1973-74, helping them to a league-best 66 wins despite fairly modest offensive numbers.
In the playoffs, it got them through choppy early rounds when the offense sputtered and Ray Allen in particular hit a nasty shooting slump. And in the Finals, it helped them put the clamps on Kobe Bryant and a Lakers crew that had been an elite offensive team since acquiring Pau Gasol. L.A. shot only 44.1 percent for the series and scored just 93.5 points per game.
At the trophy ceremony Tuesday night after taking the NBA title in six games, Celtics coach Doc Rivers said "defense" was his first word to the team. "We play defense, we're going to win a world championship, and that's exactly what they did. They were phenomenal all year."
On cue, the "De-fense" chants rained down from the raucous TD Banknorth Garden crowd, and it couldn't have been more fitting on this night. Boston cemented the championship with one of the great defensive halves in league history, holding the Lakers to 35 points at the break, on 29 percent shooting, and breaking their spirit in the process.
Here's the most amazing part -- even with all the L.A. misses, the Lakers couldn't get a single offensive rebound for much of the game. In fact, they didn't get their first one until the fourth quarter, and for the game had only two compared to 34 defensive boards for Boston. That's a 6 percent rebound rate if you're scoring at home; normally the offensive team gets around 30 percent.
"There were times I thought their defense was exceptional, and there were times I thought we didn't play smart basketball," said Lakers coach Phil Jackson. "When you look at a halftime score like we had with no offensive rebounds and shooting 29 percent, we're really disappointed in that fact."
Boston also set a Finals record with 18 steals in the clincher (seven by Rajon Rondo) and forced 15.5 turnovers per game for the series.
"They were able to squelch our dribble penetration," said Jackson. "And Rondo picked us apart because of it."
For the Celtics, it was the culmination of a title run that wasn't always pretty -- they set a record for a champion with 10 playoff losses and went 3-9 on the road -- but were always determined.
"We talked about it [Tuesday] morning in shootaround, that it was going to be our defense that would win the world championship for us," said Rivers. "We challenged them before the game, for one time, let's play 48 minutes of defense, just all-out -- denials, challenge shots. I thought through the playoffs we played in quarters and spurts, and it was good in those spurts. Tonight we finally put it together on probably the perfect night to do it."
Of course, the reason the Celtics' defense was such a huge factor was because their three stars bought into it. While Garnett has been a beast defensively his whole career, Paul Pierce and Ray Allen weren't exactly renowned for their defensive skills. When a pair of offseason trades united the trio in Beantown, the expectation was that they'd be a quality offensive team but wouldn't get enough stops to beat the Detroits and San Antonios of the world in May and June.
Yet defense is as much about effort as talent, and something clicked when the new big three got to Boston this fall. Garnett was the league's Defensive Player of the Year, while Allen and Pierce were the main defenders on Bryant, and kept the league MVP in check throughout.
"We held each other accountable to get on the floor every time there was a loose ball, to help in rotation when somebody was beat," said Allen. "We didn't expect any less from Paul, they didn't expect less out of me. If Kevin was out of position we let him know, and everybody followed suit. It was that accountability all year long, that everybody knew when you came in here, we don't care about the offensive end."
And with the three stars selling D, it made it much easier for everyone else to buy in. Take reserve guard Eddie House, for instance, a little-used, well-traveled shooting ace whom nobody thought could or would defend. When he came to Boston, however, he redoubled his efforts. Twice in the postseason he made outstanding hustle plays to win loose balls -- the second coming Tuesday when he chased down a jump ball to the other end of the court and won it out of bounds off Lakers guard Derek Fisher.
Indeed, Boston's general desire seemed palpable even from the press box -- the Celtics simply outscrapped, outworked and outhustled L.A. over the six games. One might say the difference was that the Lakers wanted to win the title -- but the Celtics were obsessed with it. They shrugged off injuries to four of their five starters, a bumpy trip home from L.A. that delayed their arrival in Boston till late Monday night, and every other obstacle that came their way.
"I just think we got them at the right time," said Rivers. "We got three guys who have accomplished everything in their careers except for that."
Until now, that is. After a career of being bridesmaids, all three are champions, and their commitment to defense was the reason.
John Hollinger writes for ESPN Insider. To e-mail him, click here.
2008 NBA FINALS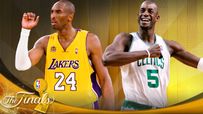 And then there were two -- the Lakers and Celtics. Who will win the NBA Finals? Let the games begin.
Finals schedule | Playoff bracket | Playoff home
Daily Dime
•
Celtics win 17th championship title
•
Did C's lose Regret Game?
•
A little help from Kobe's friends
•
Time for L.A. to go small
•
The Finals Can't Shake Donaghy Mess
•
Unlikely Game 4 comeback gives C's 3-1 lead
•
Rondo's ankle could change L.A.'s game plan
•
Kobe leads Lakers to Game 3 win
•
Lakers need to attack the paint
•
Lakers learn Powe's name in Game 2
•
Time for Gasol to step up
•
Lakers need better defense in Game 2
•
Pierce sparks Celtics in Game 1 victory
•
Expert predictions, clutch stats
•
Pierce loves playing Lakers
•
Celtics to meet L.A. in the Finals
Lakers vs. Celtics
•
Stein: Q&A after six-game "sweep"
•
MacMullan: Pierce's long road to greatness
•
Hollinger: From camp to champs
•
Stein: Boston's big three shine
•
Adande: Questions loom over Lakers' future
•
Hollinger: Celtics commit to defense
•
Scouts Inc.: Game 6 breakdown
•
Hollinger: Farmer steps up in Game 5
•
Sheridan: Late-game letdown for Celtics
•
Stein: Lakers ready to make history?
•
Adande: Greatness eluding Phil and Kobe
•
MacMullan: Doc adheres to dad's lessons
•
Jackson: Time for L.A.'s concession speech?
•
Stein: Game 4 not Kobe's finest hour
•
Adande: KG dominates Gasol again
•
Hollinger: Rivers makes all the right moves
•
Hill: Kobe's Laker legacy on the line
•
Hollinger: Vujacic lends helping hand in Game 3
•
Jackson: Jump shot Jesus has returned
•
Stein: Lakers need to earn sympathy
•
Adande: Lakers feel foul over whistle disparity
•
Jackson: Leading role suits Pierce
•
Adande: Kobe turns away from the pass late
•
Stein: Pierce's knee key to rest of series
•
Finals factor 1: Kobe Bryant
•
Finals factor 2: Celtics Defense
•
Finals factor 3: Paul Pierce
•
Finals factor 4: Home-court advantage
•
Finals factor 5: Battle of the benches
•
Hollinger: Lakers offense vs. Celtics defense
•
Broussard: Turning back the clock

•
Adande: How did Kobe get here?
•
Scouts Inc. breakdown: Lakers vs. Celtics
•
Coaching comparison: Red vs. Phil
•
Smith: Kobe's moving forward
•
Scoop: Fiendin' for a ring
•
Top 10 moments of Lakers-Celtics rivalry
•
ESPN Classic schedule: Relive the rivalry
TrueHoop
•
TrueHoop: Finals reflections
•
TrueHoop: Doc Rivers' redemption
•
TrueHoop: Lakers got Rondo'd
•
Tough night for Allen
•
Game 5 live blogging
•
Laker nation vs. NBA refs
•
Pierce and the evaporating knee story
•
Game 2 live blogging
•
Coaxing Kobe Bryant into hero mode
•
Game 1 live blogging
•
Today's game isn't so different
Simmons
•
Notes from the C's winning night
•
Boston's X factors
•
Game 4 running diary
•
Time for NBA Finals answers
•
The C's and city both look good
•
The Truth comes out in Game 1
•
NBA Finals forecast
•
Chat: NBA Finals preview
•
Simmons: You want a piece of Kobe, Boston?
ESPN The Magazine
•
Sporting Equivalency: NBA Finals meets hip hop
•
Broussard: Reporting from the NBA Finals
Fantasy
•
Join the fun of NBA Finals: Playcaller
Audio
•
Dish: NBA Finals recap
•
Wyc Grossbeck on C's championship
•
Ray Allen on how the Celtics evolved
•
Bob Ryan compares '86 C's to current one
•
Jon Barry credits Tom Thibodeau's team defense
•
Game 4 reactions
•
Rajon Rondo on Pierce, Game 2 plans
•
Bill Walton on Celtics-Lakers history
•
Dr. J on Finals, '80s hoops

MOST SENT STORIES ON ESPN.COM