Commentary
Lack of bench production sinks Hornets
Originally Published:
May 20, 2008
By
John Hollinger
| ESPN.com
NEW ORLEANS -- A 16-point fourth-quarter explosion by Jannero Pargo nearly led the Hornets to an improbable comeback from 17 down in the Hornets' 91-82 Game 7 loss to San Antonio on Monday. He scored all 10 points in a 10-2 Hornets run that got them within three and then just missed on a 3-point attempt that could have tied it.

[+] Enlarge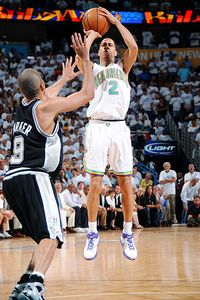 Andrew D. Bernstein/NBAE/Getty ImagesJannero Pargo's 18 points in Game 7 made for a rare bench highlight.

While Pargo's play energized a moribund offense, it was also notable for its rarity in this series. The fact that the Hornets finally got some production from the second unit underscored a nagging question -- namely, where the heck had the bench been all this time?
Even on this night, the Hornets got shockingly little from the subs. While Pargo snapped out of a series-long shooting slump with his late burst, only two other Hornets got off the pine, and they combined for just one point. Overall, the bench was 6-for-19 from the floor with just one assist.
"Terrible" was Pargo's description of the bench play in the series, and he included himself in that comment. "We didn't come to play at all. Six games, we didn't show up. That's something we've got to get better at next year."
For the seven games, Pargo shot only 27.9 percent, and many of the buckets he did make came in garbage time in the six one-sided games that preceded this one. The other subs weren't any better. Rookie Julian Wright had his moments but was found wanting after a brutal stretch in Game 5; he took a DNP-CD in the finale. And Bonzi Wells couldn't relive the outstanding series he had against San Antonio as a Sacramento King two years earlier; instead, he shot 36.4 percent. Amazingly, he didn't make a free throw the entire series and didn't score in the final three games.
But perhaps most glaringly, the big man rotation was found wanting. Melvin Ely supplanted Hilton Armstrong as the backup center after the Dallas series, but he made only four baskets the entire series and had 11 rebounds in 80 minutes.
Hornets coach Byron Scott was so terrified of playing him that he double-teamed Tim Duncan every first half in order to keep Tyson Chandler out of foul trouble; given how well Chandler played him one-on-one and how many 3s San Antonio made off the double-teams, this may well have been the deciding factor in the series.
"Maybe if our bench had played better…" Scott allowed when discussing keys to the series after the defeat, and he's right.
Fortunately, it's fixable. With a fairly cap-friendly salary structure and some young talent like Wright and Armstrong in the pipeline, this is an area the Hornets are capable of upgrading.
If so, they can be in a much better position if they're in a similar situation next year. A quality frontcourt sub would allow Scott to let Chandler loose on D from the start, while more talent on the wings would keep some scoring punch in reserve for the nights when Chris Paul and David West are a little off their games.
With the exception of Pargo, the bench wasn't there for the Hornets on Monday, and it was missing the rest of the series, too. Though it didn't seem problematic through the first five games, ultimately it cost them.
John Hollinger writes for ESPN Insider. To e-mail him, click here.
2008 NBA PLAYOFFS Round 2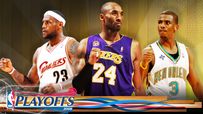 LeBron, Kobe and CP3 dominated Round 1 of the 2008 NBA playoffs, where the top four seeds in each conference advanced to the second round.
Playoff schedule | Playoff bracket | Playoff home
Daily Dime
•
Daily Dime: Lakers end Jazz season in Game 6
•
Daily Dime: Spurs dominate Hornets in Game 6
•
Daily Dime: Rondo gets C's rolling in Game 5
•
Daily Dime: Hornets one win from advancing
•
Daily Dime: Celtics with road woes
•
Daily Dime: Williams puts Utah on his back
•
Daily Dime: Cavs roll in Game 3 victory
•
Daily Dime: Boozer makes impact in Game 3
•
Daily Dime: Spurs keep head above water
•
Daily Dime: Kobe's most valuable promise
•
Daily Dime: Beauty is in eye of beholder
•
Daily Dime: CP3 making Spurs look old
•
Daily Dime: Kobe free to reign in Game 1
•
Daily Dime: Hornets sting the champs
Columns
•
Hollinger: Handing out some playoff awards
Cavaliers vs. Celtics
•
Windhorst: LeBron's chance to be Jordanesque
•
Sheridan: Legacies on the line for Celtics
•
Sheridan: Screwball finish to Game 6
•
Sheridan: Allen finds his range
•
Windhorst: Cavs search for offense
•
Windhorst: LeBron likes his chances
•
Scouts Inc.'s series breakdown
•
Wojciechowski: Rest easy, Celtics ... for now
•
Jackson: Do you still love the Celtics?
•
Series page: More coverage
Magic vs. Pistons
•
Magic eliminated, but won't disappear
•
Hollinger: Hunter dusts off rust
•
Hollinger: Pistons win without Billups
•
Scouts Inc.'s series breakdown
•
Series page: More coverage
Jazz vs. Lakers
•
Adande: Kobe plays supporting role
•
Adande: Jazz find Lakers out of tune
•
Wojciechowski: Miller won't listen on the Sabbath
•
Adande: A year to remember for Fisher
•
Scouts Inc.'s series breakdown
•
Series page: More coverage
Spurs vs. Hornets
•
Stein: Spurs knew Hornets were trouble
•
Neel: Enjoy Chris Paul while you can
•
Hollinger: Champs back to winning ways
•
Palmer: Birdman's redemption bittersweet
•
Adande: Chris Paul's mean streak
•
TrueHoop: Spurs stung twice by Hornets
•
Scouts Inc.'s series breakdown
•
Series page: More coverage
TrueHoop
•
Stat Geek Smackdown: 2008 playoffs
SportsNation
•
Which teams will advance to conference semis?
•
Rank the remaining eight playoff teams

MOST SENT STORIES ON ESPN.COM