Commentary
Hunter: Out of mothballs and back on center stage
Originally Published:
May 10, 2008
By
John Hollinger
| ESPN.com
ORLANDO, Fla. -- While the rest of his Detroit Pistons teammates were in the showers, or changing, or already on the bus, Lindsey Hunter stayed slumped at his locker in his uniform. Wrapped in ice on his wrists, knees and ankles, the veteran guard was still accounting for all his parts after being taken out of cold storage in the Pistons' Game 4 win.
"High school state champs," yelled an already showered Rasheed Wallace across the locker room to Hunter, making fun of the fact he hadn't undressed yet.
[+] Enlarge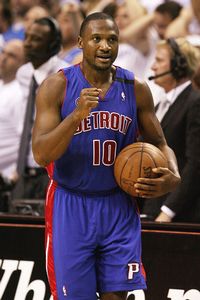 Doug Benc/Getty ImagesLindsey Hunter fit the bill in filling in for Chauncey Billups.
The 37-year-old Hunter began the season pondering whether to play or become an assistant coach. At times there seemed to be little difference. He played only 24 games and 215 minutes this season, and was inactive for the first three games of the series against Orlando.
But with veteran Chauncey Billups sidelined by a hamstring injury, and replacement starter Rodney Stuckey saddled with foul trouble, he suddenly had to play a major role in Game 4.
Hunter played 26 minutes, including 9:31 of the fourth quarter, and to say that was a lot for him is an understatement; only once in the past three seasons has he played more.
"It's been a long time," he groaned as he finally headed for the shower.
Hunter finished with eight points and three assists, and his defense at the point of attack helped the Pistons slam the door on Orlando in the second half. He even made 2 of 3 3-pointers -- a pleasant surprise considering he's topped 30 percent from the arc only once in five seasons as a Piston.
But most importantly, his familiarity with the Detroit regulars allowed him to step right in without skipping a beat.
"He was carrying the team, he was talking like he was playing the whole series," Pistons forward Antonio McDyess said.
"I've been playing with these guys for so long, I know their tendencies, I know what they like," Hunter said. "I'm comfortable out there, so I have no problem telling guys where to go … [and] it's easy for me keep a couple plays in my head, and at crunch time [say], 'Let's do this, let's do that.'"
Of course, Pistons coach Flip Saunders is no stranger to this situation. Four years ago in Minnesota, an injury to Sam Cassell forced him to pull another veteran quasi-assistant coach, Darrick Martin, off the pine in the conference finals against the Lakers to help them win Game 5. That was the year Hunter and the Pistons won the title.
"It's a similar situation where your third point guard comes in and ends up having a huge impact," Saunders said.
But he quickly added one crucial difference: "I hope Chauncey can come back. Sam wasn't able to come back."
If not, Hunter is likely to be asked to give an encore performance in Tuesday's Game 5. So it's probably a good thing that he has two off days to recuperate.
"The only thing we told our players was that everyone had to give up their ice bags because he needed them all," Saunders said.
"I'm sleepy now," Hunter said as he finally emerged from the shower.
John Hollinger writes for ESPN Insider. To e-mail him, click here.
2008 NBA PLAYOFFS Round 2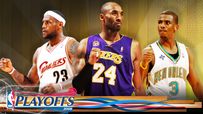 LeBron, Kobe and CP3 dominated Round 1 of the 2008 NBA playoffs, where the top four seeds in each conference advanced to the second round.
Playoff schedule | Playoff bracket | Playoff home
Daily Dime
•
Daily Dime: Lakers end Jazz season in Game 6
•
Daily Dime: Spurs dominate Hornets in Game 6
•
Daily Dime: Rondo gets C's rolling in Game 5
•
Daily Dime: Hornets one win from advancing
•
Daily Dime: Celtics with road woes
•
Daily Dime: Williams puts Utah on his back
•
Daily Dime: Cavs roll in Game 3 victory
•
Daily Dime: Boozer makes impact in Game 3
•
Daily Dime: Spurs keep head above water
•
Daily Dime: Kobe's most valuable promise
•
Daily Dime: Beauty is in eye of beholder
•
Daily Dime: CP3 making Spurs look old
•
Daily Dime: Kobe free to reign in Game 1
•
Daily Dime: Hornets sting the champs
Columns
•
Hollinger: Handing out some playoff awards
Cavaliers vs. Celtics
•
Windhorst: LeBron's chance to be Jordanesque
•
Sheridan: Legacies on the line for Celtics
•
Sheridan: Screwball finish to Game 6
•
Sheridan: Allen finds his range
•
Windhorst: Cavs search for offense
•
Windhorst: LeBron likes his chances
•
Scouts Inc.'s series breakdown
•
Wojciechowski: Rest easy, Celtics ... for now
•
Jackson: Do you still love the Celtics?
•
Series page: More coverage
Magic vs. Pistons
•
Magic eliminated, but won't disappear
•
Hollinger: Hunter dusts off rust
•
Hollinger: Pistons win without Billups
•
Scouts Inc.'s series breakdown
•
Series page: More coverage
Jazz vs. Lakers
•
Adande: Kobe plays supporting role
•
Adande: Jazz find Lakers out of tune
•
Wojciechowski: Miller won't listen on the Sabbath
•
Adande: A year to remember for Fisher
•
Scouts Inc.'s series breakdown
•
Series page: More coverage
Spurs vs. Hornets
•
Stein: Spurs knew Hornets were trouble
•
Neel: Enjoy Chris Paul while you can
•
Hollinger: Champs back to winning ways
•
Palmer: Birdman's redemption bittersweet
•
Adande: Chris Paul's mean streak
•
TrueHoop: Spurs stung twice by Hornets
•
Scouts Inc.'s series breakdown
•
Series page: More coverage
TrueHoop
•
Stat Geek Smackdown: 2008 playoffs
SportsNation
•
Which teams will advance to conference semis?
•
Rank the remaining eight playoff teams

MOST SENT STORIES ON ESPN.COM