Commentary
Billups' health might now hold key to series
Originally Published:
May 8, 2008
By
John Hollinger
| ESPN.com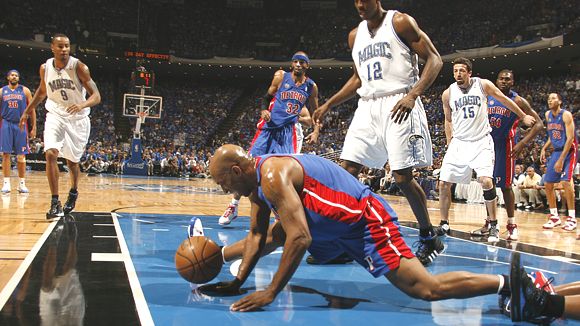 Nathaniel S. Butler/NBAE/Getty ImagesWhen Pistons guard Chauncey Billups went down with a hamstring injury in Game 3, the door opened wider to the possiblity of a Magic upset of the East's formidable No. 2 seed. Detroit leads 2-1.
ORLANDO -- Fans commonly say one needn't start watching an NBA game until the very end. Sorry to disappoint, but if you missed the first five minutes of Game 3 between the Orlando Magic and Detroit Pistons, you missed everything.
The Magic landed a 20-3 haymaker to start the game en route to a 111-86 rout of Detroit on Wednesday night that closed their best-of-seven Eastern Conference semifinal series to 2-1 in favor of the Pistons.
More importantly, Detroit guard Chauncey Billups went down 3:49 into the game with a strained right hamstring, a potentially series-altering injury that removed the Pistons' best player from the floor for the final 44 minutes.
Billups left without talking to the media, but the Pistons are hopeful he'll be ready in time for Saturday's Game 4.
"We're shooting for him to play on Saturday," said Detroit coach Flip Saunders. "It's sore right now [and] we won't know for the next 24 hours where he's really at, but all indications are we're shooting for him to go on Saturday."
Not that his absence altered the outcome of Game 3 much. Even in the first four minutes with Billups out there, it was obvious Orlando was the more energetic team tonight. The Magic blocked two of Detroit's first three shots, got a pure hustle offensive rebound from Maurice Evans (credited as a team rebound in the box score) and held Detroit to one measly basket in the first four minutes -- all before Billups left the game.
"It wasn't Chauncey [being out]," said Pistons guard Richard Hamilton. "We were still down big early. I thought we didn't do a good job of trying to get to the basket; I thought we settled for jump shots."
"The two biggest factors were our start and Chauncey's injury," said Magic coach Stan Van Gundy. "You can't negate that. He's not only a great player but he's their leader and he runs everything."
Actually, there was one other big factor: Detroit had no answer whatsoever for Rashard Lewis. He earned every cent of his $118 million tonight with 33 points on 11-of-15 shooting, including 5-of-6 on 3-pointers, to go with six rebounds, five assists and two steals.
As an added plus, Detroit's Rasheed Wallace seemed uncomfortable chasing him around the 3-point line and spent much of the game in foul trouble. In fact, Lewis is changing Detroit's matchups in this series -- the Pistons again used Walter Herrmann far more than usual (12:57 tonight) because they needed to match up small against Orlando.
"Just like we have some matchup problems with them, Rashard is a tough guy to guard out on the perimeter," Van Gundy said. "He was knocking down shots, and then you get up on him and he gets a chance to drive the ball. He was terrific today."
Yet the Magic's fine effort takes a backseat to the big questions du jour from the Detroit end: Will Billups play, and if so when? When he does, how limited will he be? And either way, how does it change the course of this series?
Working in his favor is that Billups gets two days off to recuperate. Also, Detroit's record with its players recuperating from injuries is absolutely amazing. Trainer Arnie Kander is widely regarded as the league's best, and he's one reason the Pistons have stayed almost comically injury-free the past half-decade.
Yet one wonders how Detroit can fare if its best player is either limited or absent in the next week and a half. In his place, rookie Rodney Stuckey came in and was torched almost immediately by Orlando's Jameer Nelson. Stuckey permitted him nine first-quarter points and fouled him twice before getting yanked in favor of Arron Afflalo.
Once he returned, Stuckey played much better, and he finished with 19 points. He also helped the Pistons push the pace much more than we're used to seeing, with Detroit scoring 20 fast-break points. He even helped Detroit get the game back within four points at the end of the third quarter before another Lewis-fueled Orlando run put the game away.
Nonetheless, Stuckey is hardly an equivalent replacement for ruthlessly efficient Billups. In the first two games, Billups toyed with the Magic -- he had 47 points and only two turnovers while shooting 18-for-19 from the line. Without him, Detroit's offense too often degenerated into jumpers from Hamilton and Tayshaun Prince.
"We were trying to ride Rip and Tay a lot, but that sucked some energy out of them," Saunders said. The two combined to play 85 minutes and took 34 of Detroit's 77 shots.
"Now they know what it's like not to have a point guard," joked an Orlando scribe with me at halftime. But the difference is Detroit doesn't have Dwight Howard -- who was quietly dominant with 20 points, 12 boards, six blocks and at least as many strong challenges -- to make up for it.
"[The point guard] matchup has been huge for us," Saunders said. "It's probably best we have a couple days to get [Billups] some rest, but also to have another plan in case he doesn't play."
Indeed, the Pistons will have to look hard at Plan B options even if Billups says he can go; hamstring injuries seem to come back like weeds. For instance, look for Detroit to activate Lindsey Hunter next game instead of either Jarvis Hayes or Amir Johnson, and expect Saunders to put in more plays that start with the ball in Prince's capable hands.
However, a far better option is Plan A -- having a healthy Billups on the court. If that option isn't available, this series may have changed dramatically.
John Hollinger writes for ESPN Insider. To e-mail him, click here.
SPONSORED HEADLINES
MORE NBA HEADLINES
MOST SENT STORIES ON ESPN.COM
2008 NBA PLAYOFFS Round 2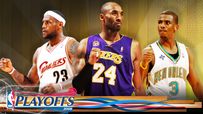 LeBron, Kobe and CP3 dominated Round 1 of the 2008 NBA playoffs, where the top four seeds in each conference advanced to the second round.
Playoff schedule | Playoff bracket | Playoff home
Daily Dime
•
Daily Dime: Lakers end Jazz season in Game 6
•
Daily Dime: Spurs dominate Hornets in Game 6
•
Daily Dime: Rondo gets C's rolling in Game 5
•
Daily Dime: Hornets one win from advancing
•
Daily Dime: Celtics with road woes
•
Daily Dime: Williams puts Utah on his back
•
Daily Dime: Cavs roll in Game 3 victory
•
Daily Dime: Boozer makes impact in Game 3
•
Daily Dime: Spurs keep head above water
•
Daily Dime: Kobe's most valuable promise
•
Daily Dime: Beauty is in eye of beholder
•
Daily Dime: CP3 making Spurs look old
•
Daily Dime: Kobe free to reign in Game 1
•
Daily Dime: Hornets sting the champs
Columns
•
Hollinger: Handing out some playoff awards
Cavaliers vs. Celtics
•
Windhorst: LeBron's chance to be Jordanesque
•
Sheridan: Legacies on the line for Celtics
•
Sheridan: Screwball finish to Game 6
•
Sheridan: Allen finds his range
•
Windhorst: Cavs search for offense
•
Windhorst: LeBron likes his chances
•
Scouts Inc.'s series breakdown
•
Wojciechowski: Rest easy, Celtics ... for now
•
Jackson: Do you still love the Celtics?
•
Series page: More coverage
Magic vs. Pistons
•
Magic eliminated, but won't disappear
•
Hollinger: Hunter dusts off rust
•
Hollinger: Pistons win without Billups
•
Scouts Inc.'s series breakdown
•
Series page: More coverage
Jazz vs. Lakers
•
Adande: Kobe plays supporting role
•
Adande: Jazz find Lakers out of tune
•
Wojciechowski: Miller won't listen on the Sabbath
•
Adande: A year to remember for Fisher
•
Scouts Inc.'s series breakdown
•
Series page: More coverage
Spurs vs. Hornets
•
Stein: Spurs knew Hornets were trouble
•
Neel: Enjoy Chris Paul while you can
•
Hollinger: Champs back to winning ways
•
Palmer: Birdman's redemption bittersweet
•
Adande: Chris Paul's mean streak
•
TrueHoop: Spurs stung twice by Hornets
•
Scouts Inc.'s series breakdown
•
Series page: More coverage
TrueHoop
•
Stat Geek Smackdown: 2008 playoffs
SportsNation
•
Which teams will advance to conference semis?
•
Rank the remaining eight playoff teams