Commentary
Truth is, Pierce indispensable to Boston's title dreams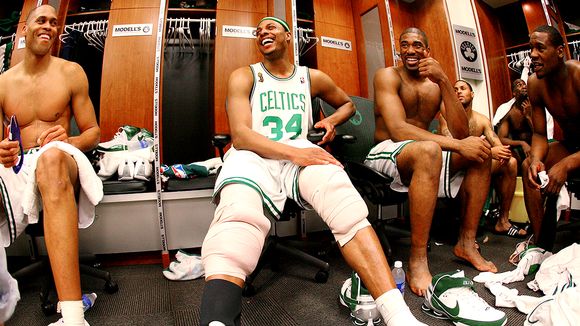 Jesse D. Garrabrant/NBAE/Getty ImagesAfter making big 3s, Paul Pierce ices the knees with teammates after winning Game 1.

BOSTON -- As he walked through the hallway after the win in Game 1 of his first Finals, Paul Pierce was stopped briefly. With two ice bags wrapped around his knees, his limp very noticeable, he was in a semirush to get back to the Boston locker room to get whatever treatment was necessary to begin the process of getting him back on the court and back to 100 percent in a few days. He didn't have time to be stopped or talk to anyone.

But Kobe Bryant isn't just anyone. And for that brief moment, when Kobe asked him if he was all right, Pierce did stop. He mttered a low-sounding, "I think I'm good," and kept it moving. It was as if he wanted to stay and talk with Bryant for a minute -- tell him "thanks for asking," then go into what happened in his mind when he heard his right knee pop in the third quarter, then explain to him why he had to drop those back-to-back 3s on the Lakers that changed the course of the game -- but he was still in game mode.

One down, six to go. Or fewer.

And in less than five seconds they separated. One going to tell the media his side of the loss, the other going to begin the 72-hour process of rehab to get ready to have the same impact on Game 2 as he did on the first. The trainer's door closed behind him, and he let out a rebel yell. It was over.

But for Pierce, it really is just beginning.

***
It took the Celtics a long time to find him. He'd been there for 10 years, but still …
When the playoffs began, the Celtics had no idea who the leader of their team was. Pierce and Kevin Garnett said publicly that if there were ever a Game 7 and it was on the line, Ray Allen would be the one to take the shot. The team, by virtue of Garnett's play, presence and personality, seemed to look to him as the one whose spirit the players would follow.
But KG, by virtue of who he is, seemed to defer to Pierce as the one whose team it actually was.
So when Pierce says, "I think we kind of figured it out against Detroit," that's what he's speaking on. The Celtics figured out that he is the one who would lead them. That he might be more imperative than Garnett to whether they get this ring. That he is their messiah. That he is the real Jesus Shuttlesworth.
[+] Enlarge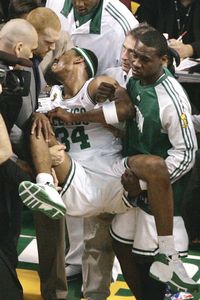 AP Photo/Charles KrupaWhen Paul Pierce was carried off by Brian Scalabrine and Tony Allen, Boston's season hung in the balance.
He doesn't say "my team" a lot. Not like the rest of the players who "lead" teams but their teams aren't here. As the one Celtic on this team whose number will, without a doubt, find its way to one of those small squares in the rafters, Pierce tends to keep it low like a '64 when it comes to that. Instead, he has decided to let his play decide the "my": Game 7 against Cleveland (41 points); Game 6 against the Pistons (27 points, 8 rebounds, with 12 of those points coming in the fourth quarter to eclipse a 10-point Pistons lead); and Thursday night. My. My. My.
Standing out on the team like Johnny Gill's voice in New Edition, the one called The Truth has made it abundantly clear that for the Celts in this series, everything will ride or breathe its last breath with him. Through him. Which is why when asked after the game about what Pierce said to him just before he went back on the court during his Willis Reed remix, Celtics reserve Tony Allen said, "He said, 'I'm back. Let's ride, killa!'" Then Allen said as passionately as someone could only about his leader, "I could see it in his eyes, he willed himself back. You know, that's The Truth, man! That's The Truth!"
The truth is Pierce has come too far to let this -- anything short of permanent ligament damage to his knee or death -- end the Celtics' season. The stabbing at the nightclub in 2000 that left permanent reminders on his back and neck about that which almost killed him, the gang signs he apparently threw up during the Hawks' series that cost him $25,000, the foul attitude he carried around Boston the past four to five years that seemed to have rubbed off on the entire franchise. None of this derailed him.
The truth is it's all on him, always has been but no one has ever said it because maybe folks didn't realize it until now. Maybe that fear that set into 18,624 when they watched him get carried off the court in the third quarter was what they -- even some of his teammates -- needed to realize the worth and meaning of him.
The truth is that he has to be the one who leads them there. To that place they haven't been in 24 years. Which might be the reason he's still here at this stage, at this point in his career. It could be possible that Danny Ainge saw the one thing in Pierce that all of us were missing while watching him fade into basketball obscurity before this season: leadership.
Or, as Frank Isola of the New York Daily News so accurately put it, "Paul Pierce got balls."
The truth is that although Garnett might be the savior, The Truth is something more. This is how divine order in Boston works: A guy from the same Inglewood neighborhood as the Forum, a player who, if the Celts win, will be mythically dubbed and crowned "the greatest player ever to come out of L.A." would be the one to restore order to their championship heritage and tradition.
How ironic. Or iconic? It's enough to turn the leprechaun black.
***
The smile on his face was, well, different.
Even though he smiles all the time, this time there was something else that could be read into the one that seemed to have exorcised his face. "He's like a little brother to me," he says with that smile. "and to see him do this, to see him come this far, it's, it's …"
He just keeps smiling.
Magic Johnson has been along for this Paul Pierce ride longer than damn near anyone who doesn't share bloodlines with Pierce. He was the one who, when P2 was a little pudgy baller from Inglewood High who happened to be a McDonald's All-American, broke down not only Pierce's game but Pierce himself.

To see him not just playing with his talent but playing with his head, thinking, is beautiful.
--Magic Johnson, on Pierce
"He'd call me all type of names," Pierce once said of those days of old. "Call me a little punk, all of that. And I'd be broke down because he was supposed to be my hero."
"He used to settle for jump shots," Magic says of those same days, almost 15 years ago. "I taught him how to make a man foul you, how not to play soft. He used to always be like, 'How'd you do that?' And I'd show him. So to me, seeing him do this, to see him not just playing with his talent but playing with his head, thinking, is beautiful."
And this is less than 90 minutes after the Game 1 loss by the Lakers (the only NBA team Johnson has been associated with, a team he is connected to through ownership and identity). Through the disappointment and anger of how his team performed, the smile of pride he had came through with so much ease. Like that of a father. Like that of Red Auerbach if he were here.
"It's his leadership," Johnson says before he's taken away. "His leadership and his defense are finally coming through. There are two players in this series that can't be stopped, that's Kobe and Paul. And Paul wants it. I can see it in him now, he wants greatness."
[+] Enlarge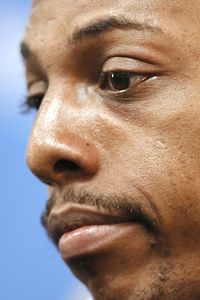 AP Photo/Winslow TownsonNot many smiles from Paul Pierce sighted on Friday.
There is no smile on the face of Pierce, though, as he comes into the TD Banknorth Garden the day after. There's a wince and a walk that doesn't look good. Doesn't look promising. He sits through media sessions and is continually asked about his knee. Nothing else. It's like a bad episode of "Grey's Anatomy" without all the subplots.
He is not asked about the 15-point, 5-for-5 (3-for-3 from 3 range) from the field third quarter he had that literally won the game for the Celts.
He is not asked about the pair of back-to-back killa 3s he drained between the 1:26 and 1:04 minute mark of the third that was so cold-blooded it turned the Lakers' blood cold, meaning it killed them.
He is not asked about the solo and help defense he played on Kobe in the fourth quarter that made sure the city of Boston wouldn't be a living morgue this weekend. He is not asked about how he -- not Ray Allen or KG or Rajon Rondo -- led this team to being only three wins from a world championship.
Instead, he tells us how "scared he was" and how he "never felt pain like that in his knee before because he's never had a knee injury in his whole career." He also says that he knew the "magnitude of the game" and that he was going to come back and play. He had no choice. But still, no smile.
But behind closed doors in the ABC media room -- as he is getting up to leave after being interviewed junket-style by Mike Breen, Michele Tafoya, Jeff Van Gundy and Mark Jackson -- he is asked something that eases his pain for a second.
"If you were from the same neighborhood as Jeff [Van Gundy]," Jackson asked. "Would you have still come back into the game?"
Everyone breaks out laughing. Pierce louder than everyone. And it was as if, for a brief instant in what has become his life as leader of this team, he could enjoy a moment after Game 1 of the Finals. It was the first time he was able to hold a smile on his face.
Scoop Jackson is a columnist for Page 2.
ESPN.com columnist
Columnist for ESPN.com and ESPN The Magazine
Wrote for Slam, XXL, 6 years with NBA; 4 years with Nike
2008 NBA FINALS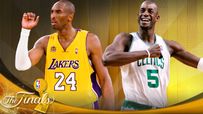 And then there were two -- the Lakers and Celtics. Who will win the NBA Finals? Let the games begin.
Finals schedule | Playoff bracket | Playoff home
Daily Dime
•
Celtics win 17th championship title
•
Did C's lose Regret Game?
•
A little help from Kobe's friends
•
Time for L.A. to go small
•
The Finals Can't Shake Donaghy Mess
•
Unlikely Game 4 comeback gives C's 3-1 lead
•
Rondo's ankle could change L.A.'s game plan
•
Kobe leads Lakers to Game 3 win
•
Lakers need to attack the paint
•
Lakers learn Powe's name in Game 2
•
Time for Gasol to step up
•
Lakers need better defense in Game 2
•
Pierce sparks Celtics in Game 1 victory
•
Expert predictions, clutch stats
•
Pierce loves playing Lakers
•
Celtics to meet L.A. in the Finals
Lakers vs. Celtics
•
Stein: Q&A after six-game "sweep"
•
MacMullan: Pierce's long road to greatness
•
Hollinger: From camp to champs
•
Stein: Boston's big three shine
•
Adande: Questions loom over Lakers' future
•
Hollinger: Celtics commit to defense
•
Scouts Inc.: Game 6 breakdown
•
Hollinger: Farmer steps up in Game 5
•
Sheridan: Late-game letdown for Celtics
•
Stein: Lakers ready to make history?
•
Adande: Greatness eluding Phil and Kobe
•
MacMullan: Doc adheres to dad's lessons
•
Jackson: Time for L.A.'s concession speech?
•
Stein: Game 4 not Kobe's finest hour
•
Adande: KG dominates Gasol again
•
Hollinger: Rivers makes all the right moves
•
Hill: Kobe's Laker legacy on the line
•
Hollinger: Vujacic lends helping hand in Game 3
•
Jackson: Jump shot Jesus has returned
•
Stein: Lakers need to earn sympathy
•
Adande: Lakers feel foul over whistle disparity
•
Jackson: Leading role suits Pierce
•
Adande: Kobe turns away from the pass late
•
Stein: Pierce's knee key to rest of series
•
Finals factor 1: Kobe Bryant
•
Finals factor 2: Celtics Defense
•
Finals factor 3: Paul Pierce
•
Finals factor 4: Home-court advantage
•
Finals factor 5: Battle of the benches
•
Hollinger: Lakers offense vs. Celtics defense
•
Broussard: Turning back the clock

•
Adande: How did Kobe get here?
•
Scouts Inc. breakdown: Lakers vs. Celtics
•
Coaching comparison: Red vs. Phil
•
Smith: Kobe's moving forward
•
Scoop: Fiendin' for a ring
•
Top 10 moments of Lakers-Celtics rivalry
•
ESPN Classic schedule: Relive the rivalry
TrueHoop
•
TrueHoop: Finals reflections
•
TrueHoop: Doc Rivers' redemption
•
TrueHoop: Lakers got Rondo'd
•
Tough night for Allen
•
Game 5 live blogging
•
Laker nation vs. NBA refs
•
Pierce and the evaporating knee story
•
Game 2 live blogging
•
Coaxing Kobe Bryant into hero mode
•
Game 1 live blogging
•
Today's game isn't so different
Simmons
•
Notes from the C's winning night
•
Boston's X factors
•
Game 4 running diary
•
Time for NBA Finals answers
•
The C's and city both look good
•
The Truth comes out in Game 1
•
NBA Finals forecast
•
Chat: NBA Finals preview
•
Simmons: You want a piece of Kobe, Boston?
ESPN The Magazine
•
Sporting Equivalency: NBA Finals meets hip hop
•
Broussard: Reporting from the NBA Finals
Fantasy
•
Join the fun of NBA Finals: Playcaller
Audio
•
Dish: NBA Finals recap
•
Wyc Grossbeck on C's championship
•
Ray Allen on how the Celtics evolved
•
Bob Ryan compares '86 C's to current one
•
Jon Barry credits Tom Thibodeau's team defense
•
Game 4 reactions
•
Rajon Rondo on Pierce, Game 2 plans
•
Bill Walton on Celtics-Lakers history
•
Dr. J on Finals, '80s hoops