Commentary
Doc Rivers adhering to his father's lessons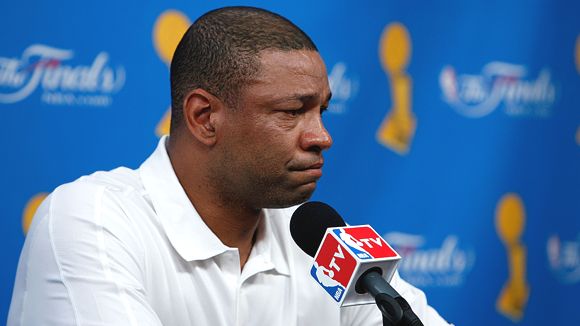 Joe Murphy/NBAE/Getty ImagesDoc Rivers was emotional at Friday's press conference when asked about winning on Father's Day.

The groundwork for Doc Rivers' finest hour was laid long before the Celtics staged their improbable comeback in Game 4 of the NBA Finals Thursday night. Boston not only obliterated a 24-point second-quarter deficit, they also ripped a gaping hole in the mystical reputation of L.A.'s decorated coach, Phil Jackson, who may have won nine championships but has been thoroughly outmaneuvered by Rivers in this series.

In the midst of Boston's stunning Game 4 turnaround, Rivers calmly instructed his players to ignore the score and recoup their composure one basket -- and one defensive stop -- at a time.

Rivers gambled and won by implementing a small lineup, putting reserves James Posey and Eddie House on the court during crunch time. The Celtics spread the floor, dared the Lakers to double-team them, and correctly discerned when to make the extra pass and when to take it hard to the hole.

L.A. and Jackson were slow to react to Boston's adjustments. House is a known liability when forced to bring the ball up the floor, yet the Lakers never chose to pressure or trap him. And even though Posey was asked to guard the bigger, stronger Lamar Odom, the Lakers did not isolate him in the post and try to exploit the matchup.

Doc's newly anointed status as the resident genius in the series is both amusing and irritating to his players, some of whom witnessed their coach suffer through a horrific season in 2006-07 in which his job status and his ability (or inability) to break down X's and O's was daily fodder for his critics.

His professional life was hanging in the balance. Ownership was restless, and unhappy with his decision to leave his family in Orlando rather than move it to Boston. Rivers was under constant scrutiny from the media.

In the meantime, resident veteran Paul Pierce was miserable, while his young roster chafed at accepting their roles.

[+] Enlarge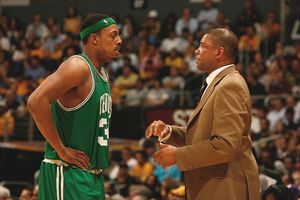 Nathaniel S. Butler/NBAE/Getty ImagesPierce and Rivers didn't always see eye-to-eye but have come together this season.

Doc's father, Grady Rivers, reminded him after each mounting loss of his responsibility to his players.
"He told me, 'Be consistent,''' Rivers said. "If nothing else, they must know what to expect from you.''
It was a familiar refrain, one young Glenn Rivers lived by while growing up in the west side of Chicago. Grady Rivers was a police officer as well as his son's baseball coach. He hated missing practice and enforced strict rules about player attendance, so he would often pull his patrol car onto the ball field and leave the police radio on in case a call came in during the team workout. If one did, Grady barked out instructions to his son, then peeled out, his siren blaring.
During basketball season, Grady Rivers sat in the front row of the bleachers in full uniform, a living example of what he expected from his sons.
He was a model of stability, not just for Rivers and his brother, but for many of his teammates who were not fortunate enough to have a father of their own in their lives.
"I was there for those kids,'' Grady Rivers told me a year ago, "because nobody else was.''
As Boston's dream season has unfolded, Doc Rivers has privately struggled to balance the jubilation of his lifelong dream with the devastation of losing the person he aches to share it with the most.
Grady Rivers died after a brief illness in November, in the infancy of Boston's 66-win season.
The Celtics were on the road in Toronto at the time, and Rivers told his team at a morning meeting. He then flew to Chicago to be with his mother, Betty, certain he had successfully concealed his considerable anguish.
"Nah, you could see his pain,'' Pierce said. "I felt for him. I know how much his dad meant to him.''
It has been a long year for the coach of the Boston Celtics. Rivers has had no time to mourn his father, no time to confront the sadness and grief that seizes him without warning.
It happened just before the Finals started, when Doc was about to address his team. As he was preparing his remarks for his players, one of Grady's mantras crept into his mind, as they often do. At that moment, Rivers quickly retreated to the team massage room and wept.
"It's very emotional for me,'' Rivers said. "I think about him all the time. His words just crop up out of nowhere, and sometimes I have to stop and gather myself.''
He broke down again, publicly this time, during Friday's news conference, when he was asked what it would be like to win an NBA championship on Father's Day. If the series were to extend beyond that, Game 6 would be Tuesday: the day Grady Rivers would have turned 77 years old.
"I can't let it distract me,'' Rivers said. "I won't. This is too important.''
If only Grady Rivers could have seen Pierce, Kevin Garnett and Ray Allen, all three potential Hall of Famers, nodding intently as their coach laid out instructions during that unfathomable Game 4 comeback.
Grady would have immediately identified the unwavering respect the players afforded his son, a rare occurrence in a world of high priced, self-involved superstars.
It was a marked departure from 2004, when Pierce was so disenchanted with Doc's message he often stood apart from the team huddle, looking anywhere but at his coach.
As Boston's dream season has unfolded, Doc Rivers has privately struggled to balance the jubilation of his lifelong dream with the devastation of losing the person he aches to share it with the most.
Rivers vowed to play up-tempo basketball and told Pierce he expected him to commit to that style. On the occasions he didn't, Boston's best player found himself stewing on the bench. Pierce refused to buy into Rivers' motivational tactics and scoffed at the coach's habit of slipping inspirational notes under the hotel doors of his young players.
"Kind of college-y,'' Pierce sniffed at the time.
Yet Pierce couldn't help but notice in the months ahead that his shooting percentage was up and his turnovers were down, just as Doc predicted. He had to admit the notes seemed to motivate the young guys. He didn't always agree with his coach, but over time, he learned to accept his methods.
"I guess you could say we came to an understanding,'' Pierce said.
Nearly four years later, Allen also has been asked to reach an understanding with Rivers, the only coach he's ever had who has no interest in knowing how Allen has always done things.
"His position is, 'Well, this is how we do it here,''' Allen said. "I understand that, but you know, I have been around a while. I do know a couple of things.''
"Ray was so frustrated with Doc when he first got here,'' Pierce said. "I told him, 'I know, man. I've been there. Just give it some time, OK?'''
Before training camp officially opened, Rivers took Garnett, Pierce and Allen on a duck tour through Boston.
"This is what they do,'' Rivers explained, "when you win a championship.''
[+] Enlarge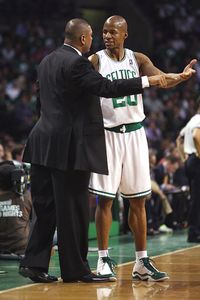 Elsa/Getty ImagesAllen had his reservations with Rivers game plan but has come around to his style.
They are one game away now, in part because of how successfully Rivers has utilized his bench.
P.J. Brown
,
Leon Powe
, Posey and most recently House have made critical contributions at key junctures, and veteran
Sam Cassell
says that's no accident.
He points to an April 12 game in Atlanta, when the Celtics' season was winding down and Boston had already locked up home-court throughout the playoffs. The Celtics' starters looked sluggish and were down by double digits when Rivers motioned for his reserves.
"So we're about to go out there for the fourth quarter and Doc grabs us and says, 'Now let me be clear. I expect you to win this game,''' Cassell said. "You should have seen the young fellas. He won them over, right there. His message was, 'This is important. You are important.'''
It's easy to sell that to a team on the brink of greatness. Yet point guard Rajon Rondo maintains the message has always been the same.
"Doc is the exact same coach now as he was last year when we were losing all those games,'' he said.
There is one major difference. Last year, Glenn "Doc'' Rivers knew he could always rely on the wisdom of Grady Rivers. This year, on the eve of the biggest night of his professional life, only bittersweet memories remain.
ESPNBoston.com columnist
Award-winning columnist and author
Recipient of Basketball Hall of Fame Curt Gowdy Media Award
Joined ESPNBoston.com in 2010
2008 NBA FINALS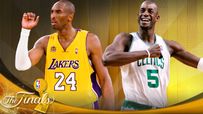 And then there were two -- the Lakers and Celtics. Who will win the NBA Finals? Let the games begin.
Finals schedule | Playoff bracket | Playoff home
Daily Dime
•
Celtics win 17th championship title
•
Did C's lose Regret Game?
•
A little help from Kobe's friends
•
Time for L.A. to go small
•
The Finals Can't Shake Donaghy Mess
•
Unlikely Game 4 comeback gives C's 3-1 lead
•
Rondo's ankle could change L.A.'s game plan
•
Kobe leads Lakers to Game 3 win
•
Lakers need to attack the paint
•
Lakers learn Powe's name in Game 2
•
Time for Gasol to step up
•
Lakers need better defense in Game 2
•
Pierce sparks Celtics in Game 1 victory
•
Expert predictions, clutch stats
•
Pierce loves playing Lakers
•
Celtics to meet L.A. in the Finals
Lakers vs. Celtics
•
Stein: Q&A after six-game "sweep"
•
MacMullan: Pierce's long road to greatness
•
Hollinger: From camp to champs
•
Stein: Boston's big three shine
•
Adande: Questions loom over Lakers' future
•
Hollinger: Celtics commit to defense
•
Scouts Inc.: Game 6 breakdown
•
Hollinger: Farmer steps up in Game 5
•
Sheridan: Late-game letdown for Celtics
•
Stein: Lakers ready to make history?
•
Adande: Greatness eluding Phil and Kobe
•
MacMullan: Doc adheres to dad's lessons
•
Jackson: Time for L.A.'s concession speech?
•
Stein: Game 4 not Kobe's finest hour
•
Adande: KG dominates Gasol again
•
Hollinger: Rivers makes all the right moves
•
Hill: Kobe's Laker legacy on the line
•
Hollinger: Vujacic lends helping hand in Game 3
•
Jackson: Jump shot Jesus has returned
•
Stein: Lakers need to earn sympathy
•
Adande: Lakers feel foul over whistle disparity
•
Jackson: Leading role suits Pierce
•
Adande: Kobe turns away from the pass late
•
Stein: Pierce's knee key to rest of series
•
Finals factor 1: Kobe Bryant
•
Finals factor 2: Celtics Defense
•
Finals factor 3: Paul Pierce
•
Finals factor 4: Home-court advantage
•
Finals factor 5: Battle of the benches
•
Hollinger: Lakers offense vs. Celtics defense
•
Broussard: Turning back the clock

•
Adande: How did Kobe get here?
•
Scouts Inc. breakdown: Lakers vs. Celtics
•
Coaching comparison: Red vs. Phil
•
Smith: Kobe's moving forward
•
Scoop: Fiendin' for a ring
•
Top 10 moments of Lakers-Celtics rivalry
•
ESPN Classic schedule: Relive the rivalry
TrueHoop
•
TrueHoop: Finals reflections
•
TrueHoop: Doc Rivers' redemption
•
TrueHoop: Lakers got Rondo'd
•
Tough night for Allen
•
Game 5 live blogging
•
Laker nation vs. NBA refs
•
Pierce and the evaporating knee story
•
Game 2 live blogging
•
Coaxing Kobe Bryant into hero mode
•
Game 1 live blogging
•
Today's game isn't so different
Simmons
•
Notes from the C's winning night
•
Boston's X factors
•
Game 4 running diary
•
Time for NBA Finals answers
•
The C's and city both look good
•
The Truth comes out in Game 1
•
NBA Finals forecast
•
Chat: NBA Finals preview
•
Simmons: You want a piece of Kobe, Boston?
ESPN The Magazine
•
Sporting Equivalency: NBA Finals meets hip hop
•
Broussard: Reporting from the NBA Finals
Fantasy
•
Join the fun of NBA Finals: Playcaller
Audio
•
Dish: NBA Finals recap
•
Wyc Grossbeck on C's championship
•
Ray Allen on how the Celtics evolved
•
Bob Ryan compares '86 C's to current one
•
Jon Barry credits Tom Thibodeau's team defense
•
Game 4 reactions
•
Rajon Rondo on Pierce, Game 2 plans
•
Bill Walton on Celtics-Lakers history
•
Dr. J on Finals, '80s hoops