Commentary
While Allen finds the range, LeBron left looking for his touch
Originally Published:
May 8, 2008
By
Chris Sheridan
| ESPN.com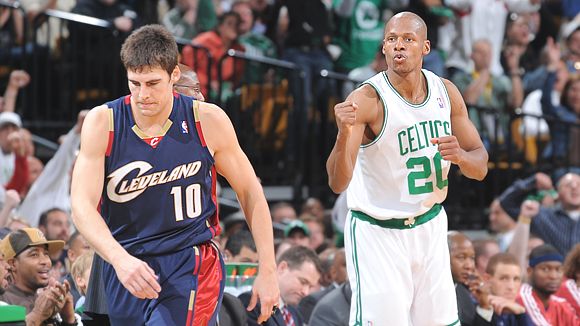 Brian Babineau/NBAE via Getty ImagesCeltics guard Ray Allen scored 16 points in the second half, after enduring a six-quarter scoreless slump to start the series. Boston won its East semifinal game 89-73, and heads to Cleveland ahead 2-0.

BOSTON -- A few extra decibels strengthened a raucous cheer that erupted at the TD Banknorth Garden the moment Ray Allen finally broke his schneid.

It had been 72 minutes and counting -- an 0-for-4 goose egg in Game 1, followed by a scoreless first half in Game 2 -- when Allen missed his first shot attempt of the second half Thursday night. But after Zydrunas Ilgauskas corralled the long rebound, Allen sneaked up from behind and poked the ball away, then turned quickly to the basket and dropped in an easy one.

The place went nuts -- maybe a little overboard nuts.

"I think everybody else was relieved, too. It was like my first time getting out there on the floor, or I just got traded here or something, like it was my first bucket in this building," Allen said.

It wasn't only the home crowd that cheered a little extra for Allen on that play. Every member of the Celtics' bench leaped up from their seats, too, with more than a couple of them pumping their fists in the air.

The basket put Boston ahead by 10 points, and the Celtics -- who rallied from an early 12-point deficit -- never let the lead slip into single digits again in posting an 89-73 victory over the Cleveland Cavaliers for a 2-0 lead in their Eastern Conference semifinal series.

"He hadn't scored last game, and we wanted something to get him going -- a free throw, anything. I wanted to see my man get off," Boston's Leon Powe said. "And he got a loose ball, got to the rim, and that got him going. I saw a boost from that, and that's all a shooter needs. He thinks he's hot now, and that's what happened."

Allen went on to score 11 of his 16 points in that third quarter, the same period in which LeBron James took over sole possession of the title of Player In This Series Most Needing To Break Out of a Slump.

James missed 5 of his 6 attempts in the third (after going 0-for-5 in the second quarter) and finished 6-for-24 as he once again was serenaded with chants of "Over-rated!"

The Cavaliers lost the lead for good as Boston went on an 8-1 run when Cavs coach Mike Brown rested James for a stretch of 2:54 early in the second quarter, and now they've fallen into danger of losing the series if they can't find a way to get their offense untracked in Game 3 at home Saturday night.

"Half of our team has been in this situation before," Brown said. "We know that Game 3 is a separate entity."

Said Cavs center Ilgauskas: "If we just rely on going home, before you know it we're going to be down 0-3."

Aside from James' poor offensive production (8-of-42 from the field, or 19 percent), the Cavs had an additional worry after Ben Wallace complained of dizziness and left the game for good just four minutes into the first quarter.

"It started as an allergy attack, it was just a headache, then I got dizzy," said Wallace, who indicated the imbalance may have been triggered by the smoke that lingered over the court following pregame fireworks. He was expected to be checked out by team doctors after the Cavs flew back to Cleveland.

Through two games, the Celtics have held the Cavs to 37 percent shooting and 72.5 points per game. Aside from Ilgauskas, no one has been able to get anything going with any consistency on offense -- and although the defense has had some success guarding Paul Pierce, the Cavs have been unable to keep Kevin Garnett from efficiently leading the offense.

Now, let's not forget that Boston had a 2-0 lead after the first round, only to return home a few days later tied 2-2 with the Atlanta Hawks.

The Celtics have looked like two different teams depending upon whether they're playing at home or on the road, so it's far too early to make any overly broad judgments based on just the first two games of this series.

Then again, there were some broad and unflattering judgments being made by observers here about Allen at halftime of Game 2 -- and they were seeming quite valid until Allen ended his slump in the 73rd minute of the series.

"Me and the ball were in an argument, but I didn't let it get to my head," Allen said.

Will LeBron soon be saying something similar?

If he doesn't, the Cavs aren't going to be around much longer.

Chris Sheridan covers the NBA for ESPN Insider. To e-mail Chris, click here.
SPONSORED HEADLINES
MORE NBA HEADLINES
MOST SENT STORIES ON ESPN.COM
2008 NBA PLAYOFFS Round 2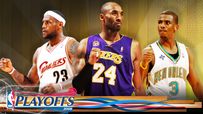 LeBron, Kobe and CP3 dominated Round 1 of the 2008 NBA playoffs, where the top four seeds in each conference advanced to the second round.
Playoff schedule | Playoff bracket | Playoff home
Daily Dime
•
Daily Dime: Lakers end Jazz season in Game 6
•
Daily Dime: Spurs dominate Hornets in Game 6
•
Daily Dime: Rondo gets C's rolling in Game 5
•
Daily Dime: Hornets one win from advancing
•
Daily Dime: Celtics with road woes
•
Daily Dime: Williams puts Utah on his back
•
Daily Dime: Cavs roll in Game 3 victory
•
Daily Dime: Boozer makes impact in Game 3
•
Daily Dime: Spurs keep head above water
•
Daily Dime: Kobe's most valuable promise
•
Daily Dime: Beauty is in eye of beholder
•
Daily Dime: CP3 making Spurs look old
•
Daily Dime: Kobe free to reign in Game 1
•
Daily Dime: Hornets sting the champs
Columns
•
Hollinger: Handing out some playoff awards
Cavaliers vs. Celtics
•
Windhorst: LeBron's chance to be Jordanesque
•
Sheridan: Legacies on the line for Celtics
•
Sheridan: Screwball finish to Game 6
•
Sheridan: Allen finds his range
•
Windhorst: Cavs search for offense
•
Windhorst: LeBron likes his chances
•
Scouts Inc.'s series breakdown
•
Wojciechowski: Rest easy, Celtics ... for now
•
Jackson: Do you still love the Celtics?
•
Series page: More coverage
Magic vs. Pistons
•
Magic eliminated, but won't disappear
•
Hollinger: Hunter dusts off rust
•
Hollinger: Pistons win without Billups
•
Scouts Inc.'s series breakdown
•
Series page: More coverage
Jazz vs. Lakers
•
Adande: Kobe plays supporting role
•
Adande: Jazz find Lakers out of tune
•
Wojciechowski: Miller won't listen on the Sabbath
•
Adande: A year to remember for Fisher
•
Scouts Inc.'s series breakdown
•
Series page: More coverage
Spurs vs. Hornets
•
Stein: Spurs knew Hornets were trouble
•
Neel: Enjoy Chris Paul while you can
•
Hollinger: Champs back to winning ways
•
Palmer: Birdman's redemption bittersweet
•
Adande: Chris Paul's mean streak
•
TrueHoop: Spurs stung twice by Hornets
•
Scouts Inc.'s series breakdown
•
Series page: More coverage
TrueHoop
•
Stat Geek Smackdown: 2008 playoffs
SportsNation
•
Which teams will advance to conference semis?
•
Rank the remaining eight playoff teams