Commentary
Late-game letdown keeps Celts' champagne corked
Originally Published:
June 16, 2008
By
Chris Sheridan
| ESPN.com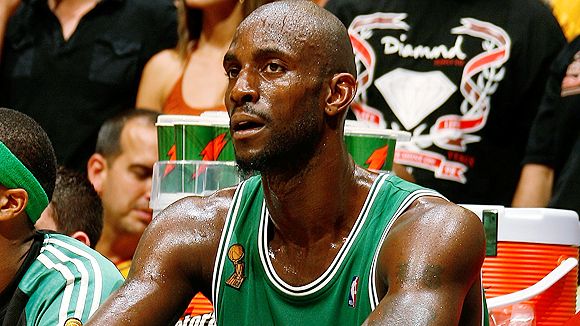 Nathaniel S. Butler/NBAE/Getty ImagesFoul trouble and missed FTs added up to a subpar game for KG, who labeled his night "garbage."

LOS ANGELES -- The NBA employee carrying the championship trophy tried to avoid eye contact with everyone as he scooted down the hallway beneath the stands just after the final buzzer, passing a work crew folding up and stacking the platforms that would have been used for the stage where the title trophy and the Finals MVP award would have been presented.

The trophy was wrapped in a white cover, and the ceiling-mounted camera in the visiting locker room was sheathed in a similar plastic covering.

But all the rest of the plastic sheeting that had covered the Boston Celtics' lockers had been pulled down quickly, and the assistant coaches and end-of-the-bench players picked at an unappetizing, aluminum-foil tray full of hamburgers that served as Boston's only postgame sustenance.

The champagne was nowhere in sight.

"They made the plays down the stretch, so credit to them," P.J. Brown said. "But we have to step it up early in games. You can't keep putting yourself in 18- to 20-point holes on the road."
But the shame of this 103-98 loss for the Celtics in Game 5 of the NBA Finals wasn't the way they opened the night. After the early 19-point deficit, they came back to take the lead, then climbed out of a 10-point hole in the fourth quarter.
Which means the letdown came from the way they finished or, more precisely, from the way they failed to finish over the final 2 minutes, 31 seconds.
That's what the clock read, with the score 95-93 in favor of Los Angeles, when Kevin Garnett stepped to the line for two free throws that would have tied it. But Garnett missed them both.
"My play tonight, I thought it was trash," said Garnett, who said his foul trouble kept him out of rhythm all night.
When asked about the free throws, he replied, "They'll definitely haunt me tonight. Those are free throws I know I can make."
Garnett also had a missed tip-in with 2:05 left and another missed tip with 30 seconds remaining, each of which would have cut a four-point deficit to two.
Eddie House missed a wide-open 3-pointer from the corner on a perfectly designed play coming out of a timeout with 24.8 seconds left, which also would have made it a two-point game, and James Posey added one last failure with nine seconds remaining when he casually tossed away Boston's final inbounds pass after Derek Fisher had made two free throws for the game's final points.
"It came down to a game of mental toughness, who fights the fatigue mentally better than the other group," Boston coach Doc Rivers said. "Guys are down and upset because they thought they could, they thought they should, but we didn't."
Champions are supposed to make those crucial plays, and championship teams are expected to earn their championship rings.
But on this night, the biggest play of the game came when Kobe Bryant reached in from behind -- as Paul Pierce went around a Garnett pick -- and poked the ball loose for his fifth steal. (Yes, he probably fouled Pierce, but it was a bang-bang play and an out-of-nowhere swipe the officials might not have been in position to see clearly.) Lamar Odom grabbed it and looped a perfect lead pass ahead to Bryant, who dunked with two hands to put Los Angeles ahead 99-95 with 37.4 seconds left.
"As soon as I noticed the ball was exposed just a little bit, it was important for me to go after it," Bryant said.
The Celtics have a whole night in Los Angeles to ponder the many ways they didn't come through, then face a cross-country flight at midday Monday to think a little more about what eluded them.
The quick turnaround and the onerous travel won't make it any easier for the Celts to shake off this disappointment. But they'll be back in their comfort zone on Causeway Street on Tuesday night for Game 6.
A title could have been theirs Sunday, but the Celtics weren't good enough when it counted most. That's the bottom line why this series -- along with that white-shrouded trophy -- is headed back to Boston.
Chris Sheridan covers the NBA for ESPN Insider. To e-mail Chris, click here.
SPONSORED HEADLINES
MORE NBA HEADLINES
MOST SENT STORIES ON ESPN.COM
2008 NBA FINALS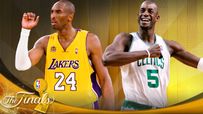 And then there were two -- the Lakers and Celtics. Who will win the NBA Finals? Let the games begin.
Finals schedule | Playoff bracket | Playoff home
Daily Dime
•
Celtics win 17th championship title
•
Did C's lose Regret Game?
•
A little help from Kobe's friends
•
Time for L.A. to go small
•
The Finals Can't Shake Donaghy Mess
•
Unlikely Game 4 comeback gives C's 3-1 lead
•
Rondo's ankle could change L.A.'s game plan
•
Kobe leads Lakers to Game 3 win
•
Lakers need to attack the paint
•
Lakers learn Powe's name in Game 2
•
Time for Gasol to step up
•
Lakers need better defense in Game 2
•
Pierce sparks Celtics in Game 1 victory
•
Expert predictions, clutch stats
•
Pierce loves playing Lakers
•
Celtics to meet L.A. in the Finals
Lakers vs. Celtics
•
Stein: Q&A after six-game "sweep"
•
MacMullan: Pierce's long road to greatness
•
Hollinger: From camp to champs
•
Stein: Boston's big three shine
•
Adande: Questions loom over Lakers' future
•
Hollinger: Celtics commit to defense
•
Scouts Inc.: Game 6 breakdown
•
Hollinger: Farmer steps up in Game 5
•
Sheridan: Late-game letdown for Celtics
•
Stein: Lakers ready to make history?
•
Adande: Greatness eluding Phil and Kobe
•
MacMullan: Doc adheres to dad's lessons
•
Jackson: Time for L.A.'s concession speech?
•
Stein: Game 4 not Kobe's finest hour
•
Adande: KG dominates Gasol again
•
Hollinger: Rivers makes all the right moves
•
Hill: Kobe's Laker legacy on the line
•
Hollinger: Vujacic lends helping hand in Game 3
•
Jackson: Jump shot Jesus has returned
•
Stein: Lakers need to earn sympathy
•
Adande: Lakers feel foul over whistle disparity
•
Jackson: Leading role suits Pierce
•
Adande: Kobe turns away from the pass late
•
Stein: Pierce's knee key to rest of series
•
Finals factor 1: Kobe Bryant
•
Finals factor 2: Celtics Defense
•
Finals factor 3: Paul Pierce
•
Finals factor 4: Home-court advantage
•
Finals factor 5: Battle of the benches
•
Hollinger: Lakers offense vs. Celtics defense
•
Broussard: Turning back the clock

•
Adande: How did Kobe get here?
•
Scouts Inc. breakdown: Lakers vs. Celtics
•
Coaching comparison: Red vs. Phil
•
Smith: Kobe's moving forward
•
Scoop: Fiendin' for a ring
•
Top 10 moments of Lakers-Celtics rivalry
•
ESPN Classic schedule: Relive the rivalry
TrueHoop
•
TrueHoop: Finals reflections
•
TrueHoop: Doc Rivers' redemption
•
TrueHoop: Lakers got Rondo'd
•
Tough night for Allen
•
Game 5 live blogging
•
Laker nation vs. NBA refs
•
Pierce and the evaporating knee story
•
Game 2 live blogging
•
Coaxing Kobe Bryant into hero mode
•
Game 1 live blogging
•
Today's game isn't so different
Simmons
•
Notes from the C's winning night
•
Boston's X factors
•
Game 4 running diary
•
Time for NBA Finals answers
•
The C's and city both look good
•
The Truth comes out in Game 1
•
NBA Finals forecast
•
Chat: NBA Finals preview
•
Simmons: You want a piece of Kobe, Boston?
ESPN The Magazine
•
Sporting Equivalency: NBA Finals meets hip hop
•
Broussard: Reporting from the NBA Finals
Fantasy
•
Join the fun of NBA Finals: Playcaller
Audio
•
Dish: NBA Finals recap
•
Wyc Grossbeck on C's championship
•
Ray Allen on how the Celtics evolved
•
Bob Ryan compares '86 C's to current one
•
Jon Barry credits Tom Thibodeau's team defense
•
Game 4 reactions
•
Rajon Rondo on Pierce, Game 2 plans
•
Bill Walton on Celtics-Lakers history
•
Dr. J on Finals, '80s hoops