Commentary
Nearly burned by Hawks, Celtics learn about consistency the hard way
Originally Published:
May 4, 2008
By
Chris Sheridan
| ESPN.com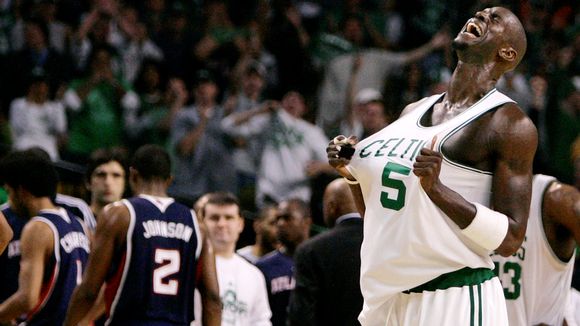 AP Photo/Charles KrupaKevin Garnett roared his approval of the Celtics' thorough dismantling of the Hawks in Game 7.

BOSTON -- Amid a deafening din that was as unrelenting as the Boston Celtics' vaunted defense, it was easy to get caught up in the moment and gaze in wonder at the intensity and the effort that never waned.
You watched the Celtics on Sunday, and if you'd been living in a cave for the past two weeks, you'd swear this was a team that's going to spend many, many more nights steamrolling opponents and soaking up adulation and praise on the way to earning a 17th championship banner to hang from the rafters.
But then, when you realized what day it was and how long it has been since this postseason began, it hit you as hard as the pick that Kevin Garnett put on Zaza Pachulia midway through the third quarter of this 99-65 blowout.
Why on earth were the Celtics, the first team to clinch a playoff spot, still out there playing the first round on Day 16 of the postseason -- a day when seven other teams were already in the second round?
How could a team that could look this dominant, this intimidating, allow itself to be pushed to a Game 7 by a team that entered Sunday's matinee as a 14½-point underdog, the NBA equivalent of the Little Sisters of the Poor?
"After Game 6 we had a lot of conversations, but there was not a lot of talking on the plane -- and that showed me it hurt," said Garnett, who tossed and turned through a sleepless Saturday night as he waited for the biggest game he had played in four years. "Different teams I've played on, it doesn't always hurt everyone on the roster one through 15."
To a man afterward, the Celtics insisted the developments of the past two-plus weeks ended up being a good thing for them, teaching them a lesson about what kind of intensity they'll need to take with them on the road in the next series against Cleveland, and possibly beyond.
Yes, they won 66 regular-season games.
Yes, they were full of themselves when they left Boston with a 2-0 lead.
But no, they weren't as good as they thought they were, and they needed to be beaten down a little in order to see if they could rise up.
"We really hadn't had a meaningful game in a month and a half, since the Texas trip [when the Celtics ended Houston's 22-game winning streak], and we didn't have a lot of tests during the year," Boston coach Doc Rivers said.
"Instead of this happening in the first month of the season, which is what you might expect, it happened in the first round of the playoffs. But the pressure from this will probably pay off later. This revealed our character."
The pressure should have been squarely on the Celtics when this one got under way, but it certainly didn't look that way. Take away Joe Johnson's 3-for-3 shooting from 3-point range in the first quarter, and the Hawks were a combined 3-for-20 as they fell behind 27-16 after one.
No one seemed to notice that Ray Allen and Paul Pierce each went 0-for-4 in the second quarter, because it really didn't matter. The signature play of the period came on the defensive end, when Garnett, wings spread and mouth agape, hounded Josh Smith on the perimeter and fought through two picks to stay with him, forcing Smith to toss up an airball. The crowd ate it up, and KG beseeched them to turn up the volume even louder and give the Celtics the same kind of hometown boost that had fueled the Hawks' three home victories and sent the series back to Boston for an unlikely Game 7.
The scoreboard read 44-26 at halftime -- no, that's not a typo, the Hawks scored just 26 points in the first 24 minutes -- and the game was effectively over by the time Marvin Williams took down Rajon Rondo on a breakaway and earned himself an ejection less than three minutes into the second half.
Garnett exited for good with 2:03 left in the third after leveling the once-uppity Pachulia with a lowered shoulder, but not before the Celtics forward demonstratively sent another signal that this series -- and this scare -- was over when he took a nifty pass from Pierce and converted underneath while drawing a foul, making it 70-34.
"Atlanta plays very well at home, but I'm not going to discount anything we did," Garnett said. "They made this a series, and we learned a lot about ourselves in this series. We saw what we're made of."
Said Pierce: "For us to be an elite team, we can't take any nights off or any plays off, and we've got to get it done on the road."
The Celtics won't see the road again until next weekend, when they'll play Game 3 in Cleveland after hosting the Cavs on Tuesday and Thursday nights. The Cavs and Celtics split the season series, each winning twice on their home court (LeBron James, who averaged 32.3 points against the Celtics this season, missed one of the games in Boston).
"One of the things I told our team all year, every time we played [Cleveland] and again tonight, is that we're trying to catch them, not them trying to catch us. [Our] record means nothing. That team went to the Finals last year, so in my mind we're trying to catch them," Rivers said.
Catching the Cavs means fewer highs and lows that were revealed in the Atlanta series.
"Again, the big question mark is our consistency," Garnett said.
Yes it is.
After all, if consistency wasn't a problem, we wouldn't have all been asking ourselves after 14 minutes of blowout basketball how in the heck the Celtics had gotten themselves into such a mess, the kind of mess that no one ever expected they'd still be cleaning up on the final day of the first round.
Chris Sheridan covers the NBA for ESPN Insider. To e-mail Chris, click here.
2008 NBA PLAYOFFS Round 1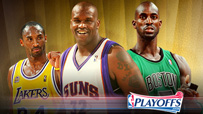 The 2008 NBA playoffs are finally here and the postseason field is more stacked than ever.
Playoff schedule | Playoff bracket | Playoff home
Columns
•
Daily Dime: Suns fade out again
•
Daily Dime: Hawks soar over Celtics
•
Daily Dime: Phoenix fails its test
•
Daily Dime: Suns stumble in second half
•
Adande: Great time to be a sports fan
•
Stein: Best first-round series ever
•
Daily Dime: Rockets failure to launch
•
Daily Dime: Pistons stumble in opener
•
Daily Dime: Spurs leave a mark on Suns
•
Hollinger: How will the postseason play out?
•
Adande: Sixteen teams, sixteen dramas
Podcasts
•
NBA Dish: Ford and Stein talk Round 1
•
NBA Dish: Ford and Adande predict playoffs
Hawks vs. Celtics
•
TrueHoop's Series Bullets
•
Sheridan: Celtics come out swinging
•
Scouts Inc.'s series breakdown
•
Series page: More coverage
Sixers vs. Pistons
•
Sheridan: Sixers slam Pistons
•
Sheridan: Pistons win with complete effort
•
TrueHoop's Series Bullets
•
Scouts Inc.'s series breakdown
•
Series page: More coverage
Raptors vs. Magic
•
TrueHoop's Series Bullets
•
Hill: Dwight Howard vs. Chris Bosh
•
Scouts Inc.'s series breakdown
•
Series page: More coverage
Wizards vs. Cavaliers
•
Windhorst: The new LeBron Rules
•
Windhorst: Wiz get reality check
•
TrueHoop's Series Bullets
•
Windhorst: LeBron quiets Wiz with late heroics
•
Scouts Inc.'s series breakdown
•
Series page: More coverage
Nuggets vs. Lakers
•
Adande: Bynum not nearly ready
•
TrueHoop's Series Bullets
•
Adande: Gasol gets first playoff win
•
Scouts Inc.'s series breakdown
•
Series page: More coverage
Mavericks vs. Hornets
•
Dallas steps up
•
TrueHoop's Series Bullets
•
Jackson: Dinner with the Hornets
•
Hollinger: Paul powers Hornets again
•
Hollinger: Paul finds groove in playoff debut
•
Scouts Inc.'s series breakdown
•
Series page: More coverage
Suns vs. Spurs
•
Adande: Suns missing an identity
•
TrueHoop's Series Bullets
•
Scouts Inc.'s series breakdown
•
Series page: More coverage
Rockets vs. Jazz
•
TrueHoop's Series Bullets
•
Scouts Inc.'s series breakdown
•
Series page: More coverage
SportsNation
•
Make your playoff predictions
•
Rank 'em: All 16 NBA playoff teams
•
Quiz: What's your playoff IQ?

MOST SENT STORIES ON ESPN.COM