Commentary
Pierce plays through pain, but how bad does the Truth hurt?
Originally Published:
June 6, 2008
By
Chris Sheridan
| ESPN.com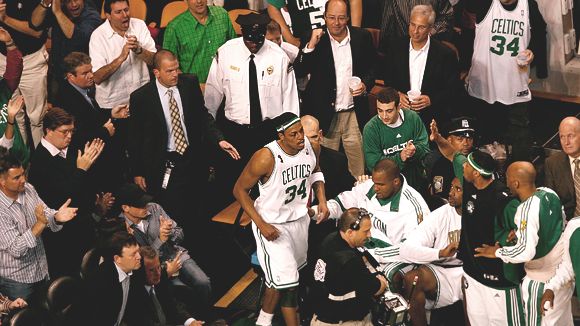 Kevin C. Cox/Getty ImagesShades of Willis Reed. After going down with a knee injury in the third quarter, Paul Pierce returned only moments later to ignite the Celtics -- and the home crowd -- to a Game 1 victory in the NBA Finals.
BOSTON -- The first promising sign was one that almost nobody in the new Boston Garden could see.
Three ambulances were parked beneath the stands underneath the north end of the arena, all of them idle. No drivers in sight, no emergency medical technicians standing by, no rear doors waiting open to transport Boston's injured superstar to the hospital.
The good news would become apparent to the home fans just moments later, when Pierce made a right turn as he walked out of the home locker room (a left turn would have led him to the ambulances), headed down the hallway and popped out of the same tunnel he had been carried through by teammates just a few minutes earlier.
"I thought I tore something -- that's the way I felt at the time. Usually when I go down, I'm getting right back up, but it was an instance where I turned my knee and it popped, and I was just in pain where I couldn't move," Pierce said.
"Did you see the look on his face? Just agony," said teammate P.J. Brown, who was the last player to exit the home locker room after the game -- just seconds after Pierce shuffled out ever so gingerly.
Pierce was walking with a pronounced limp as he exited the post-game interview room and headed back to the locker room, but some 45 minutes later the injury was clearly bothering him more.
As he walked to his car, Pierce was still wearing his warm-ups. The snaps along the right side were hanging open, revealing a wrapping of several ace bandages from the bottom of his calf to the top of his thigh, an additional layer of white tape wrapped around the lower half of his hamstring, ending just above his knee.
[+] Enlarge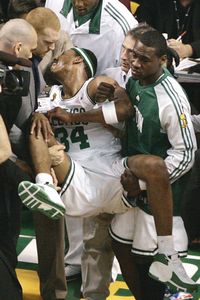 AP Photo/Charles KrupaPierce and his teammates thought the worst after this sight.
Pierce's feet moved no more than 12 inches with each step, and as you watched him begin to navigate the four flights of stairs from the locker-room level to the players' parking lot, you couldn't help but wonder exactly how much adrenalin had fueled his comeback, and whether that knee injury wasn't going to end up keeping him out of Game 2, or at the very least reducing him to 50 percent of the player he usually is.
As it was, Pierce showed what kind of a player he is not only by coming back, but by hitting a pair of 3-pointers late in the third quarter that gave the Celtics the separation they needed in a 98-88 victory Thursday night for a 1-0 lead in the NBA Finals. Game 2 is Sunday night.
"Once I got to the back, I stood on my two feet and tried to see where the pain was at. It was on the inside of my knee. I tried to put weight on it, wasn't bad. I tried to move laterally, a little soreness. Once I felt I could put weight on it, I had to get back out there," Pierce said.
The arena went so nuts when they saw Pierce, Phil Jackson called a timeout to diffuse some of the energy in the building and to allow his team to regroup. It was still a one-point game at the time, and the Lakers would come back and go ahead 71-69 before Pierce changed the game again.
His 3-pointer with 1:26 left in the quarter gave Boston the lead for good, and another 3-pointer 22 seconds later from the exact same spot on the floor gave the Celtics a four-point lead that they'd carry into the final quarter.
It was still a four-point game when Pierce returned after sitting out the first 6:12 of the fourth quarter, but he knocked down a 13-footer with 5:23 left and then made a pair from the line, and Los Angeles couldn't put together a rally the rest of the way. After scoring just three first-half points, Pierce had 19 in the final 24 minutes.
There wasn't any outright skepticism from the Lakers regarding Pierce's heroics, but there did seem to be just a smidgen of it from Jackson as he noted how quickly Pierce went from possibly being done for the series to being right back on the court.
And as big as Pierce's two third-quarter 3s and four fourth-quarter points were, you could argue that the play of the game happened when Ray Allen drove the lane, met up with two defenders and hurled a wild pass back toward the top of the key, where it eluded everyone before Garnett made a great play to save a backcourt violation, flipping the ball blindly back into the frontcourt where Sam Cassell turned it into one of his four buckets for an 83-78 lead.
Cassell and Rajon Rondo combined for 23 points and eight assists from the point-guard position, and Garnett had 24 points and 13 rebounds. The Celtics won a couple of key statistical battles -- 46-33 in rebounds and 12-4 on second-chance points -- and held Kobe Bryant to just four fourth-quarter points.
But again, this series is only one game old, and Pierce left the building looking more like someone in need of a leg transplant than someone who will bounce back quickly with treatment. He has between 48 and 72 hours to heal, as does Kendrick Perkins, who sprained his left ankle on the same play in which Pierce twisted his knee.
If the Celtics don't get both of them back at something approaching full strength, this could go down as the night Boston lost the series despite winning the game.
Because ambulance or no ambulance, the truth was that The Truth could barely walk by the time the night was over.
Chris Sheridan covers the NBA for ESPN Insider. To e-mail Chris, click here.
SPONSORED HEADLINES
MORE NBA HEADLINES
MOST SENT STORIES ON ESPN.COM
2008 NBA FINALS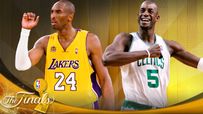 And then there were two -- the Lakers and Celtics. Who will win the NBA Finals? Let the games begin.
Finals schedule | Playoff bracket | Playoff home
Daily Dime
•
Celtics win 17th championship title
•
Did C's lose Regret Game?
•
A little help from Kobe's friends
•
Time for L.A. to go small
•
The Finals Can't Shake Donaghy Mess
•
Unlikely Game 4 comeback gives C's 3-1 lead
•
Rondo's ankle could change L.A.'s game plan
•
Kobe leads Lakers to Game 3 win
•
Lakers need to attack the paint
•
Lakers learn Powe's name in Game 2
•
Time for Gasol to step up
•
Lakers need better defense in Game 2
•
Pierce sparks Celtics in Game 1 victory
•
Expert predictions, clutch stats
•
Pierce loves playing Lakers
•
Celtics to meet L.A. in the Finals
Lakers vs. Celtics
•
Stein: Q&A after six-game "sweep"
•
MacMullan: Pierce's long road to greatness
•
Hollinger: From camp to champs
•
Stein: Boston's big three shine
•
Adande: Questions loom over Lakers' future
•
Hollinger: Celtics commit to defense
•
Scouts Inc.: Game 6 breakdown
•
Hollinger: Farmer steps up in Game 5
•
Sheridan: Late-game letdown for Celtics
•
Stein: Lakers ready to make history?
•
Adande: Greatness eluding Phil and Kobe
•
MacMullan: Doc adheres to dad's lessons
•
Jackson: Time for L.A.'s concession speech?
•
Stein: Game 4 not Kobe's finest hour
•
Adande: KG dominates Gasol again
•
Hollinger: Rivers makes all the right moves
•
Hill: Kobe's Laker legacy on the line
•
Hollinger: Vujacic lends helping hand in Game 3
•
Jackson: Jump shot Jesus has returned
•
Stein: Lakers need to earn sympathy
•
Adande: Lakers feel foul over whistle disparity
•
Jackson: Leading role suits Pierce
•
Adande: Kobe turns away from the pass late
•
Stein: Pierce's knee key to rest of series
•
Finals factor 1: Kobe Bryant
•
Finals factor 2: Celtics Defense
•
Finals factor 3: Paul Pierce
•
Finals factor 4: Home-court advantage
•
Finals factor 5: Battle of the benches
•
Hollinger: Lakers offense vs. Celtics defense
•
Broussard: Turning back the clock

•
Adande: How did Kobe get here?
•
Scouts Inc. breakdown: Lakers vs. Celtics
•
Coaching comparison: Red vs. Phil
•
Smith: Kobe's moving forward
•
Scoop: Fiendin' for a ring
•
Top 10 moments of Lakers-Celtics rivalry
•
ESPN Classic schedule: Relive the rivalry
TrueHoop
•
TrueHoop: Finals reflections
•
TrueHoop: Doc Rivers' redemption
•
TrueHoop: Lakers got Rondo'd
•
Tough night for Allen
•
Game 5 live blogging
•
Laker nation vs. NBA refs
•
Pierce and the evaporating knee story
•
Game 2 live blogging
•
Coaxing Kobe Bryant into hero mode
•
Game 1 live blogging
•
Today's game isn't so different
Simmons
•
Notes from the C's winning night
•
Boston's X factors
•
Game 4 running diary
•
Time for NBA Finals answers
•
The C's and city both look good
•
The Truth comes out in Game 1
•
NBA Finals forecast
•
Chat: NBA Finals preview
•
Simmons: You want a piece of Kobe, Boston?
ESPN The Magazine
•
Sporting Equivalency: NBA Finals meets hip hop
•
Broussard: Reporting from the NBA Finals
Fantasy
•
Join the fun of NBA Finals: Playcaller
Audio
•
Dish: NBA Finals recap
•
Wyc Grossbeck on C's championship
•
Ray Allen on how the Celtics evolved
•
Bob Ryan compares '86 C's to current one
•
Jon Barry credits Tom Thibodeau's team defense
•
Game 4 reactions
•
Rajon Rondo on Pierce, Game 2 plans
•
Bill Walton on Celtics-Lakers history
•
Dr. J on Finals, '80s hoops