Commentary
With the past behind him, Kobe has peace in the present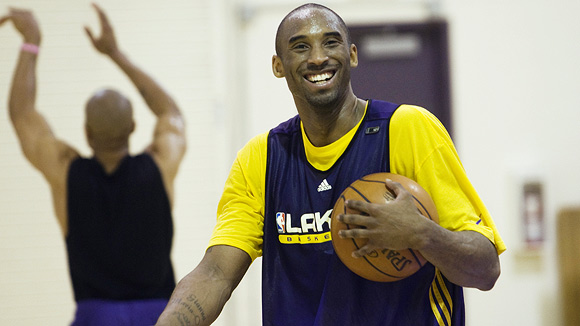 AP Photo/Hector MataHaving quieted his critics by leading the Lakers back to the Finals, it's no wonder Kobe can't stop smiling.

NEWPORT BEACH, Calif. -- Just 11 hours after capturing the first Western Conference championship of his own -- not the ones he shared while playing Robin to Shaquille O'Neal's Batman from 2000 to 2002 -- Kobe Bryant sauntered into the posh Island Hotel wearing a sleeveless gym shirt, a champion's swagger and a smile that had "I told ya'll" written all over it.
Bryant stood just four wins away from capturing his fourth world title, from emphatically cementing his legacy as one of the greatest hoopsters ever. But of equal significance: his knowledge that regardless of how his Los Angeles Lakers fare against the Boston Celtics, the criticisms and questions have officially come to an end.
Shaq's sidekick? Over.
Too selfish to lead? Please.
The game's best player? Without a doubt!
A champion once again? That's the plan.
"It's been a long, hard road," Bryant said, a day after his 39-point performance helped close out the San Antonio Spurs in five games and nearly a year to the day after demanding to be traded.
"The Spurs are tough, man. They definitely didn't make it any easier. But I guess for me, it's supposed to be that way. I guess I wouldn't have appreciated where I'm at right now as much as I do if I didn't have to endure all the things I endured.
"We've still got work to do, unfinished business to handle. But I'm not going to lie. This feels sweet right now. Real sweet."
It should.
It's one thing to win. It's another thing entirely to do it after overcoming an offseason of discontent in which you asked to leave Los Angeles, a request fueled by your concerns about getting older, your teammates' talent and your fractured relationship with the Lakers, who -- in your eyes -- lied to you about rebuilding this franchise and left you hanging as the scapegoat in the aftermath of Shaq's departure.
Bryant is quick to say, "That's the past now. I don't even talk or think about that stuff anymore."
[+] Enlarge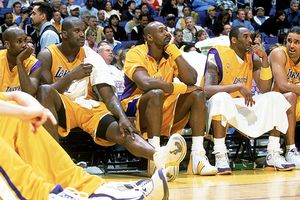 Andrew D. Bernstein/NBAE/Getty ImagesGary Payton and Karl Malone didn't work out in LA, but Mitch Kupchak has since delivered Pau Gasol.
The fact is, far too many of us still do.
It's time for us all to move on, too.
Last May, when Bryant said the Lakers weren't doing a thing to help him, he was right. Prior to this season, the only thing GM Mitch Kupchak had to show for all his team-building efforts was a pair of former superstars, Karl Malone and Gary Payton, whose declining skills were just enough to help the Lakers make an appearance in the Finals in 2004. Presently retired, they now await their inductions into the Hall of Fame.
Once Shaq split for South Beach, the L.A. story centered on Kobe Bryant's pounding the hardwood as a virtual solo act, being vilified and accused of everything from sexual assault to selfishness.
The hits kept coming: Shaq raised questions about Bryant's involvement in his departure … and the Lakers lost games. A book authored by Phil Jackson labeled Bryant "uncoachable" … and the Lakers lost more games. Shaq won a championship in Miami, but Bryant, despite all of his greatness as a player, became a modern-day pariah on and off the court, stigmatized as someone who surrendered the wealth of future championships for the glory of individual scoring titles (two).
And then this season arrived. As did Pau Gasol.
"Like I said, that's all in the past now," Bryant said. "The fact is, regardless of anything, I didn't like the direction we were going in. But it's also a fact that Mitch Kupchak did a great job getting Pau Gasol here.
"My teammates have done a great job of elevating their games. I shouldn't even call them teammates. We're like brothers because we're all that close. So nothing else matters right now. The past is the past."
Can't blame Bryant for focusing on the present one bit. After years of being maligned -- even being booed at the Lakers' home opener this season -- he averaged 28.3 points, locked up the No. 1 seed in the Western Conference playoffs, captured league MVP honors, catapulted the Lakers to the NBA Finals, shut up the naysayers and resurrected a once-pristine image.
"He's the leader on this team," Bryant's backcourt mate, Derek Fisher said recently. "To see the growth, the maturation, that's taken place over the last few years is something special to witness. He's come a long way."
Call it redemption. But redemption isn't a word you'll ever hear come out of Bryant's mouth.
To admit such a thing would be to acknowledge that he fell from grace. That he manufactured the disintegration of a dynasty, leading to those three miserable seasons in which the Lakers, second to only the Celtics in championship trophies, were reduced to mere spectators.
As far as Bryant is concerned, none of us knows the whole truth, and we're not about to. At least not from him.
"It's called moving forward, bro," Bryant declares. "That's what I'm doing. Life is so beautiful right now."
Perhaps Bryant won't look back because he doesn't have to. His plan is to let his game make the only historical statement that matters.
"He should," said Shaquille O'Neal, reaching out to offer a few words about Bryant this past weekend. "He's been great all year. He was great in the playoffs and he's showing everyone what he's made of. He's on the verge of being the latest great one with four rings.
"He's come a long way. All I can say is, I'm happy for him. And I'm proud of him."
Stephen A. Smith is a columnist for ESPN.com and ESPN The Magazine.
ESPNNewYork.com columnist
Stephen A. Smith is a featured columnist for ESPNNewYork.com, a co-host on First Take" and a regular on "SportsCenter."
2008 NBA FINALS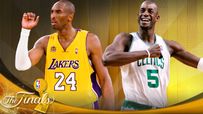 And then there were two -- the Lakers and Celtics. Who will win the NBA Finals? Let the games begin.
Finals schedule | Playoff bracket | Playoff home
Daily Dime
•
Celtics win 17th championship title
•
Did C's lose Regret Game?
•
A little help from Kobe's friends
•
Time for L.A. to go small
•
The Finals Can't Shake Donaghy Mess
•
Unlikely Game 4 comeback gives C's 3-1 lead
•
Rondo's ankle could change L.A.'s game plan
•
Kobe leads Lakers to Game 3 win
•
Lakers need to attack the paint
•
Lakers learn Powe's name in Game 2
•
Time for Gasol to step up
•
Lakers need better defense in Game 2
•
Pierce sparks Celtics in Game 1 victory
•
Expert predictions, clutch stats
•
Pierce loves playing Lakers
•
Celtics to meet L.A. in the Finals
Lakers vs. Celtics
•
Stein: Q&A after six-game "sweep"
•
MacMullan: Pierce's long road to greatness
•
Hollinger: From camp to champs
•
Stein: Boston's big three shine
•
Adande: Questions loom over Lakers' future
•
Hollinger: Celtics commit to defense
•
Scouts Inc.: Game 6 breakdown
•
Hollinger: Farmer steps up in Game 5
•
Sheridan: Late-game letdown for Celtics
•
Stein: Lakers ready to make history?
•
Adande: Greatness eluding Phil and Kobe
•
MacMullan: Doc adheres to dad's lessons
•
Jackson: Time for L.A.'s concession speech?
•
Stein: Game 4 not Kobe's finest hour
•
Adande: KG dominates Gasol again
•
Hollinger: Rivers makes all the right moves
•
Hill: Kobe's Laker legacy on the line
•
Hollinger: Vujacic lends helping hand in Game 3
•
Jackson: Jump shot Jesus has returned
•
Stein: Lakers need to earn sympathy
•
Adande: Lakers feel foul over whistle disparity
•
Jackson: Leading role suits Pierce
•
Adande: Kobe turns away from the pass late
•
Stein: Pierce's knee key to rest of series
•
Finals factor 1: Kobe Bryant
•
Finals factor 2: Celtics Defense
•
Finals factor 3: Paul Pierce
•
Finals factor 4: Home-court advantage
•
Finals factor 5: Battle of the benches
•
Hollinger: Lakers offense vs. Celtics defense
•
Broussard: Turning back the clock

•
Adande: How did Kobe get here?
•
Scouts Inc. breakdown: Lakers vs. Celtics
•
Coaching comparison: Red vs. Phil
•
Smith: Kobe's moving forward
•
Scoop: Fiendin' for a ring
•
Top 10 moments of Lakers-Celtics rivalry
•
ESPN Classic schedule: Relive the rivalry
TrueHoop
•
TrueHoop: Finals reflections
•
TrueHoop: Doc Rivers' redemption
•
TrueHoop: Lakers got Rondo'd
•
Tough night for Allen
•
Game 5 live blogging
•
Laker nation vs. NBA refs
•
Pierce and the evaporating knee story
•
Game 2 live blogging
•
Coaxing Kobe Bryant into hero mode
•
Game 1 live blogging
•
Today's game isn't so different
Simmons
•
Notes from the C's winning night
•
Boston's X factors
•
Game 4 running diary
•
Time for NBA Finals answers
•
The C's and city both look good
•
The Truth comes out in Game 1
•
NBA Finals forecast
•
Chat: NBA Finals preview
•
Simmons: You want a piece of Kobe, Boston?
ESPN The Magazine
•
Sporting Equivalency: NBA Finals meets hip hop
•
Broussard: Reporting from the NBA Finals
Fantasy
•
Join the fun of NBA Finals: Playcaller
Audio
•
Dish: NBA Finals recap
•
Wyc Grossbeck on C's championship
•
Ray Allen on how the Celtics evolved
•
Bob Ryan compares '86 C's to current one
•
Jon Barry credits Tom Thibodeau's team defense
•
Game 4 reactions
•
Rajon Rondo on Pierce, Game 2 plans
•
Bill Walton on Celtics-Lakers history
•
Dr. J on Finals, '80s hoops