Commentary
Sweet vindication for Doc Rivers
Originally Published:
June 19, 2008
By
Marc J. Spears
| Special to ESPN.com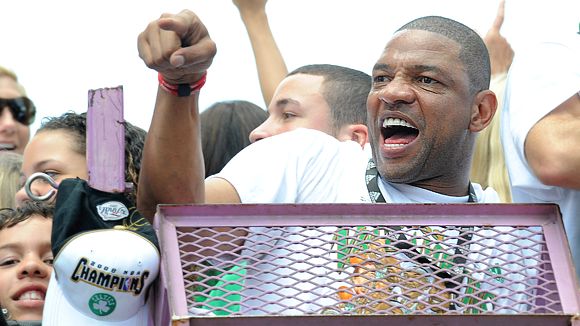 Brian Babineau/Getty ImagesA year ago, nobody thought Rivers would be leading Boston's championship parade.

BOSTON -- A year ago, coach Doc Rivers was doing a lot of golfing in Florida to get his mind off another tough season for the Boston Celtics while his critics were teeing off on his ability to coach. But after doing arguably the best coaching job in the league, Rivers smiled brightly during the Celtics' celebration parade Thursday through downtown Boston as thousands of fans applauded him for leading the team to its first NBA title in 22 years.

"I was probably on the third hole somewhere golfing and hoping that we were going to improve our team," said Rivers, about where he was a year ago. "You know, this is really sweet, obviously, for a lot of reasons."

Before tasting champagne, putting on championship hats and T-shirts, and enjoying a parade in his team's honor, Rivers and his Celtics first endured a forgettable 2006-07 season.

Boston suffered a franchise-worst 18-game losing streak. Star forward Paul Pierce missed 35 games with various injuries and said publicly late in the season that he was in dire need of help. Swingman Wally Szczerbiak missed 50 games to injury. And with one of the youngest teams in the league, Rivers was still able to keep his team close-knit and positive before the Celtics finished with 24 wins.

Although Rivers probably did a strong coaching job under the circumstances, it wasn't perceived that way. His substitution patterns and his coaching strategy were questioned. Some even believed he should be fired. But despite all the criticism, Celtics general manager Danny Ainge stuck with Rivers.

"Last year was a tough year," Rivers said. "It was a tough year for me as a coach. It was a tough year for our players, and [heck], I'm thankful that Danny hung in there with me more than anything."

It's often been said that a coach is only as good as his players. And when the 2008-09 season arrived, Rivers definitely had some much better players to turn to.

The Celtics shockingly acquired coveted All-Star forward Kevin Garnett on July 31 for seven players and two draft picks. Before the acquisition of Garnett, Boston also acquired All-Star sharp-shooter Ray Allen in a draft-day trade. Other key newcomers who arrived before the season included forward James Posey, sharp-shooter Eddie House and rookie forward Glen "Big Baby" Davis.

With a retooled lineup talented enough to win an NBA title, the scenario changed dramatically for Rivers. But even with the significant changes that brought 17th-banner expectations, Rivers had no problem putting things in perspective as training camp in Rome approached.

"We have great names," Rivers said back then. "But again, we have not won a game. We have not proven ourselves. The East is not that impressed with us right now. And it's our job to do the work and earn it."

[+] Enlarge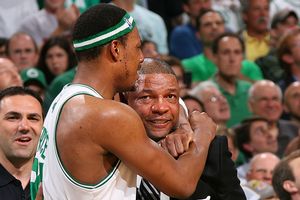 Jesse D. Garrabrant/NBAE/Getty ImagesIt was a long journey to the top for Boston's Paul Pierce and Doc Rivers.

Although it's a blessing for a coach to have great players, it's far from easy to get them all on the same page. Sure, Garnett, Allen and Pierce had illustrious careers that included lots of points, All-Star Game appearances and countless jerseys sold, but what none had was a championship.
So to get them on the right page, Rivers asked the three All-Stars to join him in an unspecified meeting early one September morning last year. Oddly, the meeting took place on a duck boat with wheels that gives tours through Boston for locals and tourists from all over the world. As the tour took place in downtown, Rivers explained that they were on the same route the Red Sox and Patriots had taken for their championship parades. He also added that if the three superstars came together as one, they too could celebrate with a parade, which they did Thursday.
"I'd never been on the duck tour, all my years of being in Boston," Pierce said. "So we took the tour, and Doc said, 'You know, this is what they're going to do if we win a championship.' So it kind of like set the foundation, like, hey, this has got to be our motivation."
With the foundation set with the stars, it was easy for the rest of the Celtics to fall in line. And whether it was Garnett or rookie Gabe Pruitt, Rivers had no problem putting a player in his place verbally and reminding him that a team game, not individual, was needed to win a championship.
"At the end of the day, I'm coaching my team, and it doesn't matter if we're in the parking lot or Game 1 in the first round or Game 7 or 6 or 5 or 4 in the Finals. You're just coaching your team," Rivers said. "There's clearly more attention paid to decision-making and all that, but it still doesn't waver what you do. You're going to do your job and do it the best that you can, and if it's good enough, great. If it's not, as long as you felt like you did your best, that's all you can do in these things."
Despite opening the season with eight new players on the roster, Rivers coached the Celtics to an 8-0 start overall, a 12-0 start at TD Banknorth Garden and a 26-3 record in the first two months of the season. With the league's best record, he earned the honor of coaching the Eastern Conference All-Stars -- including Garnett, Allen and Pierce -- in the 2008 NBA All-Star Game in New Orleans. Boston easily won the Atlantic Division, was the first team to reach 50 wins and finished with an NBA-best 66 regular-season victories.
But even with one of the best regular seasons in Celtics history, Rivers kept his players focused on a championship and far from satisfied.
"He's probably one of the best motivators I've been around in a while," Garnett said. "He gives us hope through his words. And we believe it."
The Celtics fought through playoff battles with Atlanta, Cleveland and Detroit to get to the NBA Finals. Next up were the NBA Finals, where the Kobe Bryant-led Los Angeles Lakers were heavily favored and the coaching edge strongly and understandably went to Lakers coach Phil Jackson, who owns nine championship rings.
But as it became evident that the Celtics were about to claim their long-awaited NBA title, league insiders changed their tune by saying Rivers had outsmarted the coaching legend, "the big three" hugged him after he took them poetically out together and Pierce expressed his love for his coach by dumping a bucket of Gatorade over his head.
Nope, Bostonians aren't questioning Rivers anymore. Instead, he is one of them now and as beloved as the Red Sox's Terry Francona and the Patriots' Bill Belichick. That's what championships can do for you in this title town.
"He knows the game better than anybody I've played [for] on this level," Pierce said.
Marc J. Spears is a regular contributor to ESPN.com and covers the Boston Celtics and the NBA for The Boston Globe.
2008 NBA FINALS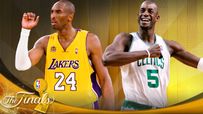 And then there were two -- the Lakers and Celtics. Who will win the NBA Finals? Let the games begin.
Finals schedule | Playoff bracket | Playoff home
Daily Dime
•
Celtics win 17th championship title
•
Did C's lose Regret Game?
•
A little help from Kobe's friends
•
Time for L.A. to go small
•
The Finals Can't Shake Donaghy Mess
•
Unlikely Game 4 comeback gives C's 3-1 lead
•
Rondo's ankle could change L.A.'s game plan
•
Kobe leads Lakers to Game 3 win
•
Lakers need to attack the paint
•
Lakers learn Powe's name in Game 2
•
Time for Gasol to step up
•
Lakers need better defense in Game 2
•
Pierce sparks Celtics in Game 1 victory
•
Expert predictions, clutch stats
•
Pierce loves playing Lakers
•
Celtics to meet L.A. in the Finals
Lakers vs. Celtics
•
Stein: Q&A after six-game "sweep"
•
MacMullan: Pierce's long road to greatness
•
Hollinger: From camp to champs
•
Stein: Boston's big three shine
•
Adande: Questions loom over Lakers' future
•
Hollinger: Celtics commit to defense
•
Scouts Inc.: Game 6 breakdown
•
Hollinger: Farmer steps up in Game 5
•
Sheridan: Late-game letdown for Celtics
•
Stein: Lakers ready to make history?
•
Adande: Greatness eluding Phil and Kobe
•
MacMullan: Doc adheres to dad's lessons
•
Jackson: Time for L.A.'s concession speech?
•
Stein: Game 4 not Kobe's finest hour
•
Adande: KG dominates Gasol again
•
Hollinger: Rivers makes all the right moves
•
Hill: Kobe's Laker legacy on the line
•
Hollinger: Vujacic lends helping hand in Game 3
•
Jackson: Jump shot Jesus has returned
•
Stein: Lakers need to earn sympathy
•
Adande: Lakers feel foul over whistle disparity
•
Jackson: Leading role suits Pierce
•
Adande: Kobe turns away from the pass late
•
Stein: Pierce's knee key to rest of series
•
Finals factor 1: Kobe Bryant
•
Finals factor 2: Celtics Defense
•
Finals factor 3: Paul Pierce
•
Finals factor 4: Home-court advantage
•
Finals factor 5: Battle of the benches
•
Hollinger: Lakers offense vs. Celtics defense
•
Broussard: Turning back the clock

•
Adande: How did Kobe get here?
•
Scouts Inc. breakdown: Lakers vs. Celtics
•
Coaching comparison: Red vs. Phil
•
Smith: Kobe's moving forward
•
Scoop: Fiendin' for a ring
•
Top 10 moments of Lakers-Celtics rivalry
•
ESPN Classic schedule: Relive the rivalry
TrueHoop
•
TrueHoop: Finals reflections
•
TrueHoop: Doc Rivers' redemption
•
TrueHoop: Lakers got Rondo'd
•
Tough night for Allen
•
Game 5 live blogging
•
Laker nation vs. NBA refs
•
Pierce and the evaporating knee story
•
Game 2 live blogging
•
Coaxing Kobe Bryant into hero mode
•
Game 1 live blogging
•
Today's game isn't so different
Simmons
•
Notes from the C's winning night
•
Boston's X factors
•
Game 4 running diary
•
Time for NBA Finals answers
•
The C's and city both look good
•
The Truth comes out in Game 1
•
NBA Finals forecast
•
Chat: NBA Finals preview
•
Simmons: You want a piece of Kobe, Boston?
ESPN The Magazine
•
Sporting Equivalency: NBA Finals meets hip hop
•
Broussard: Reporting from the NBA Finals
Fantasy
•
Join the fun of NBA Finals: Playcaller
Audio
•
Dish: NBA Finals recap
•
Wyc Grossbeck on C's championship
•
Ray Allen on how the Celtics evolved
•
Bob Ryan compares '86 C's to current one
•
Jon Barry credits Tom Thibodeau's team defense
•
Game 4 reactions
•
Rajon Rondo on Pierce, Game 2 plans
•
Bill Walton on Celtics-Lakers history
•
Dr. J on Finals, '80s hoops